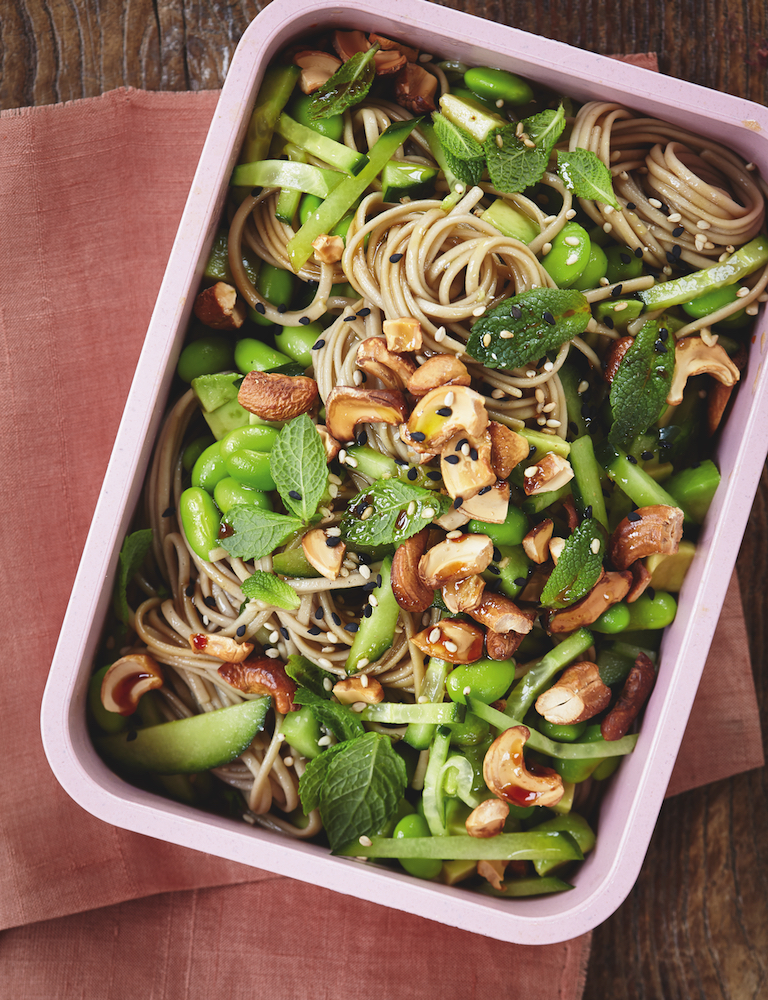 Vegan cooking doesn't have to be difficult or time-consuming, as Ella Mills demonstrates in her new book, Deliciously Ella Quick & Easy: Plant-Based Deliciousness, published by Hachette. Many of her quick & easy vegan dishes can be prepared in 10 or 20 minutes, making them perfect for mid-week meals.
Quick pasta dishes, simple noodle dishes, hearty veg-laden bowls and Asian-inspired plates are among the recipes that can be prepared quickly and easily. The Cucumber and Cashew Noodle Salad here is from a section titled "10-15 Minutes".
Vibrant and green, with a delicious fresh taste thanks to the mint and lime, it makes a great lunchbox option as well as a quick meal for friends and family. For lunch, keep the dressing in a separate little pot and stir it in when you're ready to eat.
Easy plant-based recipes
I've long been a fan of Ella's recipes, having enjoyed her five previous Deliciously Ella books which encourage plant-based eating with appealing, fuss-free recipes.
This latest book expands on her views about prioritising self-care, as she shares insights gleaned from her popular podcast and her experiences as a new mum and businesswoman (she and her husband, Matt Mills, have a deli in central London and produce plant-based food products sold in over 6,000 stores across the UK). Her thoughts add a more personal angle and a wider holistic dimension to the book.
Sections include Breakfast dishes, Dips and Dressings, Sweets, Big Batch Cooking, and a Weekend section featuring recipes that require a little more time to make. Notes on the recipes indicate whether they freeze well or are good for lunchboxes.
---
Buy your copy of Deliciously Ella Quick & Easy: Plant-Based Deliciousness from Book Depository now (free delivery worldwide).
Buy your copy of Deliciously Ella Quick & Easy: Plant-Based Deliciousness from Australian-owned Booktopia.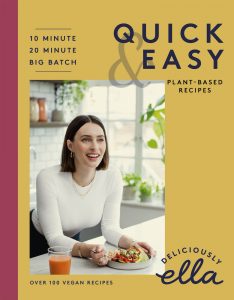 ---
Recipe For Cucumber & Cashew Noodle Salad
Serves 4
4 portions of noodles (Ella uses brown rice noodles but you can use whatever you like best; about 80g per person)
100g frozen edamame beans
1 cucumber, chopped into bite-size pieces
1 avocado, peeled, stoned and chopped into bite-sized pieces
handful of mint leaves, chopped (about 10g)
1 tablespoon sesame seeds, toasted
1 tablespoon black sesame seeds (if you don't have both black and white sesame seeds, you can double the quantity of one of them)
100g cashews, toasted
salt
FOR THE DRESSING
juice of 1 lime
2 tablespoons toasted sesame oil
1 tablespoon tamari
2 tablespoons wine vinegar
1 tablespoon brown rice miso paste
salt
Place a large saucepan of salted water over a medium heat and bring to the boil. Once boiling, cook the noodles following the instructions on the packet – adding the edamame beans for the last 3 minutes. Once cooked, drain and rinse with cold water to prevent any further cooking.
Whisk all the ingredients for the dressing together in a small bowl with a pinch of salt.
Place the cooked noodles and edamame beans in a large mixing bowl and add the remaining salad ingredients. Pour over the dressing and stir through before serving. I like to keep back a few cashews, mint leaves and sesame seeds to sprinkle on top.
Recipe and image from Deliciously Ella Quick & Easy by Ella Mills. Photography by Nassima Rothacker. Published by Hachette Australia and reproduced with the publisher's permission.
This story originally appeared in PS News.