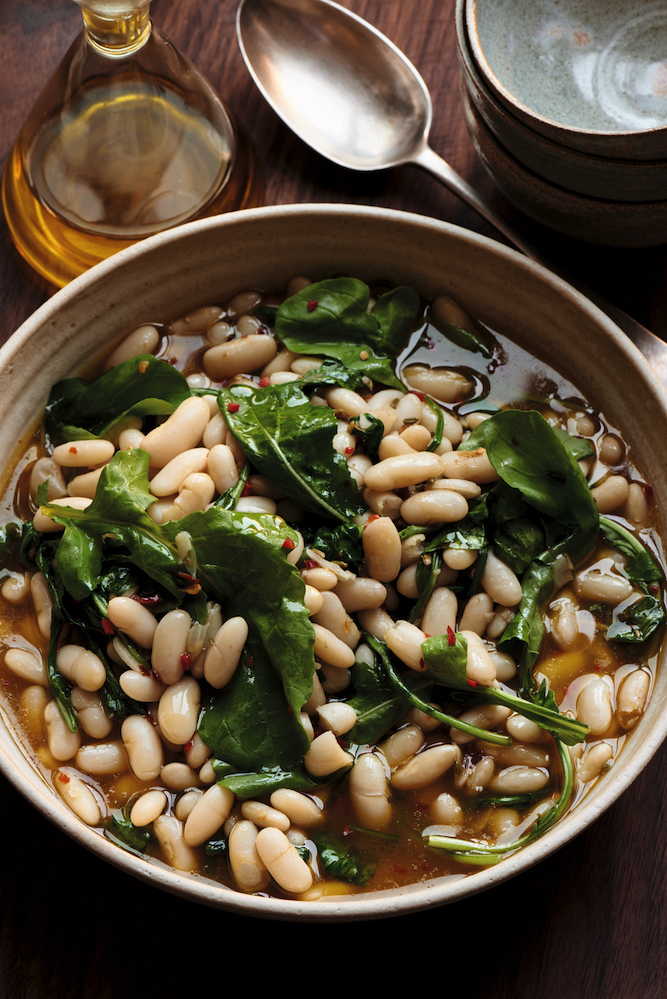 Rather than being support acts, side dishes should be centre stage, says lawyer turned chef turned food blogger, Ed Smith. The author of website RocketandSquash.com publishes a weekly digest of recipes that have appeared in London's weekend newspaper supplements.
What has really struck him is how few side dishes have made it into the pages: "… which is madness," he says. "A key part of every meal time is being ignored." Not only do side dishes make up the bulk of a meal, they have the potential to be as inspirational as the main ingredient, says Smith.
In his book, On The Side, published by Bloomsbury, he presents 140 recipes and tips to make grains, pulses, roots, vegetables and greens dazzle in their own right. Think of white wine and dill carrots, smoky ratatouille, bacon and buttermilk cabbage, pink raddichio with pear and almonds, spelt grains with wild mushrooms, and chorizo roast potatoes.
Perfect accompaniments
The really useful thing about this book is the recipe directory at the back that will help you find the perfect accompaniment, whatever you're cooking. For instance, have a look at the listings under Steak and it will give you options such as carrots with brown butter and hazelnuts, creamed sweetcorn with feta, sherry cherry tomatoes, and watercress with pickled walnuts.
Other useful directories show you how quickly the dishes can be made, and where the dish is made (on the counter, on the stove, in the oven etc). As Smith says, you can only fit so much into an oven at once, so this last section really helps with planning.
"Whether they're plain or fancy, side dishes should never be an afterthought. On the contrary, they can be the starting point," he says. "Good sides lift a meal from being just fine to being truly delicious or memorable."
---
Buy your copy of On The Side  from Book Depository now, with free delivery worldwide
---
WHITE BEANS WITH FENNEL SEEDS, CHILLI AND ROCKET
Serves 4–6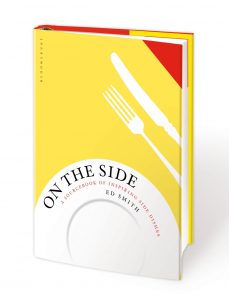 300g dried white beans
2 bay leaves
150ml extra-virgin olive oil
2 garlic cloves, thinly sliced
2 teaspoons fennel seeds, lightly crushed
4 anchovies in oil, drained (optional, though preferable)
1 teaspoon dried chilli flakes
1 mild red chilli, finely diced
40g wild rocket
Sea salt
Put the beans in a large bowl and cover them with 3 times their volume of cold water. Soak for 10–12 hours, drain, then put them in a large pan with 4 times their volume of fresh cold water and the bay leaves. Bring to the boil and simmer for 1½ to 2 hours, or until the beans are tender. Don't add any salt until they're fully cooked. Drain the beans, reserving the cooking liquid.
Put the cooked beans in a medium-large pan with 150ml of the cooking liquid (or more if you'd like a broth – although that will dilute the dressing). Warm over a medium heat for 10 minutes, stirring occasionally.
Heat 6 tablespoons (90ml) olive oil in a heavy-bottomed saucepan or high-sided frying pan over a medium-low heat. Add the garlic, fennel seeds and anchovies (if using) and warm gently for 3 to 4 minutes. Add the chilli flakes, cook for 1 minute more (taking care not to let the garlic brown), then remove from the heat.
Scrape the garlic, fennel seeds and oil into the beans and stir well, adding 3 or 4 generous pinches of salt and the remaining olive oil for luck. Stir the diced chilli and rocket through the beans, and serve up before the greens wilt beyond recognition.
(My note, not Smith's: you can easily speed up this recipe by using canned white beans and skipping the soaking and simmering.)
Recipe and image from On The Side, by Ed Smith, published by Bloomsbury and reproduced with the publisher's permission.
This story originally appeared in PS News online.