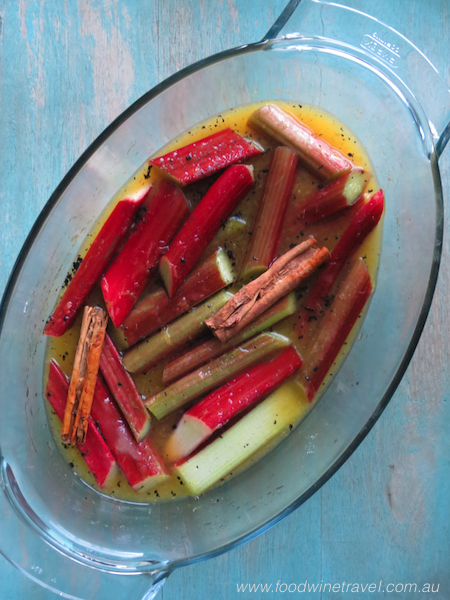 Talk about ten dollar dinners? What about the one dollar dinner!
It's not quite as cheap as that, of course, because the dishes here drew on other ingredients that we already had in the fridge and pantry. But they demonstrate just how cheap you can eat when you eat seasonally and locally.
Every Sunday morning, the road just up from where we live is closed off and given over to a vibrant and colourful market where we can often pick up some very good deals in fruit and veg.
It's not a farmers market and unfortunately some of the stallholders are simply selling other people's stuff. Sometimes the produce is a bit tired and I'm really not inclined to pay a high price for food that has come through the wholesale markets and been carted around from one weekend market to another by an entrepreneurial stallholder. In that case, I may as well just go to the supermarket, where the produce will most likely be cheaper and fresher.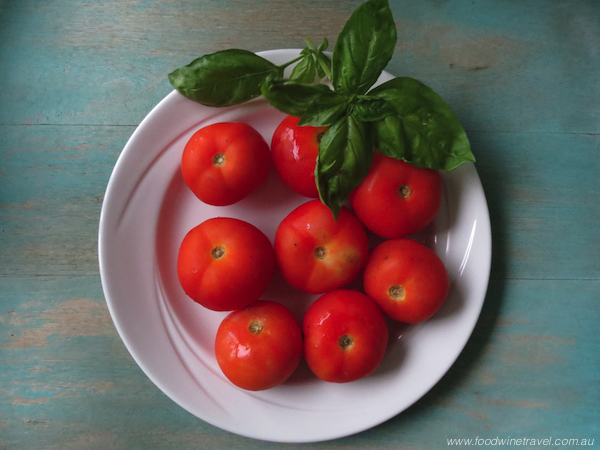 But I'm prepared to buy at our local Redcliffe market if the produce is homegrown or if it's cheap (and still fresh). So when we spotted some bags of fruit and veg for $1 each, yay, that's a couple of dishes sorted. The tomatoes were still quite fresh and as we already had plenty of tomatoes in the fridge for salad, they were destined for a pasta dish.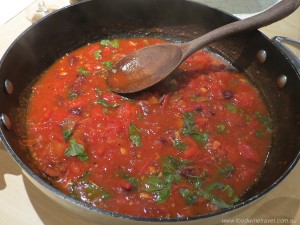 I sautéed them in a little olive oil, adding some chopped garlic, anchovies and olives once they'd cooked down a bit. I cooked some lovely spelt spaghetti in another pot, and when it was ready, drained off the water straight into the pan with the tomatoes to give it a bit more liquid. At the last minute, I tossed in some torn basil leaves from the potted herbs we have growing on the balcony. Some grated parmesan on top and, voila, that was Monday night's dinner.
Rhubarb is not an ingredient I cook with often as I've never been greatly enamoured by the rhubarb dishes I've had, but my man loves it and at a dollar a bunch, I'm prepared to give it a go. I thought of stewing it but then I found a recipe for Poached Rhubarb in Donna Hay's 2009 book, Seasons.
Her recipe called for 250 grams of rhubarb, a quarter of a cup of orange juice and half a cup of sugar, but it wasn't enough juice to cover the amount of rhubarb we had so I upped it to a cup of juice. I didn't want to put in four times the amount of sugar as that seemed excessive, so I doubled the sugar.
I used a good-quality commercial orange juice and found the balance of juice and sugar here just right. The cinnamon and fresh vanilla bean (which I always have on hand in the pantry) added the most beautiful flavours. The dish pretty much cooked itself and everyone pronounced it exquisite. We used the leftover liquid on strawberries the next day. Curtis Stone, eat your heart out.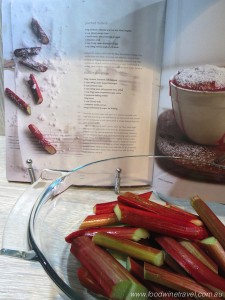 POACHED RHUBARB
Serves 4
Ingredients:
Bunch of rhubarb, trimmed and cut into 10cm lengths
1 cup orange juice
1 vanilla bean, seeds scraped
1 cinnamon stick
1 cup caster sugar
Method:
Preheat oven to 180 degrees C. Place the rhubarb, orange juice, vanilla bean and seeds, cinnamon and sugar in a covered dish and cook for 20 minutes or until the rhubarb is tender.