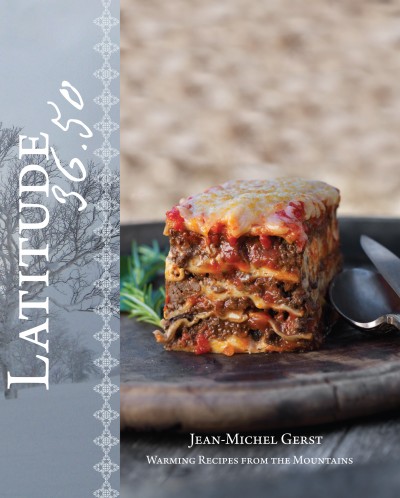 If you love heading to the Alps in winter, and you love food, Jean-Michel Gerst's book is one to savour. Latitude 36.50 (New Holland, $40) is one of those beautiful-looking books that you hope will always be around, long after the world has gone digital.
It's such a treat to turn over the pages on Ron Molnar's amazing alpine photography which captures the beauty of the mountains so perfectly. Nearly every page is graced with a pretty silver stencil, reminiscent of a snowflake.
The photographs of hearty warm dishes, comforting for body and soul, are very inviting. And that's all before you get to the recipes, a good mix of classic dishes from France and Germany with the author's own twist.
Gerst grew up in Alsace, France, close to the German border, and fondly remembers a childhood in the mountains similar to his home in Australia's Snowy Mountains, where he has lived for more than a decade.
As executive chef at the Thredbo Alpine Hotel, Gerst knows all about food that warms you up after a big day on the slopes, dishes for entertaining in front of a fire, and family meals that hit the right spot on a chilly night.
What I love about his recipes is how simple and easy to follow they are. None of it looks intimidating – not the Steamed Brioche, the Duck in Pinot Noir, the Dark Chocolate and Pear Galette, not even the Fried Potato and Truffle Ravioli.
Instructions for a delectable Confit of Lamb Leg takes just nine lines (and 2 to 3 hours to cook, set and forget). Braised Beef Cheeks takes just one line more.
Featured here is a recipe for Schnitzel – always quick and easy, and if you use good meat, guaranteed to be yummy.
As you can tell, I'm a little bit impressed with this delicious book and to think that its author is cooking down the road … let's just say I'm looking at snow food in a whole new light.
CRUMBED VEAL SCHNITZELS
Serves 4
4 veal steaks from the backstrap
100g flour
salt and pepper
6 eggs, beaten
200g panko crumbs (Japanese breadcrumbs)
2 small knobs butter
2 tbsp olive oil
lemon wedges to serve
Sauce:
6 anchovy fillets, finely chopped
100g capers, finely chopped
6 small gherkins (cornichons), finely chopped
2 shallots, finely chopped
¼ cup parsley, chopped
1 tablespoon Dijon mustard
1 cup mayonnaise
Beat the veal schnitzels out to about 2cm thick. Dip in the flour that has been seasoned with salt and pepper. Shake off any excess and then dip in the egg. Again, shake off any excess and crumb, making sure you push the crumbs into the schnitzels so the crumbs stick properly.
Heat the butter and the oil in a non-stick pan. When hot, place the veal in the pan and fry for about 3 minutes on each side. Place on absorbent paper towel to drain.
For the sauce, put all the ingredients in a bowl and fold in the mayonnaise. Serve with some lemon wedges.
Recipe from Latitude 36.50 by Jean-Michel Gerst.