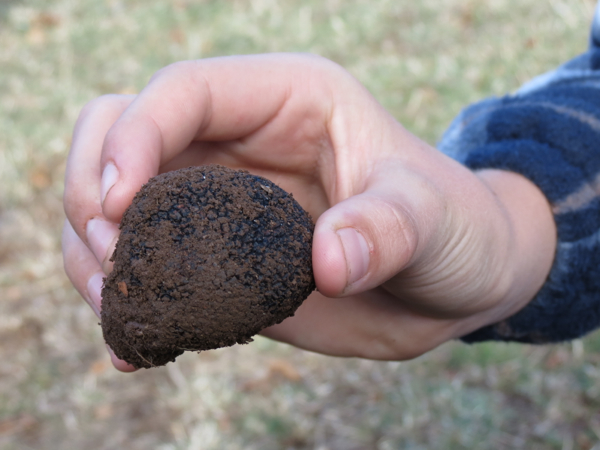 Australia's 2012 truffle season is not completely finished – I'm eagerly awaiting one last truffle extravaganza next weekend.
But much of the celebrations are behind us, and all the clever dogs that have been trained to sniff out the truffles will have a spell until their services are required again next year.
The month-long Canberra & Capital Region Truffle Festival is now officially over and what a bonanza it's been for the industry.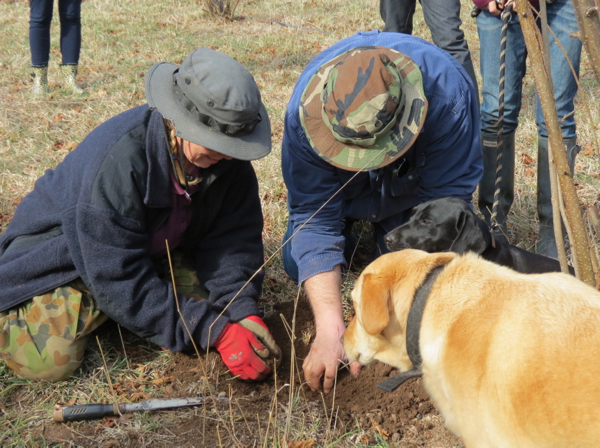 It seems the local industry has truly come of age this year, with a great line-up of events that have brought this prized fungi into mainstream consciousness.
No longer are truffles confined to expensive restaurant menus. Now it's possible to buy them at the markets and use them in your cooking at home.
Not that many home cooks know how to use them yet, but isn't it fun experimenting?!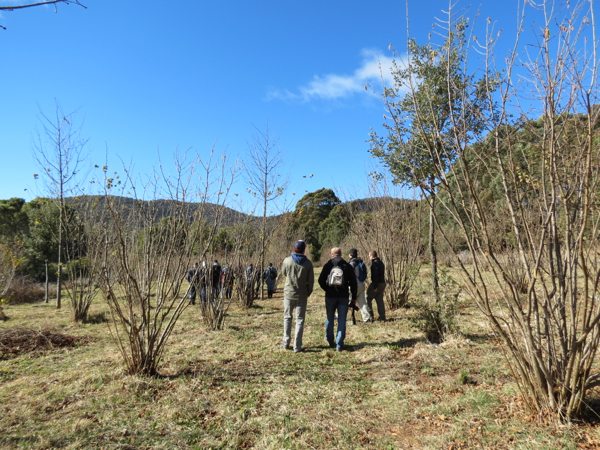 Peter Hayes, of Access Recognised Training, was keen for his young apprentice chefs and other industry folk to experience the local truffles first-hand, so he organized an educational field trip to Peter and Kate Marshall's Terra Preta Truffle Farm, near Braidwood, NSW (above).
I was lucky enough to join the truffle hunt, which Peter (below) had carefully coordinated with morning and afternoon tea stops at The Old Cheese Factory at Reidsdale.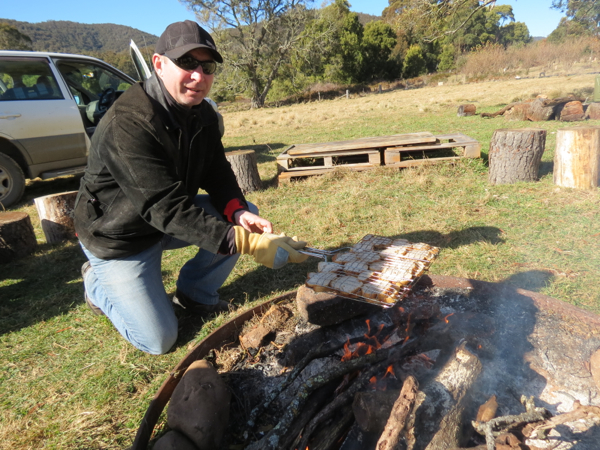 The Old Cheese Factory doesn't actually make cheese anymore – it's now a hub for regional produce and a boutique cider-making operation – and its owner Gary Sully has lots of fascinating yarns to tell.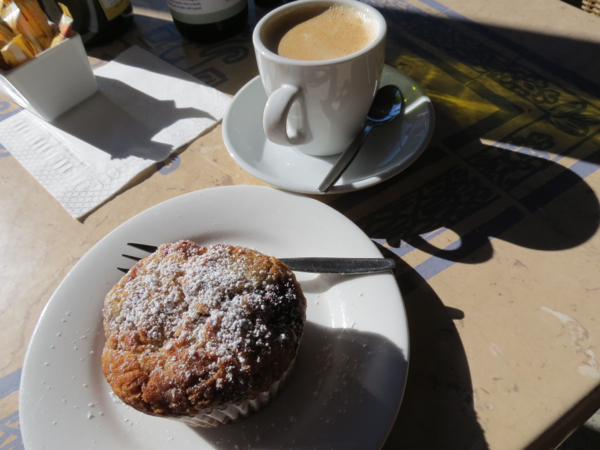 After a heart-starter coffee with deliciously moist blackberry muffins, we were off to the Terra Petra Truffle Farm where beef and burgundy pies, and freshly roasted chestnuts awaited us.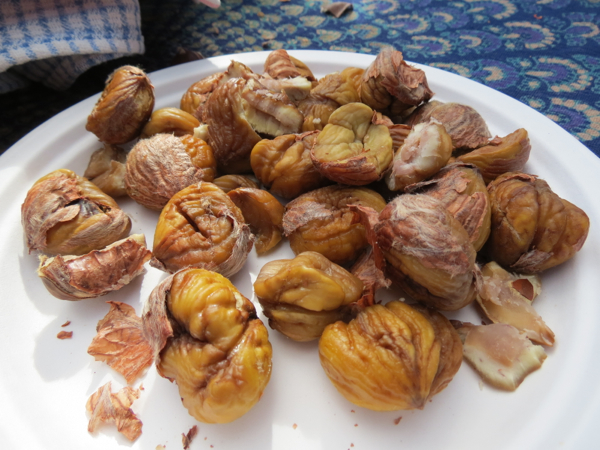 Sitting on tree stumps around the campfire, we met truffle dog extraordinaire, Sal, a Labrador Kelpie cross, and new trainee, Shadow, a Labrador Daschund cross.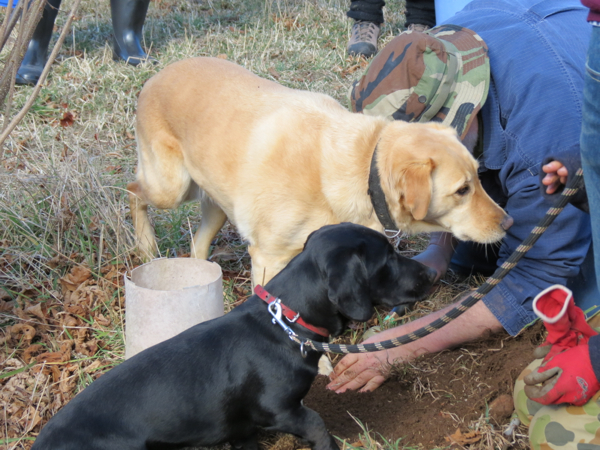 Peter (standing in centre of picture below) was inspired to grow truffles after being involved in the forestry business for many years.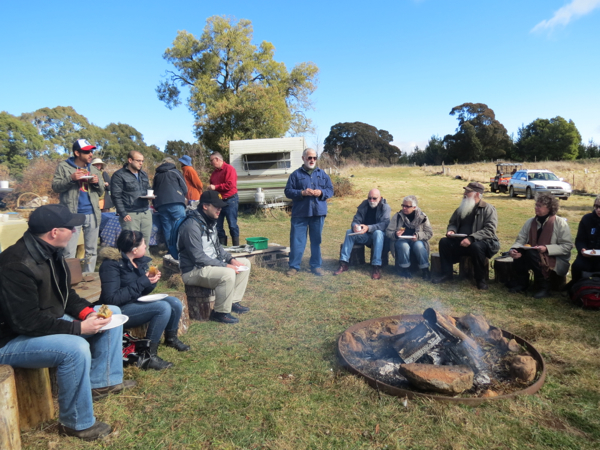 He has inoculated about 30 acres of trees with the spores that produce the tuber melanosporum or black Périgord truffle, and despite 10 years of extensive planning, the Marshalls were very surprised when they found their first truffles about four years ago.
After doing a little "jig" on a patch of lime to get rid of any nasties on our shoes, we embarked on the hunt with Peter, Kate, daughter Rita and their Finnish farmhand, Mari Korhnen (below).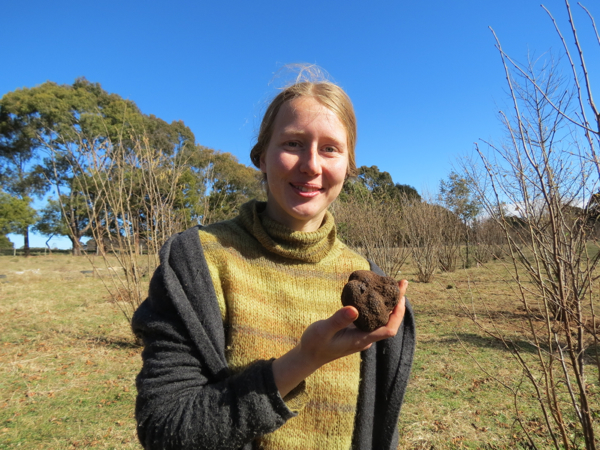 Peter implored us not to congratulate the dogs or reward them in any way. Only the handlers can reward them. Kate says dogs will sometimes dig up and eat the truffles they sniff out, but the Marshall dogs are very well-behaved.
"They're not interested (in eating the truffles)," she said. "But I do give them a very high quality treat (home-grown lamb)."
Within minutes of being let loose amongst the trees, Sal had sniffed out the first truffle which, although small, was a good one with a lovely round shape.
At one point when Kate had decided there was nothing to be found under a particular tree, Sal refused to leave and was quite insistent about it. Kate (below) found not just one but three truffles here!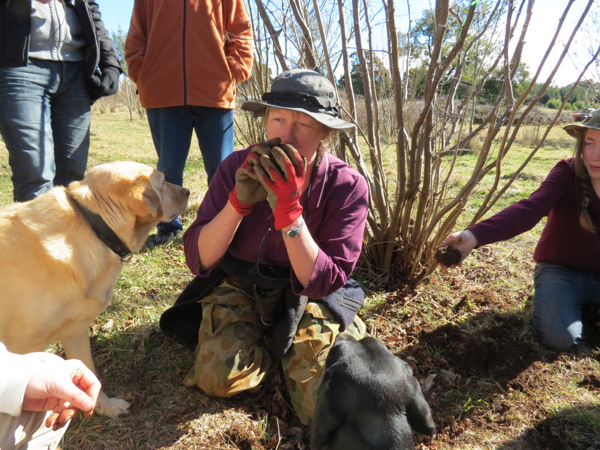 Just as terroir is important in wine, so too is it with truffles, with subtle differences between regions and even with truffles from the same property.
"Some are much stronger, some are sweeter, some are more peppery. There's no great rhyme to it," said Kate.
Both this year and last year, the Marshalls found a truffle that weighed more than 700g, and while there were none as big as that on the day we visited, they still managed to dig up a bucketful of beauties in little more than an hour.
The Marshalls sell their truffles to local restaurants and at the Capital Region Farmers Market during the season. They invite paying guests to join them on truffle hunts, with visitors treated to lunch around the campfire.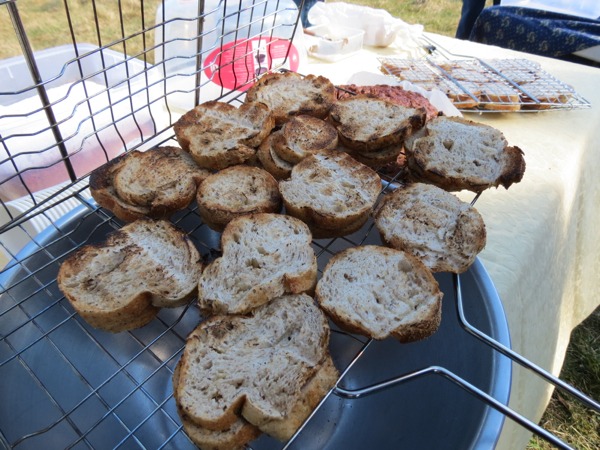 The lunch is simple but seriously good, with shavings of fresh truffle sandwiched between slices of truffle-buttered bread roasted over the fire.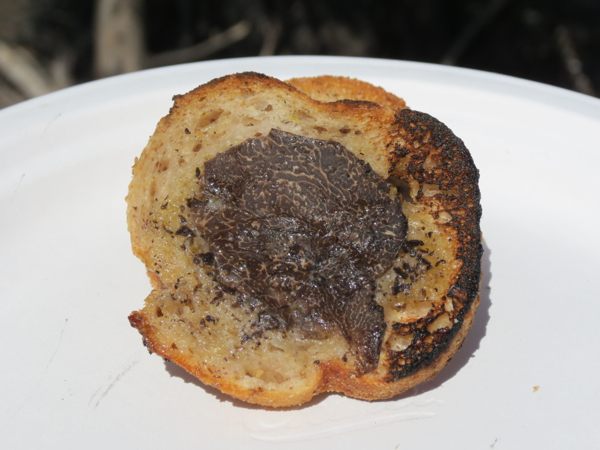 Kate studded a wheel of Jindi Brie with layers of truffle, and we were invited to taste shot glasses of Vodka that had been infused with truffle (a top way to warm up on a winter's day).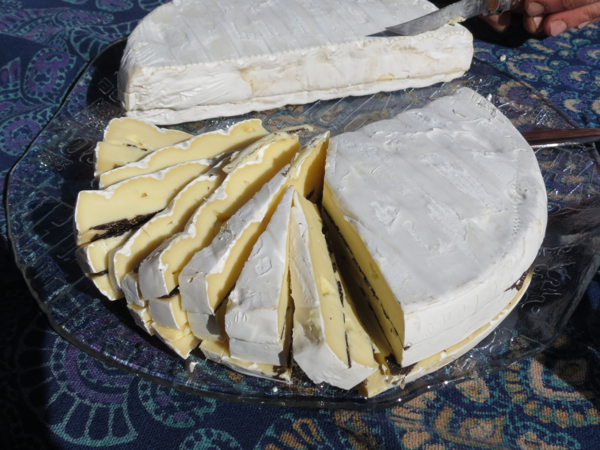 Many thanks to Peter Hayes, of Access Recognised Training, for inviting me to join in the hunt. Access RT offers a wide range of qualifications for commercial cookery in Canberra.
Related posts: Truffles: The Ultimate Luxury; Follow Your Nose To Canberra.