I once went hot-air ballooning over the Yarra Valley and rather than seeing a patchwork of vineyards as I'd anticipated, all I saw was a blanket of white. Fortunately it wasn't my first hot-air balloon ride, nor was it my last, but it turned out to be an experience rather than a sightseeing opportunity. Yet it was beautiful in a surreal sort of way.
I was reminded of this experience when I picked up a copy of Produce to Platter: Yarra Valley & The Dandenongs, as it features a double-page spread upfront of hot-air balloons floating above a layer of fog. It's one of many beautiful photos in Produce to Platter (Smudge Publishing, $34.99), a food and wine lovers' guide to the best of Victoria's Yarra Valley and the Dandenongs.
Mother and daughter author team Daniele Wilton and Jonette George introduce readers to grapegrowers, winemakers and chefs who are using local produce from farm gates, small shops, artisan businesses and boutique enterprises. The duo, avid writers and designers who founded Smudge to publish their own works, have done earlier books on the Mornington Peninsula, Daylesford & the Macedonia Ranges, and the Bellarine Peminsula.
In this latest instalment in the Produce to Platter series, they go behind the scenes to discover local secrets and glean recipes from local chefs like Domaine Chandon's David Cafarella, whose beautiful recipe for Caraway Pickled Beetroot with Goat's Feta is reproduced here, along with the photo from the book.
Since they're supplied by chefs, most of the recipes are quite complex, but more in terms of assembling than anything else, so you needn't feel intimidated.
Each venue featured has full contact details, making it a useful travel companion as well as a lovely book for armchair travellers to dip into.
Produce to Platter: Yarra Valley & The Dandenongs is available directly from Smudge Publishing.
CARAWAY PICKLED BEETROOT WITH GOATS FETA & CARROT PURÉE
Serves 4 as an entrée
INGREDIENTS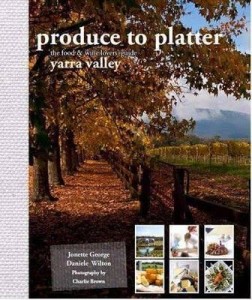 2 large beetroots, thinly sliced
200ml white wine vinegar
100g fine caster sugar
200g quality goat's fetta
5 to 6 large carrots, peeled and roughly chopped
300ml cream
4 cloves of garlic, peeled and sliced
2 red shallots, diced
1 tsp roasted caraway seeds
1/3 cup toasted pine nuts, crushed
Quality extra virgin olive oil
Quality seasalt flakes
1 washed and separated heart of endive
METHOD
Preheat oven to a steady 120 degrees C.
Pickling solution
Combine the sugar, vinegar and some water in a saucepan balancing sweet and sour using sugar vs. vinegar. Add toasted caraway seeds and bring to boil. Set aside a small amount of the fine sliced beets (both colours if possible) for the crisps. Add the remaining beets to the pickling liquid and cook at a simmer until desired texture is achieved (we prefer them to be slightly crunchy).
Beetroot Crisps
Take two identical flat baking trays and lay out the beets between two layers of baking paper. Then lay the baking paper and beets between the two trays. The trays will regulate the temperature for drying and keep the beets flat. Bake at 120 degrees C for two to three hours or until crisp.
Shaping the goats cheese
In a blender, blend the goats curd with some sea salt until smooth. Lay out two layers of cling film on a bench and spoon the whipped goats cheese into the middle in a long line, then roll the cheese in the cling film to form a sausage. Gather both ends of the cling film, one in each hand and roll forward until the sausage tightens like a bon bon. Place the formed goats cheese in the refrigerator for at least two hours to set.
Carrot Purée
Sauté diced shallots and sliced garlic over medium heat until soft, add carrots and sauté for a further 10 or so minutes to help extract the carrot sugars. Add cream to just below the level of the carrots, the ratio of carrot to cream should be roughly two to one. Cook at a simmer until carrots are soft. Purée in a blender at high speed until smooth.
To plate up
Slice the goats cheese into small coins while still in the plastic and return to the refrigerator. Strain the beetroot, brush away the caraway and carefully lay out the beetroot on the plate. Using a piping bag, pipe some carrot purée in spots around the plate. Remove the cling film from the goats curd and dip in the crushed pine nuts. Place goats curd on the plate and finish the plate with small sprigs of endive dressed in olive oil and sea salt.
Recipe courtesy of David Cafarella, chef at Domaine Chandon.