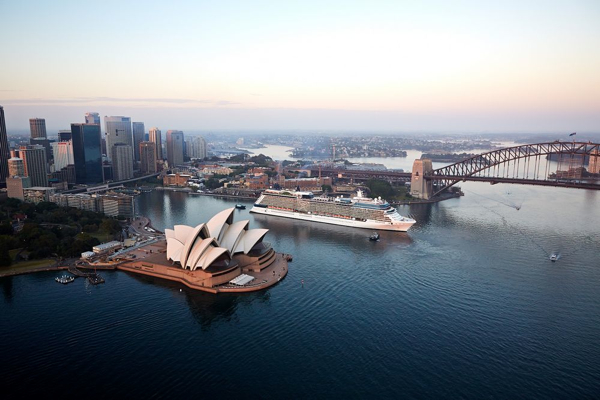 Oh, Sydney, where are the blue skies and sunshine? I've just come off the Celebrity Solstice after a one-night cruise to nowhere and the weather was unattractive to say the least.
The Emerald City didn't exactly turn on sparkling weather for the Aussie debut of Celebrity Solstice, billed as the "youngest and most modern superliner to make Australia her home".
The ship arrived in Sydney on Sunday at the end of a 16-day Asia-Australia cruise. The sun was peeking through to greet it, as you can see in these beautiful photos by Eugene Tan, of Aquabumps (above) and Richard Birch (photo at bottom of this post).
By Sunday afternoon, when we boarded the vessel, there were strong winds and leaden skies, though it didn't appear to dampen anyone's enthusiasm.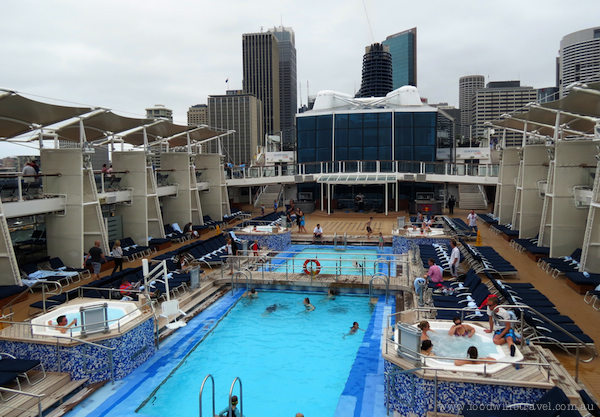 To be honest, I wonder if an overnight cruise is worth it – the online check-in process was fiddly, there were long queues at the Overseas Passenger Terminal, nearly an hour was lost with the emergency drill, and there was a very early wake-up on Monday morning. The ship carries up to 2850 passengers and everyone had to be off the ship by 9am (this despite there being no sailing on Monday night).
Yet everyone was having a ball (one even in wedding dress – a memorable way to spend a wedding day!) For cruise junkies, it's undoubtedly an opportunity to tick another ship off the list. And I suppose for cruise virgins, it's a way of finding out whether or not the cruising life is for you.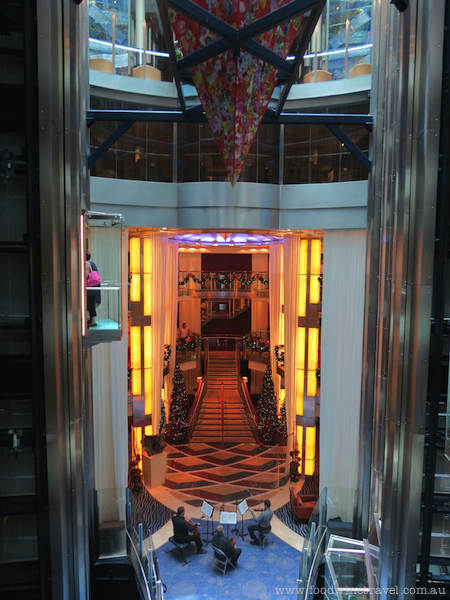 For those like me who had the pleasure of being invited as a guest, it was an opportunity to experience the ship's amenities and see if they pass muster. I've previously cruised with one other ship in the Celebrity fleet.
A couple of years ago, I inherited a small amount of money after my father died and spent most of it on taking the family to Europe. We did a Mediterranean cruise on the Celebrity Summit and loved it.
Within minutes of being on board the Solstice, it's apparent that it is even more impressive than the Summit. For starters, there's a real live tree growing in the foyer. There's also a Lawn Club with half an acre of real lawn where guests can feel grass under their feet while sailing the high seas.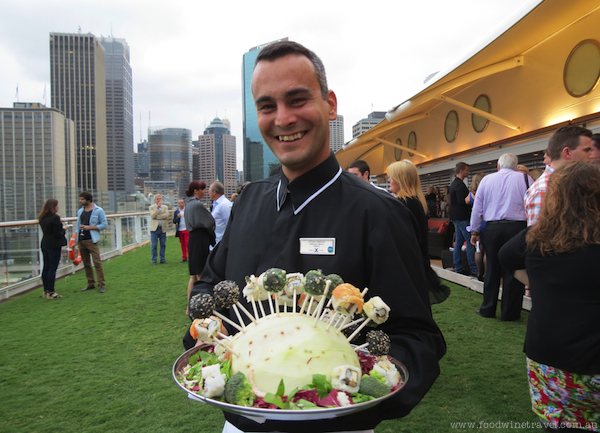 The décor throughout the ship is sophisticated and modern, but nicely restrained. There are art works at every turn, including some brilliant glass pieces made on board. (We didn't get a chance to check out the glass-blowing studio, such was our whirlwind visit.)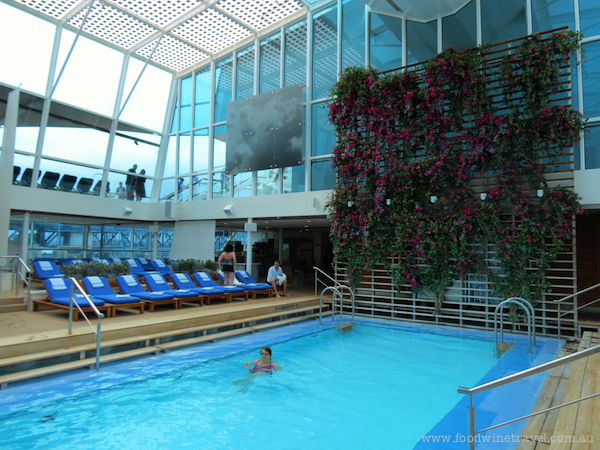 The staterooms are spacious and comfortable, with decent sized bathrooms. There's a choice of swimming pools (the one above is under cover and more intimate), whirlpools, gym, library, running track, helipad and a fully netted court for ball games.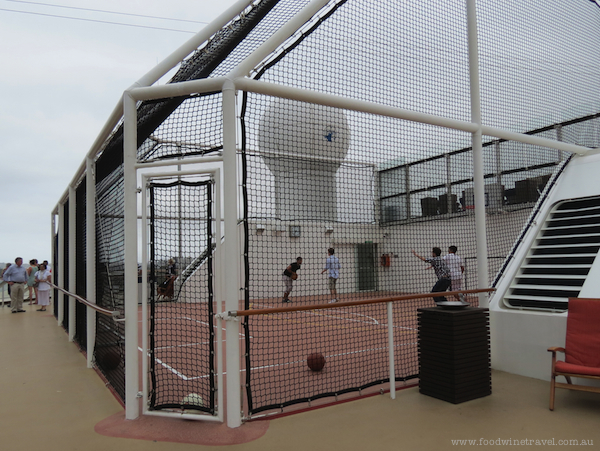 The spa has a Persian Garden section with deliciously warm stone 'loungers' that you can pay $20 to use over a 24-hour period along with the sauna and steam room. It was sheer bliss but there was no time to linger…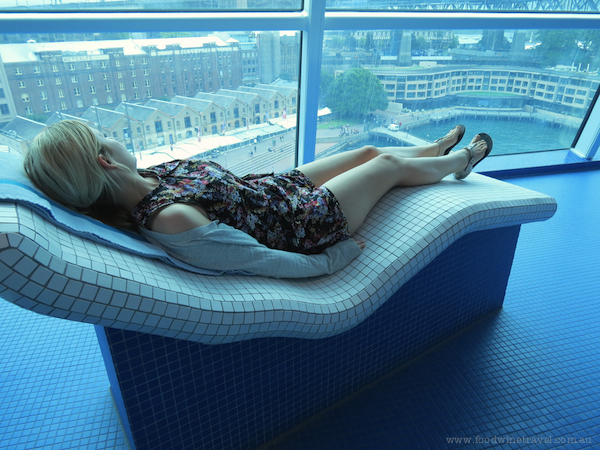 I don't think there'd be any need for lounge police on the Solstice. There are a zillion sun lounges and I particularly love that there are double lounges, teepee-shaped cabanas around the pool, and capsule chairs that you can snuggle up in together.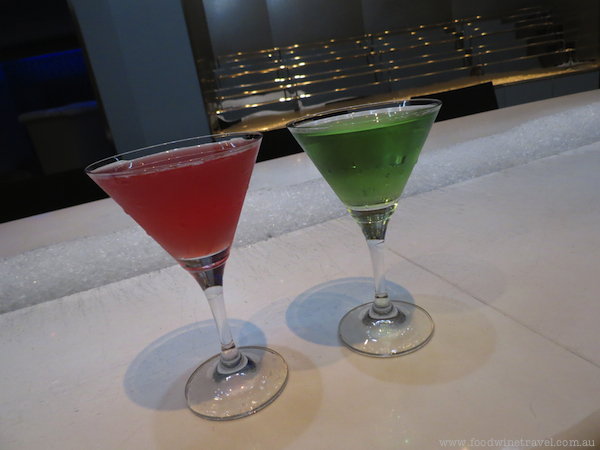 There's a great choice of bars and restaurants including the ice-topped Martini Bar (above) and a couple of specialty restaurants that you pay a small supplement to dine in.
We experienced the Murano restaurant, which despite the Italian sounding name serves a French-inspired menu. My main of Duck breast and crispy spiced duck leg confit with raisin-apple compote was beautifully cooked, and the feather-light Grand Marnier soufflé for dessert was outstanding. From my experience on the Summit and now the Solstice, the food is definitely a high point on a Celebrity cruise.
There was a festive atmosphere on board with Christmas decorations throughout the public areas, including the main dining room.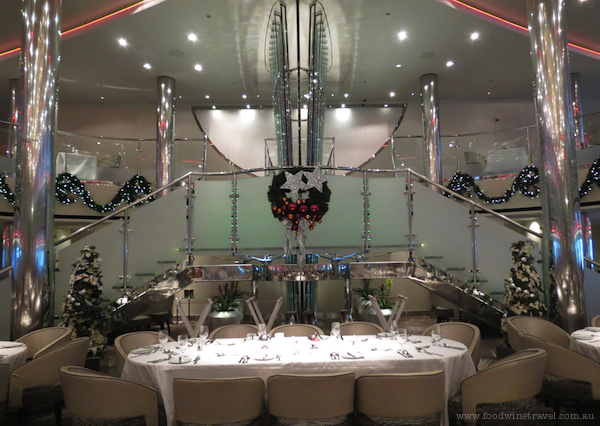 Just four years old, Celebrity Solstice is the second largest cruise ship ever to be based in Australia – surpassed by Voyager of the Seas from sister cruise line Royal Caribbean International.
Its inaugural Australia and New Zealand program features 17 cruises from Sydney, Perth and Auckland calling at 28 ports in seven countries.
More information: www.celebritycruises.com.au