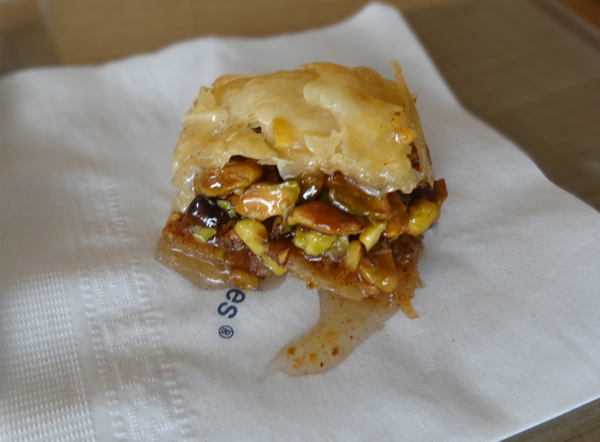 One of the nice ways that Celebrity Cruises rewards its repeat customers is with its Captain's Club program, which offers various benefits including special events on board, and free drinks and canapés at certain times of the day.
Cruising to Alaska on board the Celebrity Century, we enjoyed an afternoon tea and a wine tasting as part of the program. On our last day at sea as we cruised back to Vancouver along the Inside Passage, we were invited with other Captain's Club members to visit the bridge.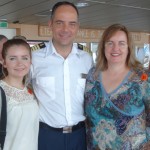 Not surprisingly, this is a treat on big cruise ships where you couldn't possibly have 1800 or more passengers interrupting the Captain and his crew as they go about their work.
So Alise and I were very appreciative of the opportunity to meet Captain George Iatrou and to hear some of the facts about the 815 feet long Celebrity Century.
Although Captain Iatrou lives in England, he was born in Greece and began his sailing career there, so in a nod to his Greek heritage, those of us on the bridge tour were treated to some truly sensational baklava. I managed to coax the recipe out of the ship's culinary team via the delightful Captain's Club hostess, Jonette, so here it is for you to enjoy.
BAKLAVA RECIPE, CELEBRITY CENTURY STYLE
18 sheets ready-made filo pastry
125 grams (8 ounces) unsalted butter, plus extra for greasing
125 grams (8 ounces) chopped pistachios
2 tablespoons granulated (caster) sugar
1 teaspoon ground cinnamon
For the syrup:
340 grams (12 ounces) caster (granulated) sugar
110ml (4 ounces) corn syrup
310ml (10½ fluid ounces) water
1 tablespoon lemon juice
Preheat the oven to 180C/350F/Gas 4. Grease a 17cm x 28cm (11 inch x 7 inch) baking tray with butter. Melt the remaining butter in a saucepan over low heat or in a microwave. Lay 10 sheets of filo pastry, one at a time, into the tray, brushing each sheet with butter before adding the next.
In a clean bowl, mix together the nuts, sugar and cinnamon and spread the mixture over the pastry in the tray.
Layer up the remaining sheets on top of the nut mixture, brushing each sheet with butter, as before.
Using a sharp knife, cut a criss-cross pattern into the top layers of the pastry. Place baklava in the preheated oven for approximately 20 minutes then decrease the oven temperature to 150C/300F/Gas 2 and cook for an additional half hour to 40 minutes, or until the pastry is slightly puffed and golden on top. Do not allow the top to burn. Remove and allow to cool slightly.
For the syrup, heat the sugar, corn syrup, water and lemon juice in a small heavy-bottomed saucepan and cook over a medium heat until the sugar is melted and a syrup is formed. This will take about 20 minutes.
Pour the syrup into the slits in the baklava and leave to cool. Cut into small diamond-shaped pieces and serve.
Details: www.celebritycruises.com
Related posts: Celebrity Century Hubbard Glacier Alaska Cruise; Celebrity Arrives In Sydney.