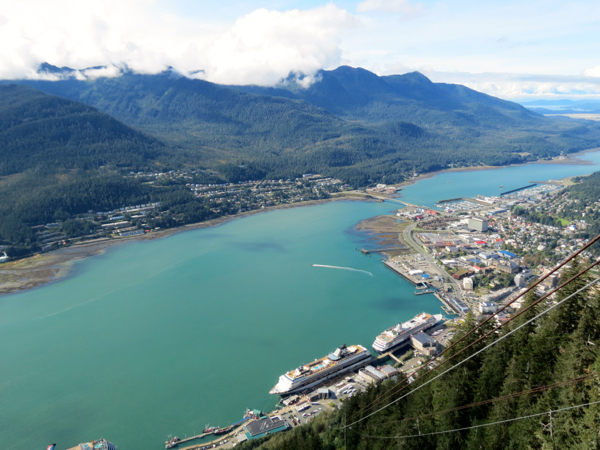 We're off to a good start. Our room attendant, Vijay, asks us if we are sisters. "No, we're mother and daughter, but thanks for the compliment," I say.
Do cruise ship employees go to charm school? The crew on the Celebrity Century could not have done more for us, from finding bandaids for my daughter's blisters to memorizing our tea and coffee preferences, and fetching special cheeses when they discovered our dining companions coveted a particular blue.
There's quite a lot of down time on the Inside Passage cruise to Alaska and so it's especially important that the onboard experience is memorable for all the right reasons. We joined the Century for the second last cruise of the season in Alaska (at left in the picture above, docked in Juneau). It's a trip I'd contemplated for years but organized with some urgency after my Vancouver-based daughter begged me to do it with her before the season was over.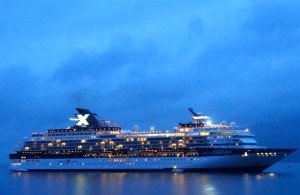 Initially it seemed as though we had left our run a bit late as the first few days were wet and foggy. The Hubbard Glacier is normally a highlight of the cruise, with only one ship allowed into the bay at a time. Everyone huddled on the deck under umbrellas to see the world's largest tidewater glacier. We came within half a mile of it when normally the ship hovers about a mile away.
The ice apparently appears bluer when the sky is overcast; we witnessed dramatic scenes as huge chunks of ice broke away from the glacier and thundered into the sea. All at least some compensation for the fact that it was shrouded in mist and only partially visible, and that everyone got totally soaked. "Maybe the glacier was unhappy that we were the last visitors for the season," said our dashing waiter, Carlos, when we were talking about it at lunch later.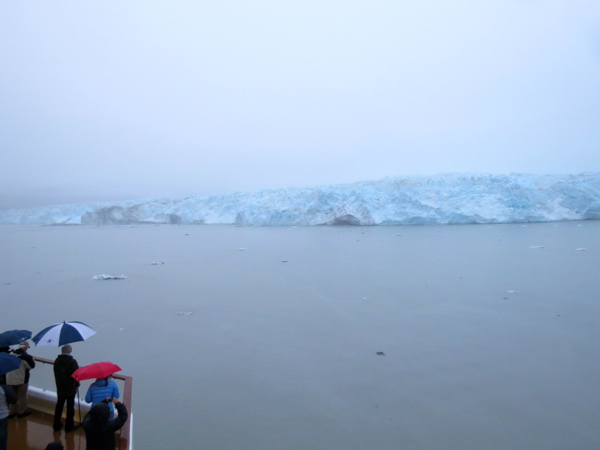 And then the sun shone. Brilliantly, in fact. In Ketchikan and the Alaskan capital, Juneau, places with some of the highest rainfall in the world, we were blessed with bright blue skies and sparkling picture-postcard scenery.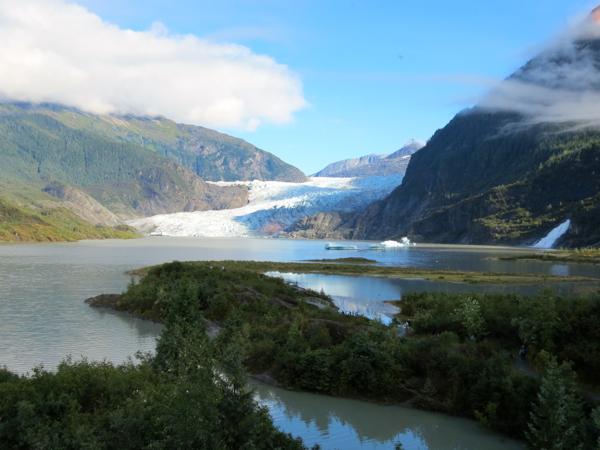 On Celebrity's 7-night Hubbard Glacier cruise, only one full day is spent in port (Juneau) and two afternoon/evenings (Icy Strait Point & Ketchikan). That leaves three full days to kick back, relax and enjoy the facilities and activities on board, including some great interpretative presentations, daily entertainment and lots of dining choices.
This is our third cruise with Celebrity and we've always found the food to be exceptional, with free 24-hour room service lest you are still hungry after all the great food you've consumed during the day (cookies and milk for a midnight snack, anyone?) On the Century's last full day at sea, a buffet brunch was held in the main dining room from 10am to 1pm offering a staggering array of dishes, pastries and sweets, along with amazing ice sculptures and food carvings.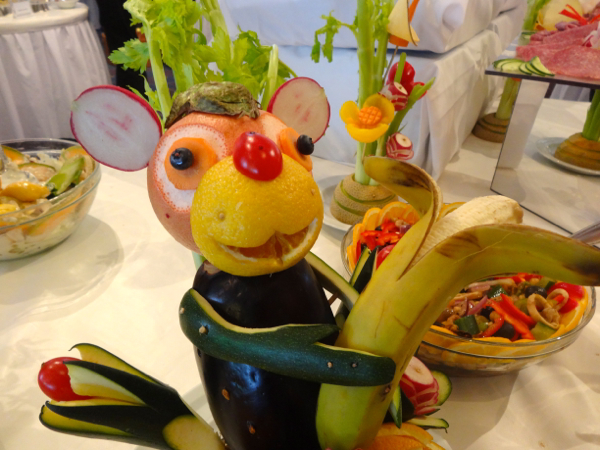 One of the nice ways that Celebrity Cruises rewards its repeat customers is with its Captain's Club program, which offers various benefits including special events on board, and free drinks and canapés at certain times of the day. We enjoyed an elegant afternoon tea with live piano music, and a wine appreciation class hosted by the Century's very passionate sommelier, Imre.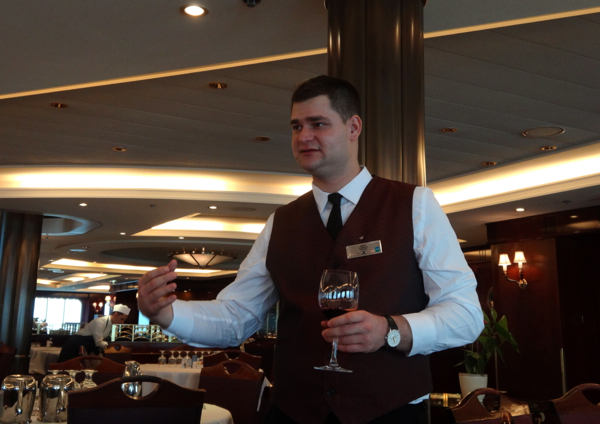 Century is one of Celebrity's older ships but it certainly doesn't look dated; it's also one of its smaller ships, with around 1800 passengers. It's about to head to Hawaii, will do another season in Alaska in 2014 and then will head down under for Australia's 2014-2015 summer.
Both Celebrity Century and its sister ship, Celebrity Solstice, will be based in Australia for the summer of 2014-2015. I did a very brief one-night cruise on the Solstice when it was last in port in Sydney and can highly recommend it.
Together the two ships will offer 27 cruises in Australia and the South Pacific, and there are earlybird deals available if you book before 31 December 2013. Fares for the 7-night Alaska Hubbard cruise on Celebrity Century departing 18 May 2014 start from AU$909 per person.
Details: www.celebritycruises.com
Related posts: Baklava Celebrity Century Style; Celebrity Arrives In Sydney.