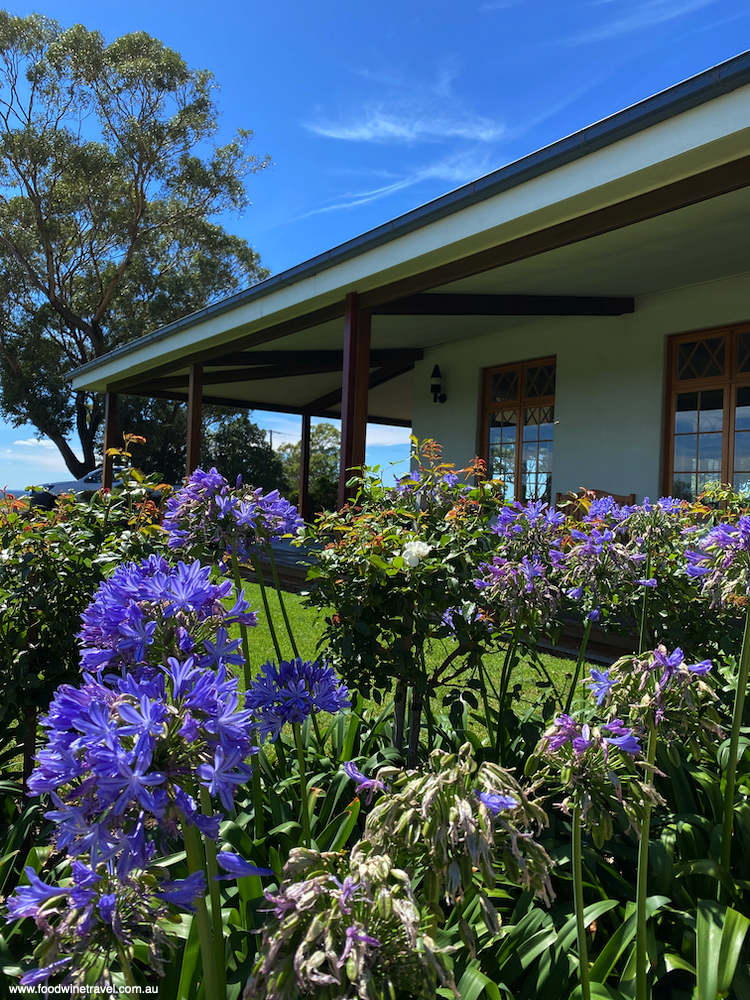 Audrey Wilkinson Vineyard is one of the most popular Hunter Valley cellar doors, and one of the region's oldest vineyards, but before we tell you more about it, it must be said upfront: Audrey is not a woman (despite what many people assume). Audrey Wilkinson was, in fact, a bloke who left a remarkable winemaking legacy.
He's the cut-out figure greeting visitors to the cellar door and he also features on the label of the company's award-winning wines. On arrival at the spacious colonial-style cellar door to do a tasting – preferably booking ahead in these Covid times – you should take the time to check out the fascinating museum display.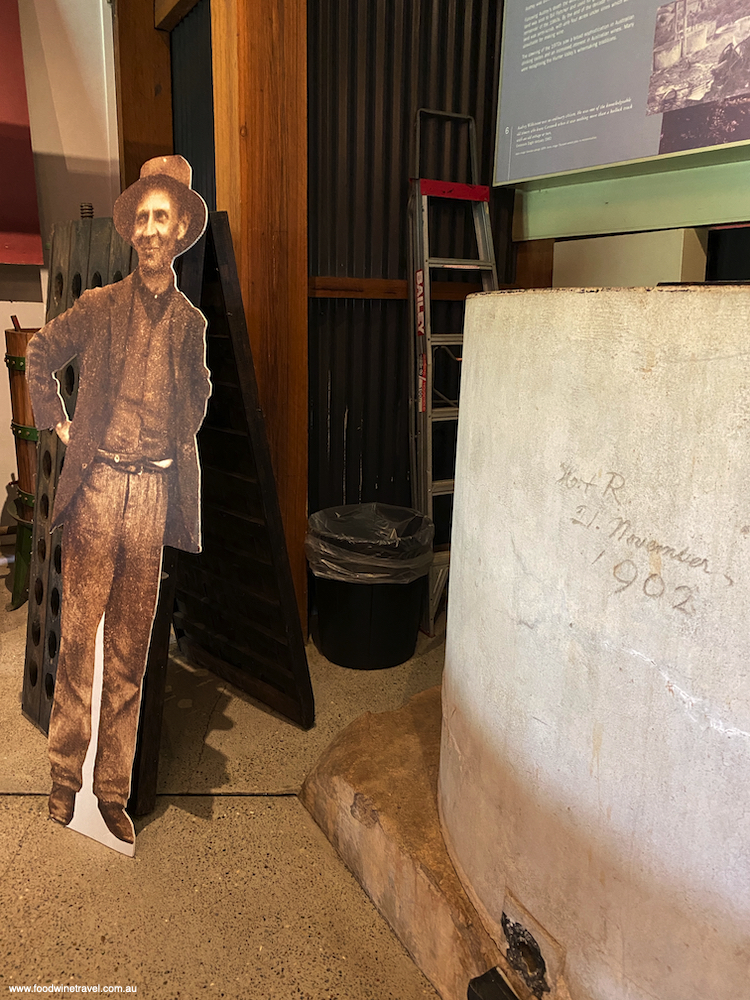 It tells the story of how Audrey's grandfather, Alfred Wilkinson, arrived in the district in the 1860s with his family. Son Frederick (Audrey's father) and another son, John, had studied viticulture and winemaking in France and Germany. They and another brother Charles selected land in the Pokolbin hills and Frederick named his part of the property Oakdale. (The Oakdale name remains on one of three charming vineyard cottages that are rented out to guests, but more about that later.)
The Wilkinsons secured cuttings from the Dalwood vineyard that had been established in 1828 by George Wyndham, who in turn had secured cuttings from John Macarthur's Camden Park Estate. Frederick planted his first vines in 1866; early grape varieties are recorded as Hermitage, Madeira, Shiraz, Riesling and Cabernet.
Audrey was six years of age when his father died. On his deathbed, the deeply religious Frederick extracted a promise from his young sons that they wouldn't drink, and interestingly, Audrey barely touched a drop of alcohol throughout his life (despite winning awards for his wine!)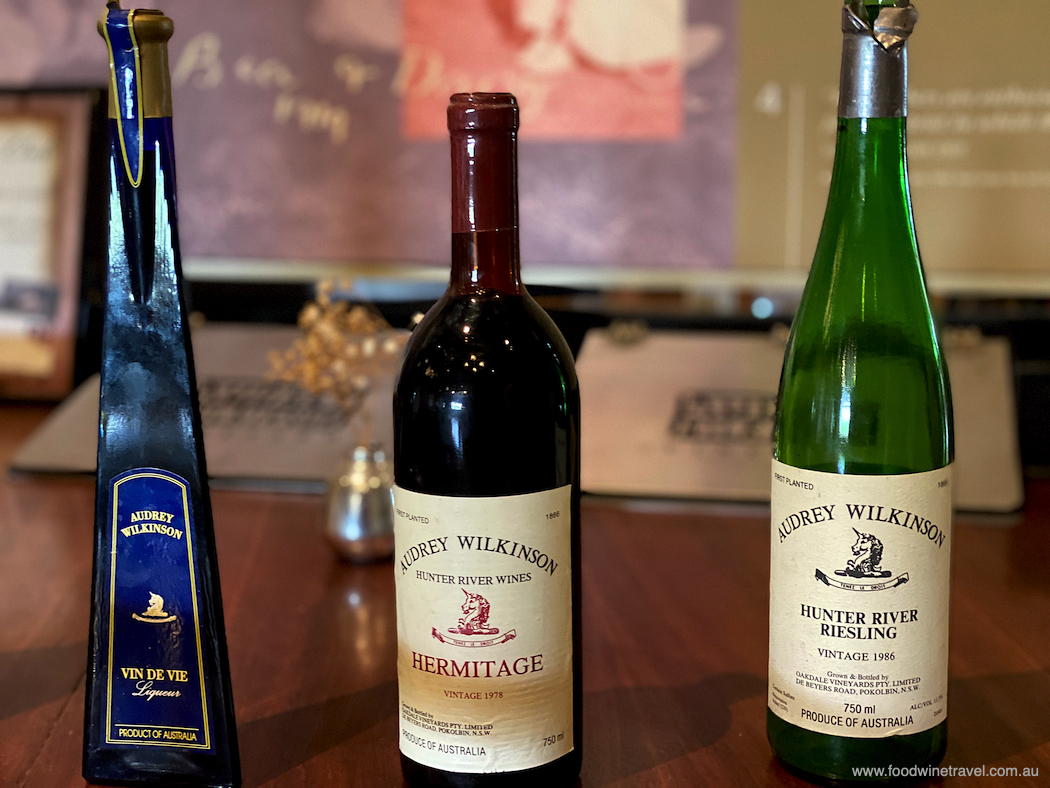 At the age of 15, Audrey stepped into his father's shoes and took responsibility for the vineyard and the winemaking. He kept diaries from 1895 until his death in 1962 at the age of 85, providing a remarkable record of winemaking in the Hunter. In the early 1900s, Audrey collected awards for his hock, claret and fortified wines. He helped develop leading technology such as cement fermenters and steam-powered crushers, and all in all, played an integral role in the development of the region's wine industry.
In 1970, eight years after Audrey's death, the property was purchased by a syndicate wanting to resurrect the tradition of Audrey's wines. Audrey's daughter Zelma was invited to the launch and planted the first new vines. In the year that followed, 80 acres of vines including some experimental varieties were planted on the old Oakdale site.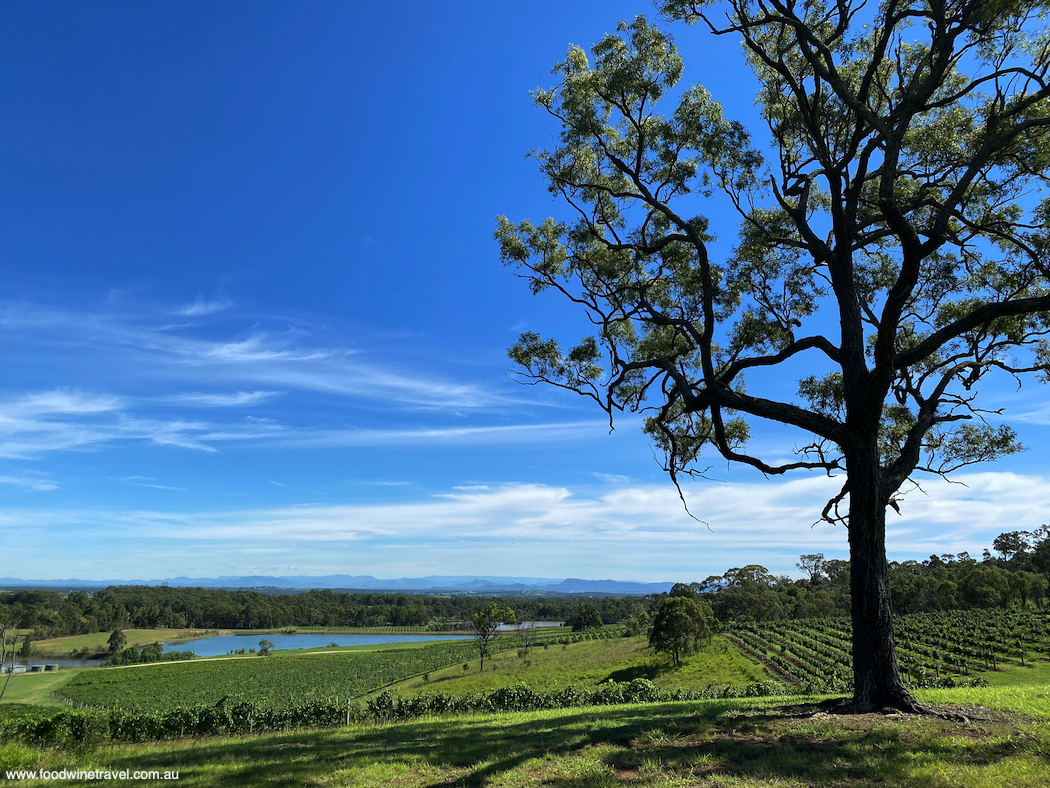 The cellar door opened in 1999 and since then it has become enormously popular, as much for its spectacular view as for its fine wines. Located at the top of a hill, it has sweeping views over a neatly manicured vineyard with the Brokenback Mountain Range providing a picturesque backdrop. The mountains were shrouded in mist for most of the four days we stayed in Oakdale Cottage, creating an ethereal effect that was quite magical.
The 3-bedroom, 3-bathroom house is perfect for families and groups of friends, with a number of lounge and sitting areas, and a large well-equipped kitchen. A barbecue and outdoor area are provided for alfresco dining, along with logs for the fireplace in the lounge, and a vast library of books for your reading pleasure.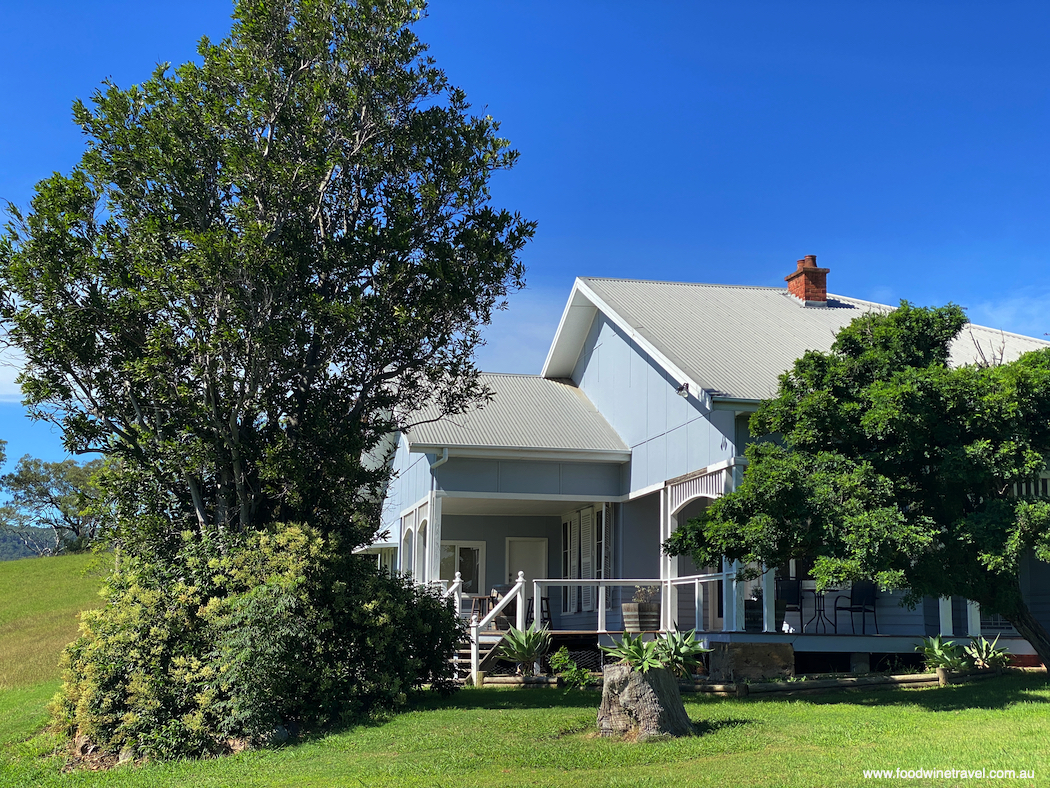 Two other guest cottages, Mulberry Cottage and The Dairy, are also located on the property. The Agnew family has owned Audrey Wilkinson since 2004 and continues to forge new paths while respecting the legacy it has inherited. Our family group did the standard $5-per-person tasting experience which includes wines made from both Hunter Valley fruit and fruit from other NSW regions. Other more expensive tasting experiences are available, featuring more premium wines, museum releases and fortifieds. Here's the line-up of wine we tasted.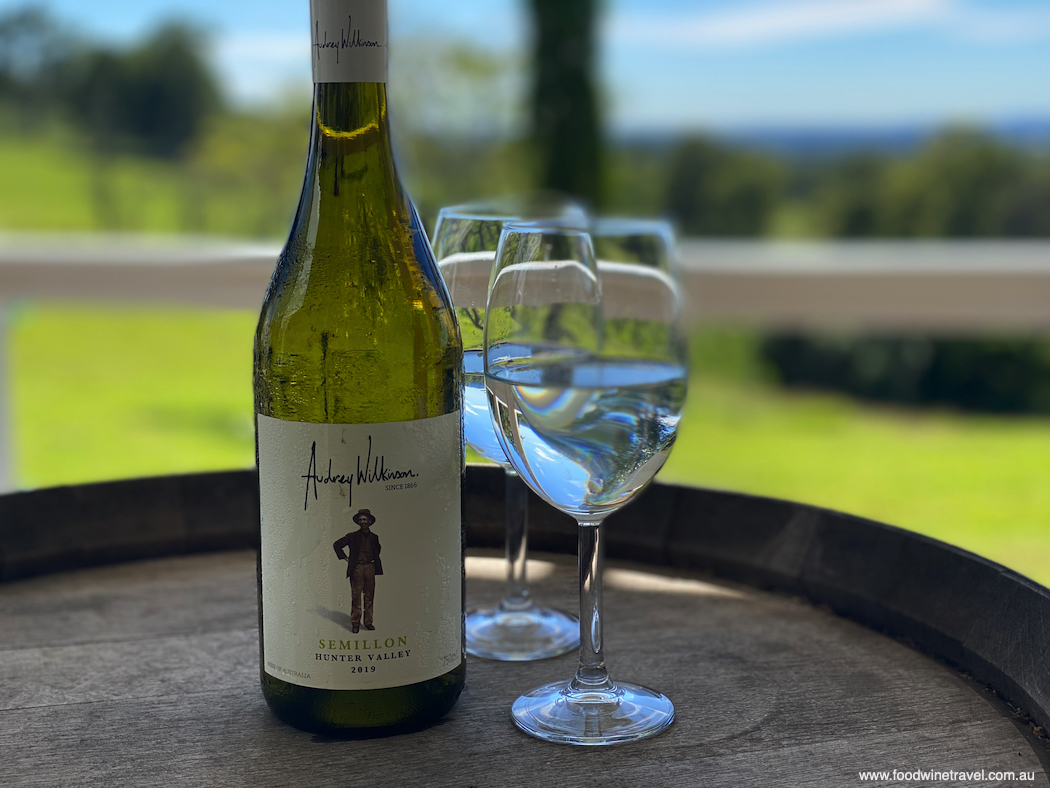 Winemakers Selection Semillon 2019, $30: My pick of the whites but I guess that's to be expected given the Hunter is world-renowned for its Semillon. It has citrus and green apple notes, the hallmark minerality of Hunter Semillon, and a deliciously crisp acidity that would go beautifully with seafood or chicken. We'd love to enjoy it with oysters but the bottle we brought home didn't last long enough for that.
Audrey Series Semillon Sauvignon Blanc 2019, $23: An easy-drinking wine made from 70% Hunter Valley Semillon and 30% Adelaide Hills Sauvignon Blanc. Lime and lemon notes of the Semillon are overlaid with passionfruit from the Sav Blanc.
Winemakers Selection Chardonnay 2017, $35: This comes from a cool climate vineyard in Orange and was matured in French oak for 7 months. It has a creamy mouthfeel and subtle nutty flavour yet is still fresh and zesty. Chardonnay is generally a winner with me and this one is very appealing.
Audrey Series Rosé 2020, $23: A dark ruby colour and refreshingly dry finish. Vibrant with strawberry notes, it's a bit of a fruit salad – made from Hunter Valley Shiraz, Merlot and Tempranillo.
Audrey Series The Lighthorseman 2018, $25: A blend of Cabernet Sauvignon, Merlot and Shiraz from around NSW, this slipped down a treat with pretty well everyone in our group.
Audrey Series Shiraz 2018, $25: Medium-bodied Hunter Shiraz with cherry and raspberry notes, some savoury/earthiness and hints of spice.
Winemakers Selection Moscato 2019, $30: Gentle strawberry notes and a slight spritz. Try it with dessert or charcuterie.
Winemaker's Selection Dessert Semillon 2017, $30: This wasn't part of the standard tasting but we found the staff very tuned into our interests and we were offered a taste anyway. It comes from the historic Audrey Wilkinson Vineyard and is sublime. Yes, we'll have a bottle of that too please…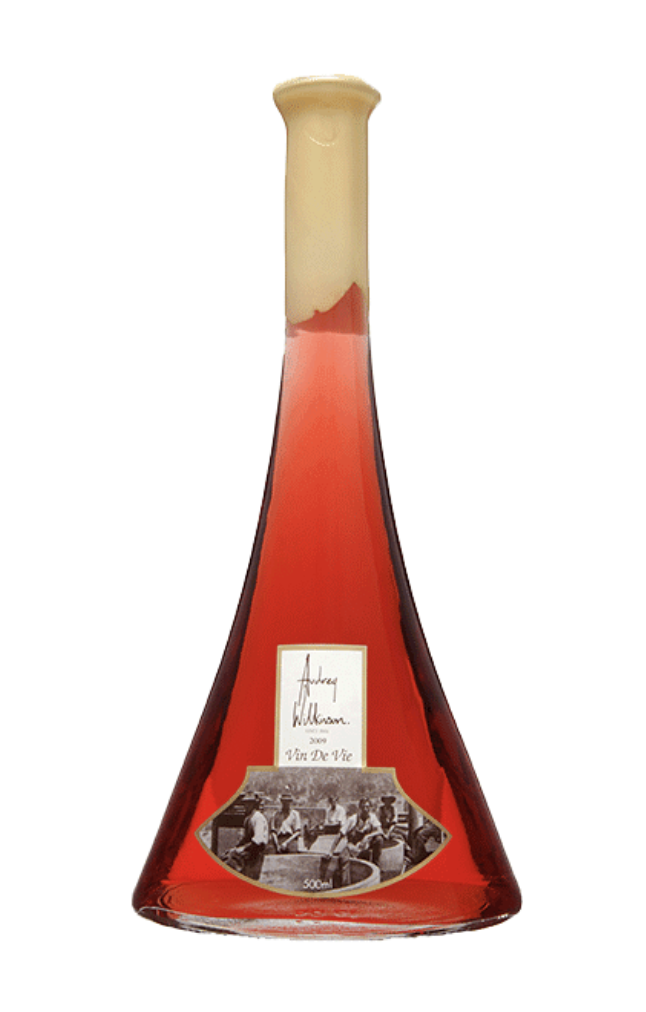 We also picked up a bottle of Vin De Vie NV, $45 (or $70 gift boxed), which we didn't taste at the cellar door but couldn't resist. It looks so stylish! We've tasted it at home since and are super impressed. It's made from Muscat grapes grown just in front of the cellar door and is fortified with brandy before being cellared in old French oak barrels. It's smooth with a subtle sweetness without being cloying, making it the perfect after-dinner drink.
---
We arrived at the cellar door just as a helicopter was taking off with guests who had done a tasting. Others were picnicking on the grass overlooking the vineyard. It's a tough life.
If you go:
Audrey Wilkinson Vineyard
750 De Beyers Road,
Pokolbin (Hunter Valley) NSW 2320
Australia
Tel: +61 (0)2 4998 1866
www.audreywilkinson.com.au