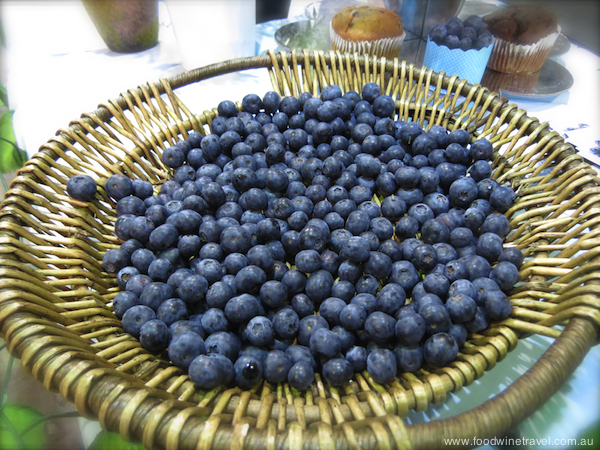 I first met Blue Berrylicious producer Gwenda Ford at MasterChef Live in Sydney in 2012 and was struck by not only her terrific products but also her enthusiasm.
Gwenda makes a range of jams, sauces, relishes, vinaigrette, marinades, porridge and pancake mixes, all from blueberries and raspberries grown on the mid north coast of New South Wales. The products are cooked in small batches with no preservatives or colours added.
In early 2009, Gwenda and her partner in Blue Berrylicious, Jo, were packing locally grown blueberries and swapping blueberry recipes when they realized they had the ingredients for success.
"We looked at each other and said 'this is so good we should bottle it'," said Gwenda (pictured).
And so their business was born.
Gwenda says they use Coffs Coast berries and local ingredients including hand-squeezed lemons, fresh ginger, whole peppers, mustard seeds, hand-cut onion and basil when it is in season. If it is out of season, they wait till it is growing again. She does use imported cinnamon because she has been unable to source Australian-grown cinnamon.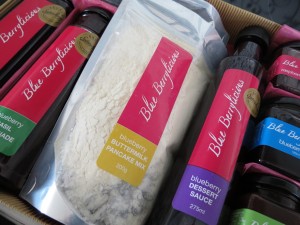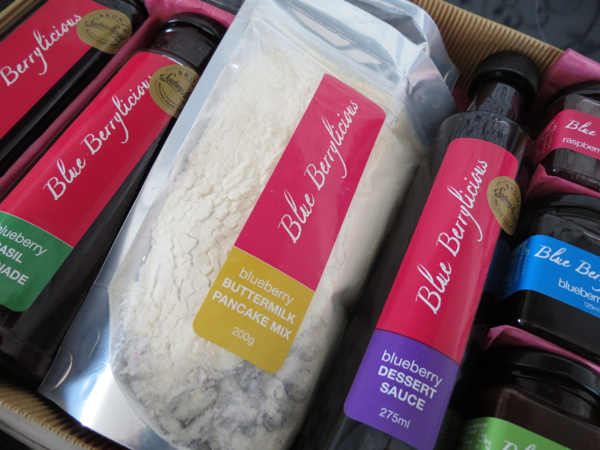 I've tried a number of the Blue Berrylicious products, including the blueberry jam, raspberry & vanilla jam, blueberry dessert sauce, pancake mix, blueberry relish, blueberry vinaigrette, raspberry dessert sauce and blueberry basil marinade.
I have to say they're all pretty amazing!
I used the vinaigrette on a smoked chicken salad with mixed green leaves, slivered almonds and avocado. The dessert sauce was the perfect topping for a good vanilla icecream and a handful of fresh berries. Try it also in the cheesecake recipe here.
The products are available from gourmet stores and online at www.blueberrylicious.com.au  Gwenda says they donate 10 per cent of their profits to women's drug and alcohol rehabilitation.
Related post: In My Kitchen in February.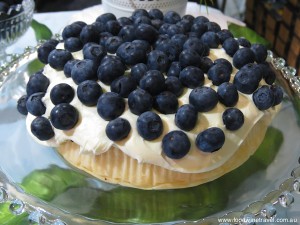 CHEESECAKE WITH BLUEBERRY SAUCE
INGREDIENTS
100 ml Blueberry Dessert Sauce
1 packet of Granita biscuits
150g butter
2 tins condensed milk
2 x 200g packets of Philadelphia cream cheese
juice of 4 lemons
METHOD
Combine melted butter with crumbled biscuits, press into a baking dish.
Blend condensed milk, Philly cheese and lemon until smooth; pour into baking dish.
Refrigerate overnight. Serve with whipped cream and a drizzle of dessert sauce (or fresh berries).