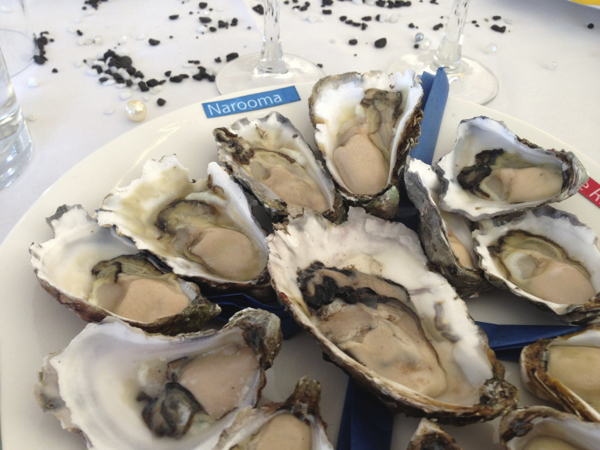 Having been to the Galway and Whistler oyster festivals, both fabulous and very different events, we made the trek down to Narooma to see how theirs shapes up.
The Narooma Oyster Festival is now in its sixth year. A community-grown event that is evolving each year, it had a professional event organiser this year for the first time, but still relies on a committee of incredibly hard-working people.
The festival is in a lovely outdoor setting beside the Wagonga Inlet, where a lot of oysters are grown. The day was sunny and would have been perfect had it not been for the wind. It made sitting outside quite unpleasant – such a pity.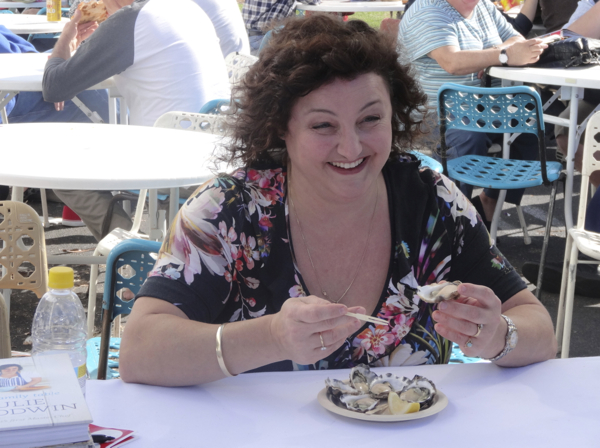 Never mind, we were so caught up with events in the marquee we had little time to be out and about. When we arrived, Julie Goodwin was busy signing cookbooks for a long line of fans. Australia's first MasterChef winner, she did a very popular cooking demo and appears to wear a permanent smile. She tucked into a plate of oysters with relish.
Despite the weather, there was a great vibe with live music, craft and food stalls, and various bars serving drinks and oysters.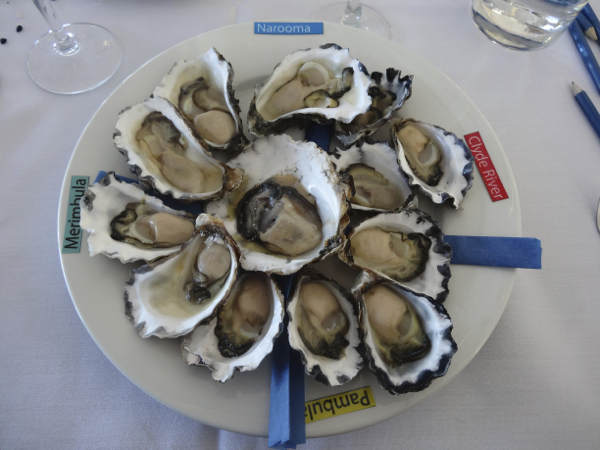 We loved the Ultimate Oyster Experience which saw us tasting a dozen South Coast oysters, three each from Narooma, Pambula, Merimbula and the Clyde River, as well as one big, flat indigenous Angasi oyster. We were given score cards to rate them for presentation, condition and taste. It was interesting seeing how much they varied in flavour, size and creaminess, despite the close proximity of the growing areas.
We were served a glass of Croser bubbles to start with, followed by a glass of Petaluma Sauvignon Blanc served at perfect temperature and a really beautiful match for the oysters. The one disconcerting thing about the Ultimate Oyster Experience was that most people seemed to treat it as just another opportunity to scoff down oysters and booze. If they'd listened to what the oyster growers had to say they'd have learnt some fascinating stuff.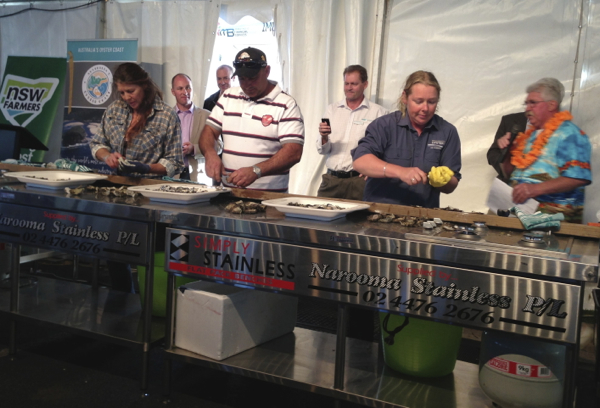 Afterwards, there was an oyster shucking competition, not in the same league as the Galway or Whistler competitions but it was great fun and has the potential to grow. Former world champion Jim Wild presided over the judging (pictured above). We wondered what was done with all the oysters that were shucked – wistfully, perhaps, as we'd still only eaten 13, nowhere near our consumption at the other festivals.
There was also the launch of an exciting initiative which will see the oyster-growing region from Shoalhaven down to the Victorian border branded as "Australia's Oyster Coast". I've written about this in a separate post, and you'll also find a separate post on Saturday night's dinner at The Whale Restaurant.
It was an outstanding dinner and the perfect end to an oyster-filled day.
Related posts: Welcome to Australia's Oyster Coast; The Whale Restaurant, Narooma.