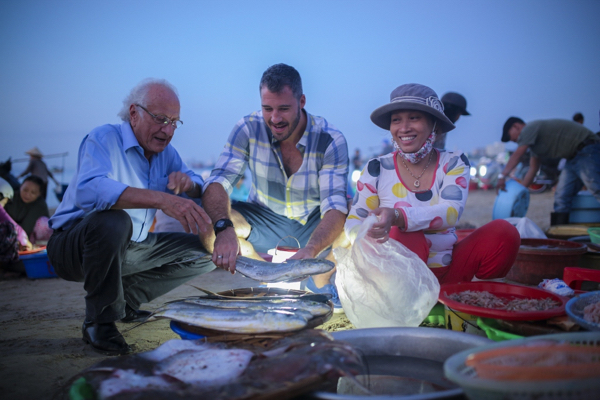 Stunning hotels and resorts in Vietnam, Thailand and Australia provide the backdrop for a new series called Chef to Chef, which lets you in on some local insider secrets and offers recipes for wow-factor dishes like the Red Snapper dish here.
The series, a collaboration between InterContinental Hotels & Resorts and FOX International Channels, sees chef and host Sharone Hakman meeting with chefs Michel Roux, Ian Kittichai and Ross Lusted in spectacular locations where they sample local culinary delights before cooking a dish using local ingredients.
Favourite food haunts in Sydney
Lusted owns the two-hatted Sydney restaurant, The Bridge Room, and is a member of InterContinental Hotel Group's culinary panel. In one of the episodes, he explores some of his favourite spots in Sydney such as the Sydney Fish Market and butcher Victor Churchill.
He prepares a mud crab dish at The Bridge Room, while Hakman prepares his signature dish of Grilled Beef Tongue on the rooftop of the InterContinental Sydney Double Bay. (By all accounts, the view is terrific and I'm looking forward to seeing it for myself next week.)
In another episode, three Michelin Star chef Michel Roux (below), whose latest venture in Asia is the fine dining restaurant La Maison 1888 at Vietnam's InterContinental Danang Sun Peninsula resort, meets local fishmongers at Man Thai Beach before preparing his Pan-fried Red Snapper dish at the resort. Check out his recipe below.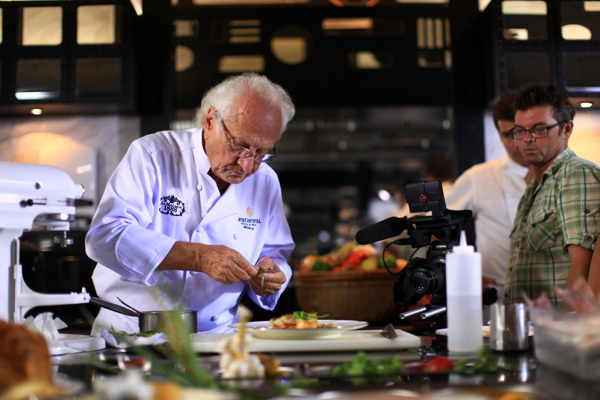 Ian Kittichai is an award-winning chef in Thailand and also a member of InterContinental's culinary panel. He boards a tuk tuk with Hakman in Koh Samui to source herbs and spices from local markets, using them to season his indulgent Phla Pla Tuna dish at InterContinental Samui Baan Taling Ngam Resort.
All of these episodes make for entertaining viewing and can be seen across Fox's channels (Nat Geo People, National Geographic Channel and FX) until the end of the month. Alternatively, you can watch them online at www.cheftochef-intercontinental.com, where you can also download the recipes (I've given you a head-start with the snapper recipe here.)
InterContinental's culinary panel is a new initiative, with 5 chefs – Ross Lusted, Ian Kittichai, Theo Randall, Sam Leong and Dean Brettschneider – appointed as culinary ambassadors to develop a repertoire of unique signature dishes for guests dining in IHG's hotels across Asia, the Middle East and Africa.
The group's Vice President Food & Beverage, Phil Broad, said the Chef to Chef series was an opportunity to showcase its cuisine to a wider audience, and to "share the journey" of how its dishes are selected and created.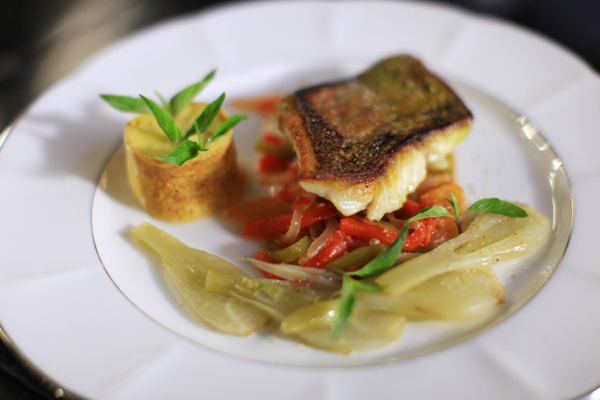 PAN-FRIED RED SNAPPER WITH PIPERADE AND AIOLI
Serves 4
2 red snapper, about 800 grams each, scaled
Cut off the dorsal fins of the red snapper tail with scissors. Lay the fish on one side and, using a filleting knife, open it up through its back to the belly, gliding the knife over the bones. Repeat on the underside of the bones.
Check for bones; remove with tweezers if needed. Rinse the fillets under a trickle of cold running water. Thoroughly dab the fillets dry with kitchen paper or a cloth.
Cook the fillet of red snapper skin side down with a little olive oil in the pan for 3 to 4 minutes on medium heat, turn and cook for 30 seconds on the other side.
Aioli:
120 grams baked potato
2 egg yolks
1/3 cup grapeseed oil
2/3 cup olive oil
5 grams garlic, chopped
Rub baked potato through a sieve into a bowl. Add the garlic cloves, egg yolks and pinch of salt. Mix together. Add the olive oil and grapeseed oil in a thin, steady stream, mixing constantly.
When about half of the oil has been incorporated, add some drops of water to emulsify. (Instead of the water you can add saffron strands infused in 3 tablespoons of boiling water for 5 minutes or so). Gradually incorporate the remaining oil, then season the aioli with a pinch of cayenne and salt to taste.
Piperade:
3 tablespoons olive oil
200 grams red peppers, peeled
200 grams green peppers, peeled
200 grams red onion, peeled and sliced
600 grams ripe tomatoes, peeled, deseeded and sliced
30 grams garlic, chopped
Gently heat olive oil then add the onions, cover the pan and sweat for 15 minutes.
Remove the stalks from the peppers, halve them lengthways and discard the white membrane and seeds. Slice the peppers, but not too thinly, and add them to the onions, together with the garlic. Cover the pan and cook over low heat for 10 minutes, stirring from time to time.
Add the sliced tomatoes and cook uncovered, for about 15 minutes, until their juices have evaporated. The vegetable mixture should be melting and soft but not liquid. Season to taste with salt and cayenne.
Photos supplied by InterContinental Hotels & Resorts.