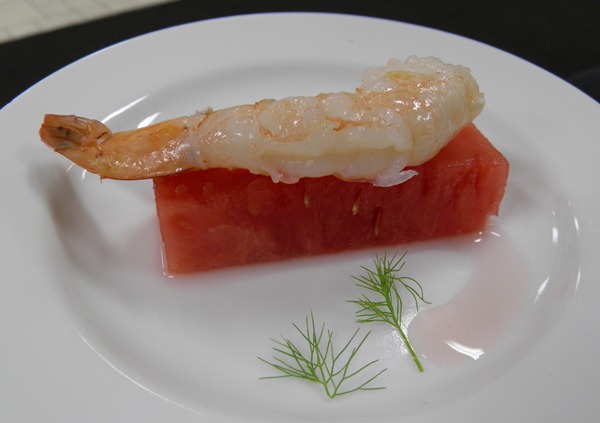 There's something deliciously fishy about Christmas. Thus was billed the cooking class that chef and cookbook author Kate McGhie conducted at Cooking Co-ordinates in Canberra's Belconnen Fresh Food Markets.
Turning out a host of stylish dishes with consummate ease, Kate provided lots of wonderful tips for using seafood during the festive season.
Within minutes of the class beginning, she had whipped up her Watermelon Prawn "Sashimi", a simple elegant starter  consisting of a cooked prawn sitting on top of a slice of watermelon drizzled with a syrup made from sugar, water, mirin, ginger and mint.
Even the colours spell Christmas, with the red of the watermelon and the green dill garnish.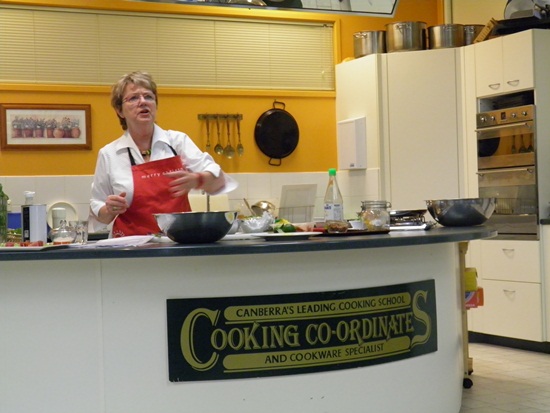 Kate, who writes on food for the Herald-Sun in Melbourne, says she is happy to take shortcuts in preparing quick, easy dishes, but she never takes shortcuts with quality.
Although she trained as a chef in Switzerland, has worked in Italy, Thailand and Japan, and has made more than 30 trips to Morocco to familiarise herself with the cuisine, she says you don't have to be a chef to turn out beautiful food: "You only have to have a good sharp knife."
Kate's second dish was an eye-catching plate with little chunks of raw tuna, small cubes of Bloody Mary jelly (made from tomato juice, Vodka, Worcestershire sauce and Tabasco), dainty balls of avocado, slices of radish and a scattering of micro herbs.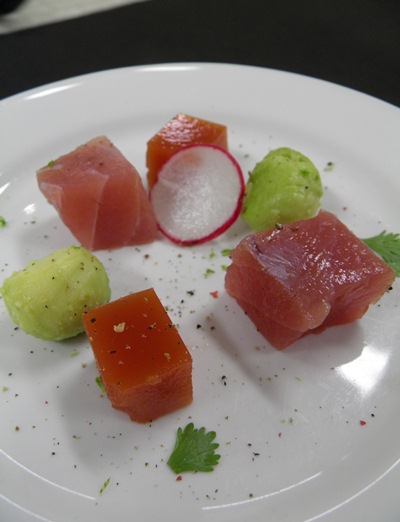 This is one idea I'm looking forward to tinkering with, perhaps substituting some Bloody Mary sorbet for the jelly, and serving it differently – either in shot glasses or on white ceramic spoons. The possibilities are endless.
I loved the next dish, Pineapple Carpaccio with Thai Fish and Herb Salad, a great recipe for making a little fish go a long way. Slices of fresh pineapple are topped with a salad of Asian herbs, bean shoots, sliced kaffir lime leaves, chilli, shallots and shredded trout. A dressing of lime juice, fish sauce, palm sugar and chillies is drizzled over it.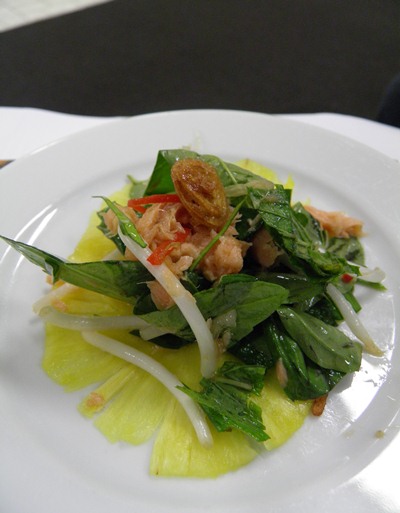 "This is the sort of dish that nothing can really go wrong with," says Kate. "You must have harmony of flavours and you must have texture. You must have sweet, you must have sour. You must have crunch."
Kate is an incredibly busy woman with enormous talent. As well as writing on food, she designs and hosts 'cultural-cuisine' tours for small groups.
She trained the first two Australian apprentice cooks to win gold medals at the 1984 and 1988 World Culinary Olympics in Frankfurt, Germany.
She has also written a wonderful cookbook, published by Hardie Grant Books and simply called COOK, that won some major international awards.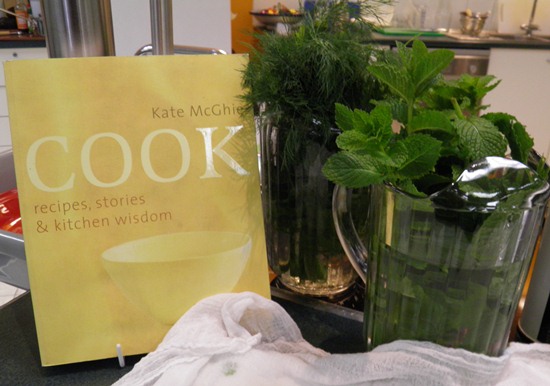 Seeing Kate at work in front of a class, it's evident that she has a food stylist's touch. She arranges everything on the plate so effortlessly.
As two of the Cooking Co-ordinates team – "Santa's helpers" as she called them – hovered in the background, plating up the same dishes so the class could enjoy them, Kate turned out a few more dishes, including Hot Smoked Salmon with Hazelnut and Honey, Kipfler Potatoes with Smoked Salmon and Egg, and a Nori Fish Roll.
For me, the dish of the day was her Maghreb Salad, a healthy, colourful dish that is a nod to her passion  for all things Moroccan.
Enjoy the recipe here and if you don't have all the ingredients, consider substituting other grains and fruits.
Instead of black wheat, you could use quinoa or barley, and instead of sultanas, you could use currants, chopped dates, prunes or cranberries.
Kate urges people to play around with her recipes and have fun. "You've got to be able to put your own DNA onto the food you do."
MAGHREB SALMON SALAD
Serves 6
1 cup bulghur
1 cup pearl cous cous
1 cup black wheat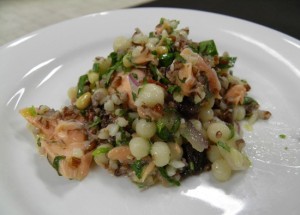 350g salmon fillets
2 Italian tomatoes, diced
1 small red onion, finely sliced
½ cup chopped parsley
½ cup chopped mint
½ cup chopped coriander
2 tablespoons honey
½ cup orange juice
½ cup olive oil
sea salt and freshly ground pepper
½ cup toasted pine nuts
½ cup sultanas
Soak bulghur and cous cous according to packet directions. Cook wheat in boiling water until tender. Drain all three well. Poached salmon in water and when cool enough to handle, remove skin and break flesh into pieces. Put into a bowl with bulghur, cous cous, wheat, tomatoes, onion, herbs, pine nuts and sultanas. Whisk honey, orange juice and oil together with salt and pepper. Pour over ingredients in bowl and toss.
Recipe courtesy of Kate McGhie.