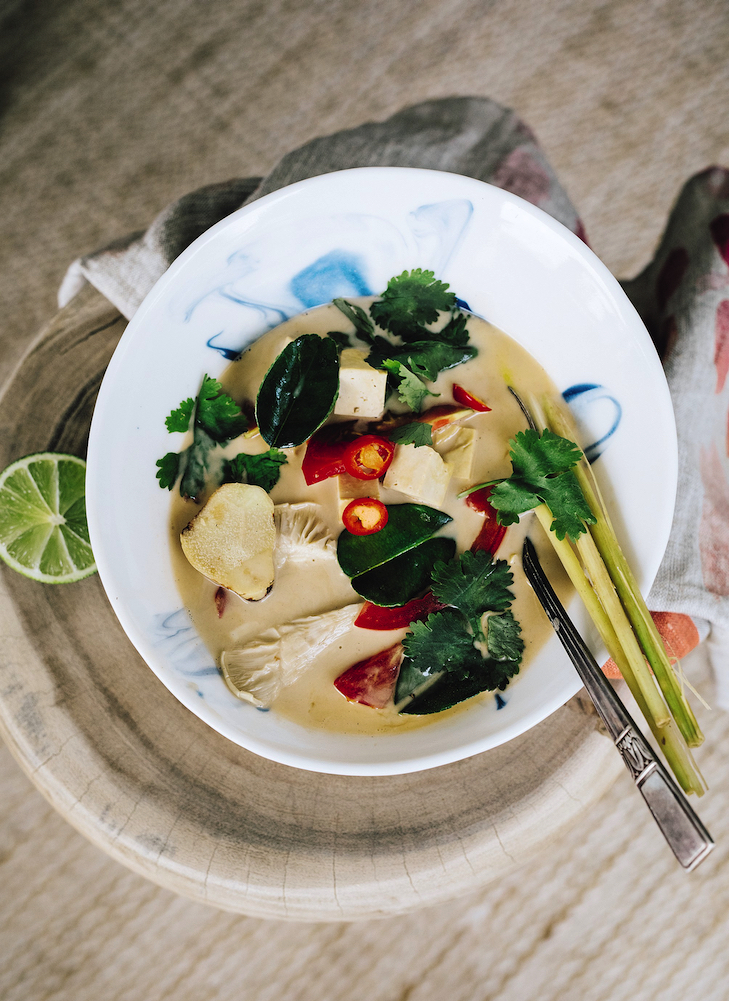 Now resident back in Australia, vegan blogger Ellie Bullen lived in Bali for over two years, using it as a base to travel the world. Since publishing her first cookbook, Elsa's Wholesome Life, in 2017, she and her husband Alex have visited more than 20 countries across South-east Asia, the Middle East, Europe, the South Pacific and North America.
Those travels provided inspiration for her second book, Global Vegan, published by Plum, a collection of plant-based recipes interspersed with her own luscious food photography and shots of her – a gorgeous twenty-something – in exotic locations. It comes as no surprise to know that she has a big following on Instagram.
Following a vegan diet while travelling is not easy, a fact that Bullen acknowledges in Global Vegan. But she took it in her stride, undertaking cooking classes in various countries, and these became some of her favourite travel experiences. The recipe here, for her favourite Thai soup, was learned at a class in northern Thailand.
Best vegan food in Bali and Tulum
She visited local farms and markets, learning about vegetables, herbs and spices, and was surprised to discover that Bali and Tulum (Mexico) had some of the best vegan food she has had. All of these experiences have informed her recipes, as have her qualifications as a dietitian and nutritionist.
As well as covering off the basics of nutrition, she provides a useful glossary of ingredients that she keeps in her pantry and fridge to add flavour, texture and nutrition. The recipes are by no means difficult but by stocking up on some of these ingredients that appear regularly throughout the book (chia seeds, flax seeds, dried wakame, coconut nectar, konjac noodles etc) it makes the whole process of switching to a plant-based diet much less daunting.
Fish sauce is such a key ingredient in Asian cooking you might wonder how it could be substituted, but she offers a surprisingly easy recipe for a substitute made with dried wakame and white miso paste, products readily available from Asian supermarkets. Nor is her Cashew Cream Cheese difficult, this vegan staple used on everything from nachos and tacos to burgers and pizzas.
There's a little bit of everything in Global Vegan, from Korean Bibimap, Rice Paper Rolls and Singaporean Laksa, to a Mexican Salad Bowl, Poke Bowl and Pumpkin and Mushroom Risotto with Garlic and Thyme. It's a book to dip into and imagine you are travelling even when international travel is out of the question.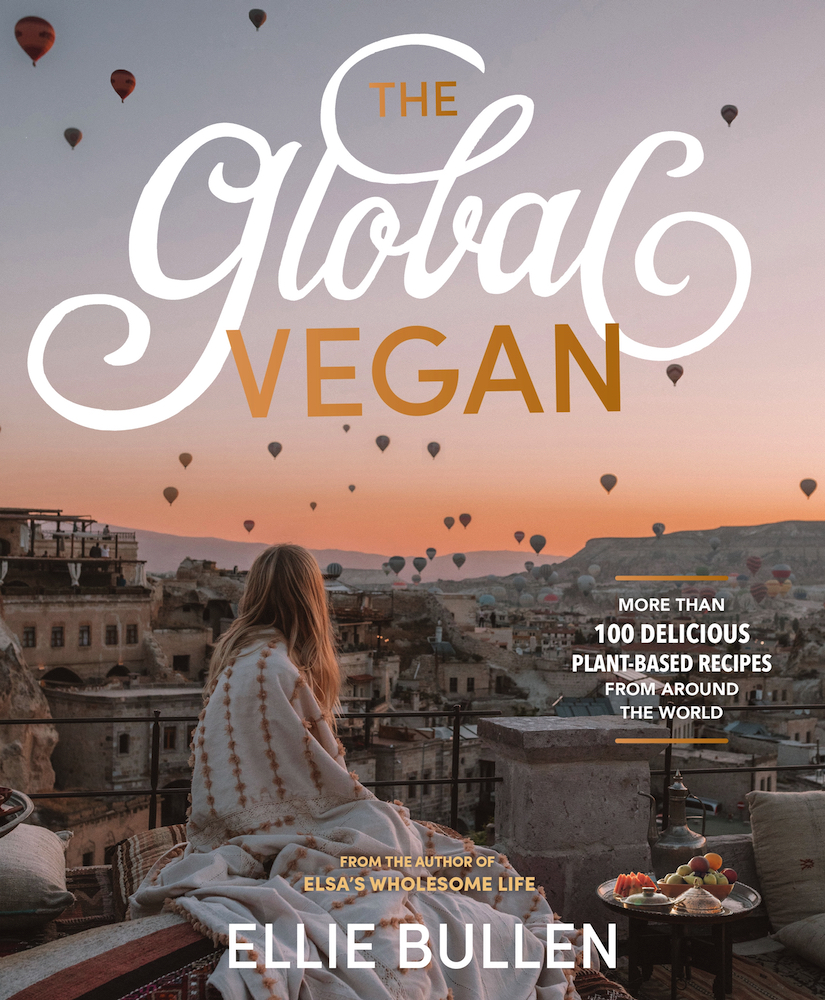 ---
Buy your copy of Global Vegan from Book Depository now (free delivery worldwide).
Buy your copy of Global Vegan from Australian-owned Booktopia.
---
Tom Kha Gai With Mushrooms
Serves 2
250 ml (1 cup) coconut milk
3 cm piece of galangal, sliced
1 lemongrass stalk, white part only, bruised with the flat edge of a knife
45 g oyster mushrooms, roughly torn
100 g soft tofu, cut into 2 cm cubes
1 tomato, quartered
1 tablespoon vegan fish sauce or soy sauce
1 teaspoon coconut sugar
1 long red chilli, sliced
4 kaffir lime leaves
1 tablespoon freshly squeezed lime juice
handful of coriander leaves
Place the coconut milk, galangal and lemongrass in a saucepan and bring to the boil over medium-high heat. Boil for 1 minute, then add the mushroom, tofu, tomato, vegan fish sauce or soy sauce, coconut sugar, chilli and 125 ml (½ cup) of water. Simmer for 5 minutes, add the kaffir lime leaves and simmer for another minute. Remove from the heat and stir through the lime juice. Divide among bowls, scatter over a few coriander leaves and serve.
Recipe and image from The Global Vegan, by Ellie Bullen. Photography by Ellie Bullen. Published by Plum and reproduced with the publisher's permission.
This story originally appeared in PS News.