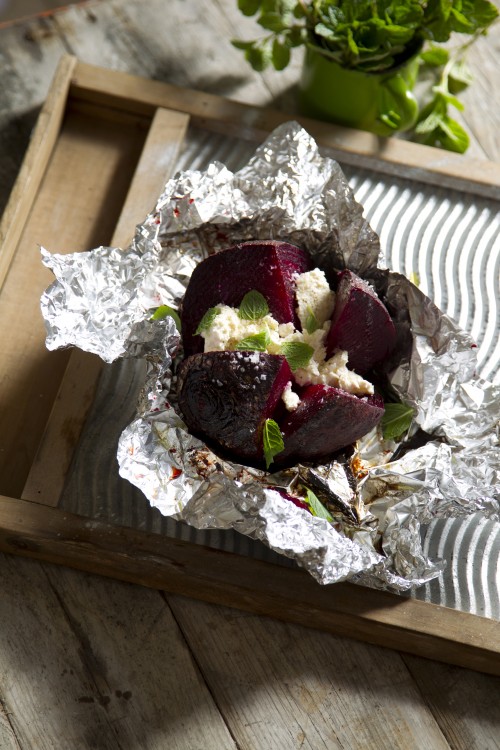 In recent years I've really cut down on the amount of meat I eat. I could never stop eating meat completely but I recognise that it's kinder to the planet, and to our wellbeing, to reduce our consumption of meat.
And so I'm happy to lend my support to Meat Free Week, which is being held for the first time in Australia, from March 18 to 24.
The event is dedicated to raising awareness of the amount of meat Australians eat and, more importantly, where it comes from.
People can get involved by signing up for the challenge of giving up meat for a week and in doing so, raise funds to help end factory farming. The funds go to Voiceless, a not-for-profit animal protection institute.
Co-founders of Meat Free Week, Lainie Bracher and Melissa Dixon, gave up their careers in publishing to help this cause. They're passionate about raising awareness of our increasing meat consumption and its impact on animal welfare, health and the environment.
The aim of the week, they say, is not about promoting vegetarianism or veganism, but getting people to think about the amount of meat they consume each week, where it comes from and the broader implications.
Lainie points out that with an average of 120kg of annual meat consumption per capita, Australia is ranked as the second biggest meat eater in the world after the United States.
"That consumption isn't possible without factory farming, which causes suffering to more than 500 million animals in Australia each year," she says. "Two thirds of the world's meat now comes from factory farming, a large-scale industrial operation where animals are treated like commodities in a production line, their pain and distress disregarded in the pursuit of profit."
Says Melissa: "We know it's a big ask to cut back something you love to eat, but when people know the facts, we're confident they'll commit to eating less meat and when they do, make the choice to buy ethically produced meat."
Chefs Simon Bryant, Belinda Jeffery and Bill Granger are among many who have provided meat-free recipes for the campaign. Simon Bryant is a committed vegetarian himself but he says that at the very least, people should be buying ethically sourced meat.
"As custodians of this planet it is our job to make these changes happen by asking the right questions and rewarding farmers who follow best practice with fair prices for their work and produce," he says.
I love the following recipe from Matt Wilkinson which uses one of my favourite vegetables, beetroot.
For more meat-free recipes and information on how to register, visit www.meatfreeweek.com
FOIL-ROASTED BIG BEETS WITH RICOTTA & MINT
Serves 4 as a side
4 beetroot (beets) (200 g/7 oz each), washed and trimmed
olive oil, for drizzling
sea salt flakes and freshly ground black pepper
25 ml (3/4 fl oz) red wine vinegar
250 g (9 oz) fresh ricotta, crumbled
1 large pinch of mint leaves, torn
Preheat the oven to 220°C (425°F/Gas 7).
Cut 2 sheets of foil and lay them across each other to make a cross. Put the beetroot in the middle, drizzle with the olive oil, season with salt and pepper, then wrap up the beetroot to completely seal. Place on a baking tray and roast for 1 hour. Insert a skewer through a bulb to test to see if they're cooked.
Once done, carefully transfer onto a serving plate, unwrap, cut an 'X' into the tops and push down like a jacket potato. Leave to cool for a few minutes.
Just before serving, drizzle over the vinegar, top with the ricotta and mint and season with a little more salt and pepper. (Matt suggests scooping the beetroot flesh out without eating the skin.)
Recipe courtesy of Matt Wilkinson, co-owner Pope Joan from Mr Wilkinson's Favourite Vegetables, published by Murdoch Books 2012. Photograph (c) Jacqui Melville.