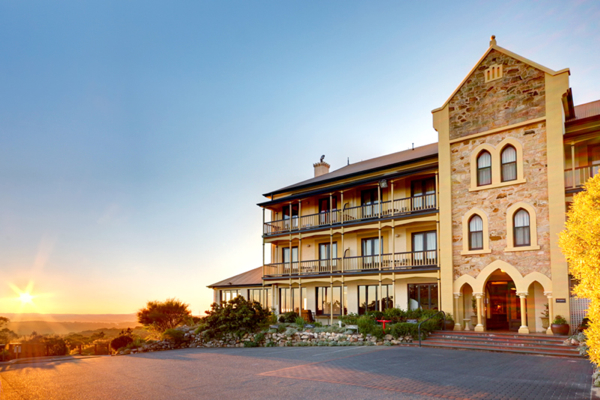 Mount Lofty House is high up in the Adelaide Hills with a commanding view of its surroundings stretching back towards Adelaide. When Thomas Hardy built the place in 1852 he had more than just a vision of the countryside. He established vineyards and magnificent gardens that remain to this day and have been meticulously restored and maintained with the same sound environmental philosophy.
There are 18 acres of gardens and bushland with small select vineyards of Chardonnay and Pinot. Standing magnificent among the gardens are three giant Redwoods which were planted over 160 years ago. There is also a grove of oak trees planted by Thomas Hardy when he built the house.
Mount Lofty House Hotel is now part of the MGallery collection of boutique hotels in Australia and the fabulous setting and history make it one of the best places to visit or stay in the Adelaide Hills.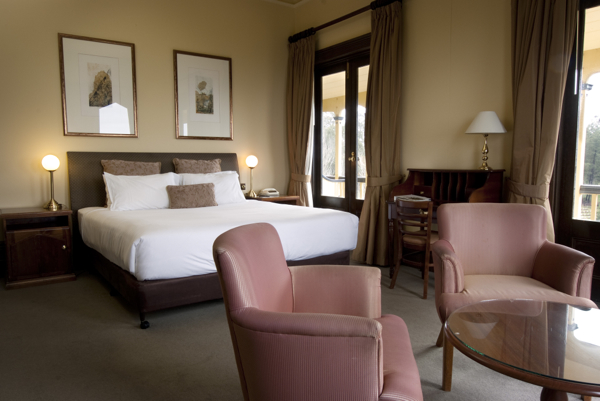 The rooms have an old world charm with modern amenities, including free WIFI – something not very common in many Australian hotels. Some of the rooms look out across the Piccadilly Valley – a view worth waking up to. There are also three cottages available in the grounds. The hotel is popular as a conference retreat and I would say that the environment could be very inspirational. At Mount Lofty House you will be drinking natural spring water, a feature you wouldn't find in many hotels.
Picadilly Restaurant
The Piccadilly Restaurant has breathtaking views as well as a particularly fine menu of local produce and wines. Menu options include a 5- or 7-course degustation menu. You can book in for lunch or dinner even if you're not staying in the hotel.
I stayed at Mount Lofty House while attending the launch of Beerenberg's Botanicals range. The event took place in the Piccadilly Restaurant and was billed as Beerenberg's Highest Tea. On that afternoon I wasn't looking at the view much but concentrating on the fine food and Bird in Hand wines.
The next morning, however, I was up early after a very comfortable night and wandered through the gardens as they came to life in the first rays of sunshine. As I strolled across the tiered lawns, the view down the valley dotted with pockets of mist was magnificent.

Fact File:
Mount Lofty House
74 Mt Lofty Summit Road, Crafers
South Australia
+61 8 8339 6777
www.mtloftyhouse.com.au
Top two photos supplied by Accor.