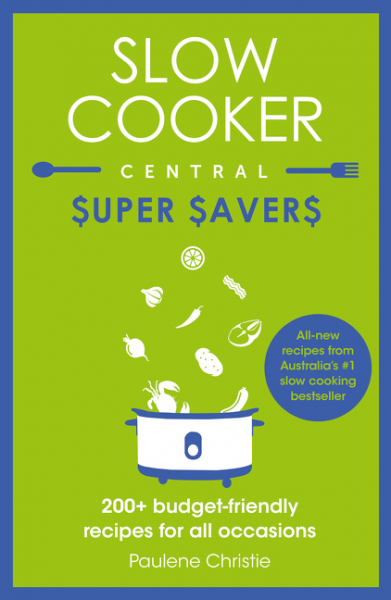 Even the cheapest cuts of meat or the most inexpensive vegetables can be transformed into appealing dishes using a slow cooker. Amongst all my kitchen appliances, the slow cooker is one of my favourites. It's such an easy way to cook, as you can pile all the ingredients into it, then set and forget. The cost savings in using the appliance are great too. Paulene Christie, author of the Slow Cooker Central series of books, estimates the cost at about 4 cents per hour, compared with 60 cents per hour for a conventional oven.
Her latest book, Slow Cooker Central Super Savers, published by ABC Books, is organized into $5, $10, $15 and $20 dishes, making it ideal for anyone who is raising a family and/or challenged financially. The book includes 200 recipes from the Slow Cooker Central website and Slow Cooker Recipes 4 Families Facebook page.
Christie started the Facebook group in 2012 and within 18 months had an active community of 270,000 members. Today, it's around 400,000 and she has a team of administrative people to help her. Her website has attracted a passionate network of slow-cooking devotees, all of whom will undoubtedly welcome this latest collection of cheap and cheerful recipes.
While a lot of the Slow Cooker recipes are cooked in sauces of some kind, the recipe here is a great alternative for anyone wanting just simple seasoned chicken. You can replace the drumsticks with any cut of chicken, on or off the bone. Wings would be even more budget friendly.
!! Buy Slow Cooker Central Super Savers from Book Depository, with free delivery worldwide !!
Food Wine Travel gets a small commission on purchases through this link but it doesn't cost you any extra.
PAPRIKA CHICKEN
Serves 4
8 chicken drumsticks
1 tablespoon finely chopped fresh parsley
2 teaspoons paprika
4 garlic cloves, minced
1 teaspoon garlic salt
1 teaspoon olive oil
Salad, chips or vegetables, to serves
Place the chicken drumsticks into the slow cooker. Combine the remaining ingredients and scatter over the chicken.
Using a large plastic or wooden spoon, mix the drumsticks around so they become coated. Cover and cook on LOW for 4½ hours.
Note: There is no need to brown the chicken first, but you can if you prefer to.
Recipe and image from Slow Cooker Central Super Savers, by Paulene Christie, published by ABC Books, and reproduced with their permission.
This story originally appeared in PS News online.