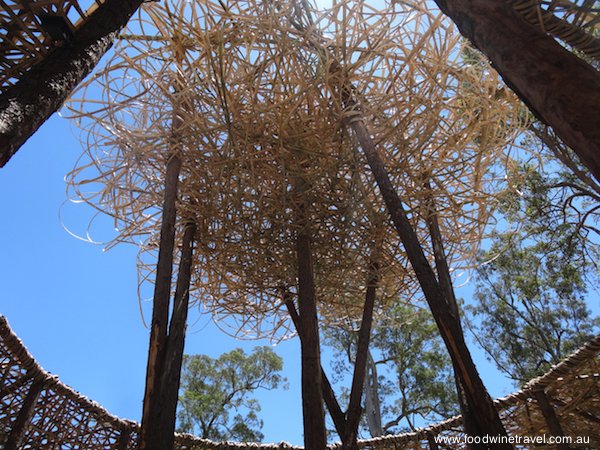 It took me a long time to get to the Woodford Folk Festival. 29 years in fact. But now that I've been, I definitely won't be waiting that long to go again. The festival is held just outside of Woodford, about 45 minutes' drive from my new home in Queensland.
The one just past (held from December 27 to January 1) was the 29th and by all accounts it's a festival that just keeps getting better and better. What really struck us was not just how many colourful people we rubbed shoulders with, how broad the audience demographic was and how kind everyone was to each other, but how diverse the entertainment was.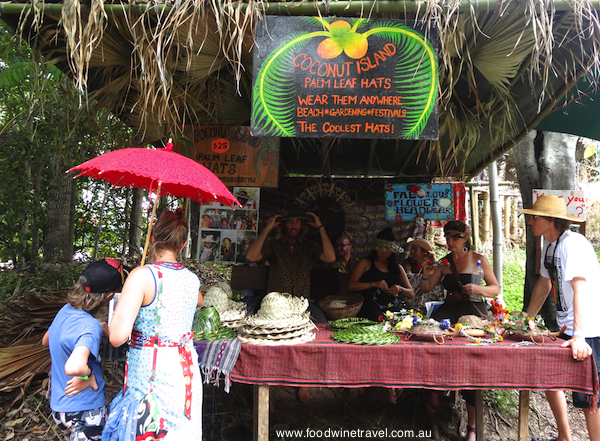 'Folk' is a loose description of the music, which offered something for pretty much every musical taste across the 35 venues. But the line-up also included dance, cabaret, circus, comedy, workshops, debate, street theatre, films, forums, visual arts, an entire children's festival and a New Year's Day Fire Event.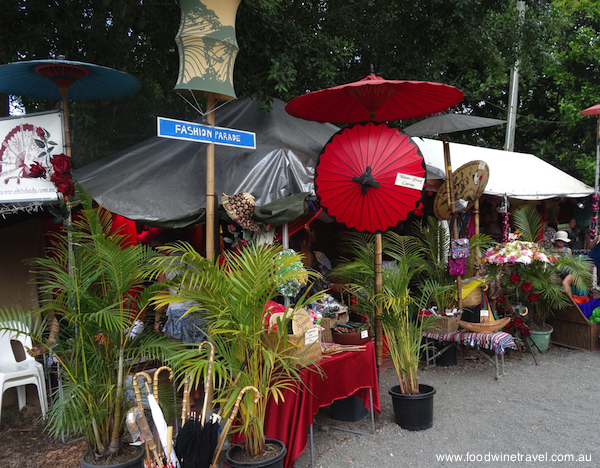 We were converted Woodfordians from the minute we passed under Woven Cloud, Taiwanese artist Wang Wen Chih's monumental bamboo sculpture at the entrance to the festival (top photo). The installation was built from locally harvested bamboo using very little machinery and a weaving technique that Wen Chih learnt from elders in the mountains of Taiwan.  Wang Wen Chih was also responsible for the bamboo tunnel leading to the main amphitheatre.
A collaboration with Sydney arts collective Cave Urban, this striking work lit with changing colours created a great sense of anticipation as we took our places on the grassy slopes of the amphitheatre for the welcome ceremony. And what a spectacular ceremony it was as darkness fell, fires were lit and the festival theme of masks was brought to life with a procession of masked characters and Tilda, the wandering journeywoman on a quest to find her true self. The 5 metre tall puppet was created by a team of 30 puppet makers and student volunteers under the direction of Noelene Kavanagh from Irish theatre company, Macnas.
Maurie's earlier post introduced some of the acts from the first few days. On the Monday, as some of the festival goers were already flaked out at the foot of the Concert stage, we were tapping our toes to a New Tradition concert with the Tim Edey Trio, Lau and The East Pointers.
Pushing the boundaries of Celtic music to lofty heights, Tim Edey (below left) makes the squeeze box sound like the fiddle and wears a permanent smile despite performing with an energy that surely requires every fibre of his being. But then again, this man has energy to burn … he left his home in Scotland on Boxing Day and was returning to play a concert there on New Year's Eve!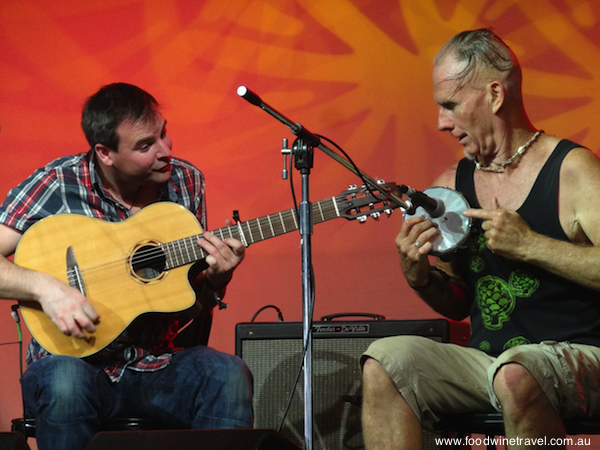 In a further display of energy, Greg Sheehan (above right) teamed up with the trio to play the tambourine. I have never heard the tambourine played like that before – so fast, so intense, Sheehan tapping his fingers on the instrument as he would on a drum. At times it sounded as though he was playing an Irish bodhrán.
As with the Tim Edey Trio, Lau could be described as Celtic music on steroids. The East Pointers were no less lively, their tunes carrying influences from Ireland, Scotland and the Maritimes of Canada (two members hail from Prince Edward Island and one from Toronto).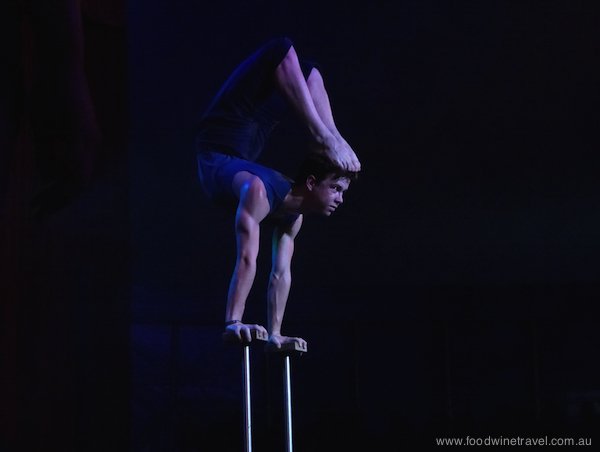 We joined the throng queuing to see Flipism (above), an incredible display of acrobatics by graduates from the Flying Fruit Fly Circus, and we kicked back in Bill's Bar listening to the gentle harmonies of Louie and Patrick, a young acoustic folk duo from Byron Bay.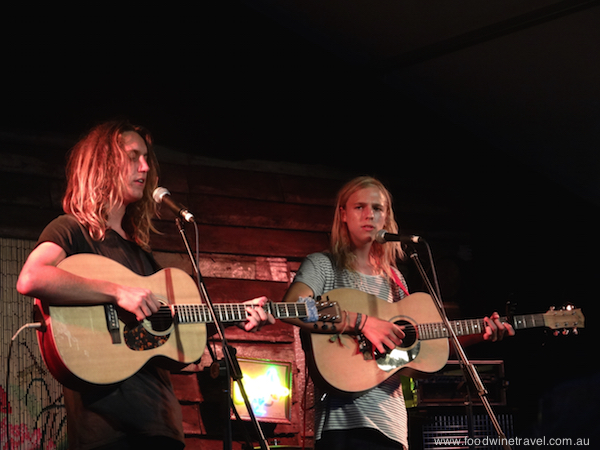 We laughed along with Sean Choolburra doing his Michael Jackson dance routines, caught the Brazilian vibe with The View From Madeleine's Couch in the Pineapple Lounge, envied the swift moves of home-grown tap-dancing blokes Red Hot Rhythm, and tapped our feet to the driving reggae beat of Fantuzzi with its very Woodfordian message of love and harmony.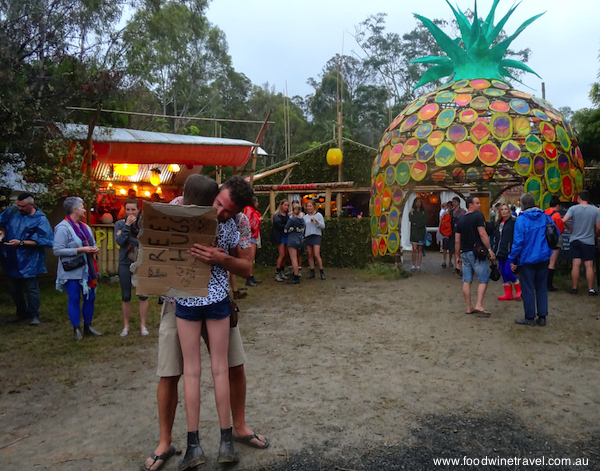 There wasn't a chance of getting into the Parlour to see Mario Queen of the Circus in his apparently hilarious show, God Save the Queen, but we did see him carried lengthways on a wave of the crowd as they roared to the tune of We Are The Champions.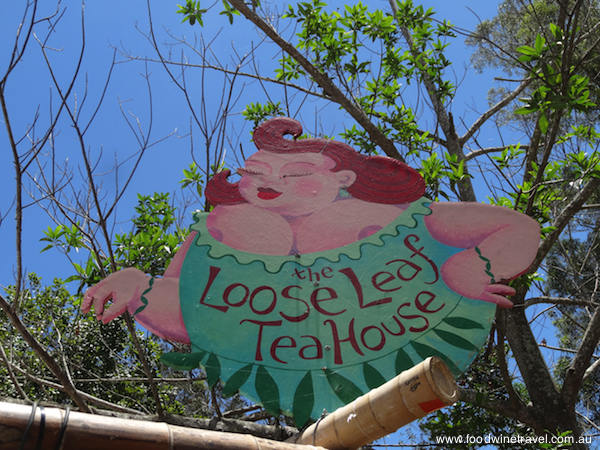 More than 2000 musicians and artists presented at the Festival, and there were 13 bars and 50 cafés and restaurants keeping everyone fed and watered. I never have high expectations of food served en masse but we were very pleasantly surprised by the quality and diversity of food.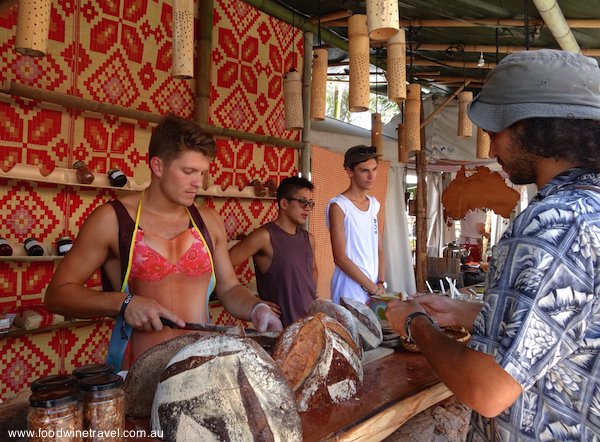 We also appreciated the rapport that the Festival organizers clearly have with the indigenous community, holding a welcome ceremony to acknowledge the gathering on Jinibara country and devoting one venue, Songlines, entirely to Aboriginal acts. Here we discovered one of our favourite acts of the Festival, Tjintu Desert Band, whose unique take on "desert reggae" encompasses songs about love, land and culture in the Aboriginal Luritja language and English.
Indigenous entertainer Christine Anu was one of the headline acts for the Festival, wooing the audience with her much-loved hit, My Island Home, and celebrating the 20th anniversary of her breakthrough album, Stylin' Up.
It's a Woodford tradition that on New Year's Eve at 11.30pm, a bell rings and everyone takes a few minutes to stop and reflect on the year that has passed, make wishes for the future and remember absent friends. Everyone lights a candle and is still and silent for three minutes.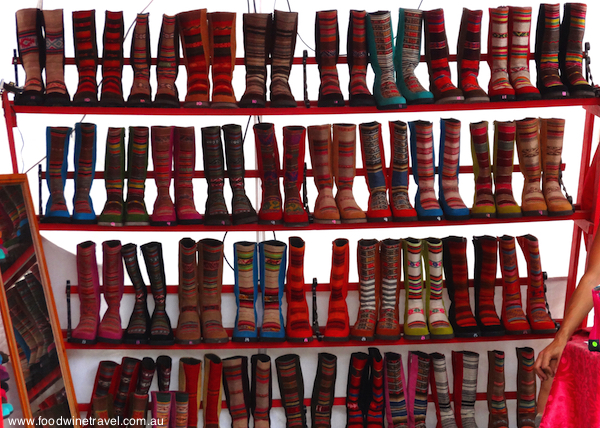 We had infernally hot days, frequent rain showers and lots of mud and slush to contend with – and I'm told that's a fairly typical Woodford experience. But the feeling of peace, happiness, kinship and renewal that came over us in that few minutes of silence was priceless. I couldn't think of a finer way to herald the new year.