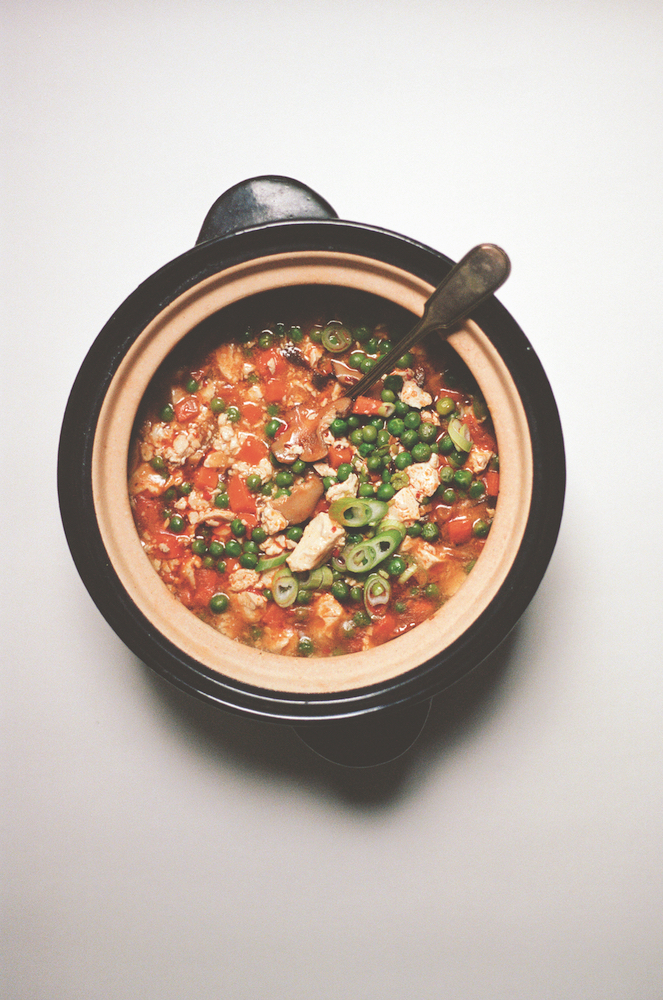 Hetty McKinnon likes to think of her latest book, To Asia, With Love (published by Plum) as her homecoming … "a joyous return to the humble, yet deeply nurturing flavours and meals of my childhood as a Chinese girl born in Australia".
Her memories are of a kitchen constantly in motion, jars of preserved eggs and pickling ginger in the laundry, salted pork and fish dangling on a line on the porch, crates of fruit around the house, and loads of fruit grown in their suburban backyard, from which her mother managed to create stunning meals from humble ingredients.
Today, as McKinnon navigates what she describes as "the happy anarchy" of raising three children, she finds herself going back to the simple food of her youth. A cook and food writer with a passion for vegetables, her experiences paved the way for three bestselling cookbooks: Community (2015), Neighbourhood (2016) and Family (2018).
To Asia, With Love is an exploration of her culinary roots as a Chinese girl born in Australia and as an adult living between disparate cultures. Now living in New York, she says that cooking alongside her mother allowed her to understand the confluence of culture, "how we can be a mixture of a lot of things and still exist in harmony".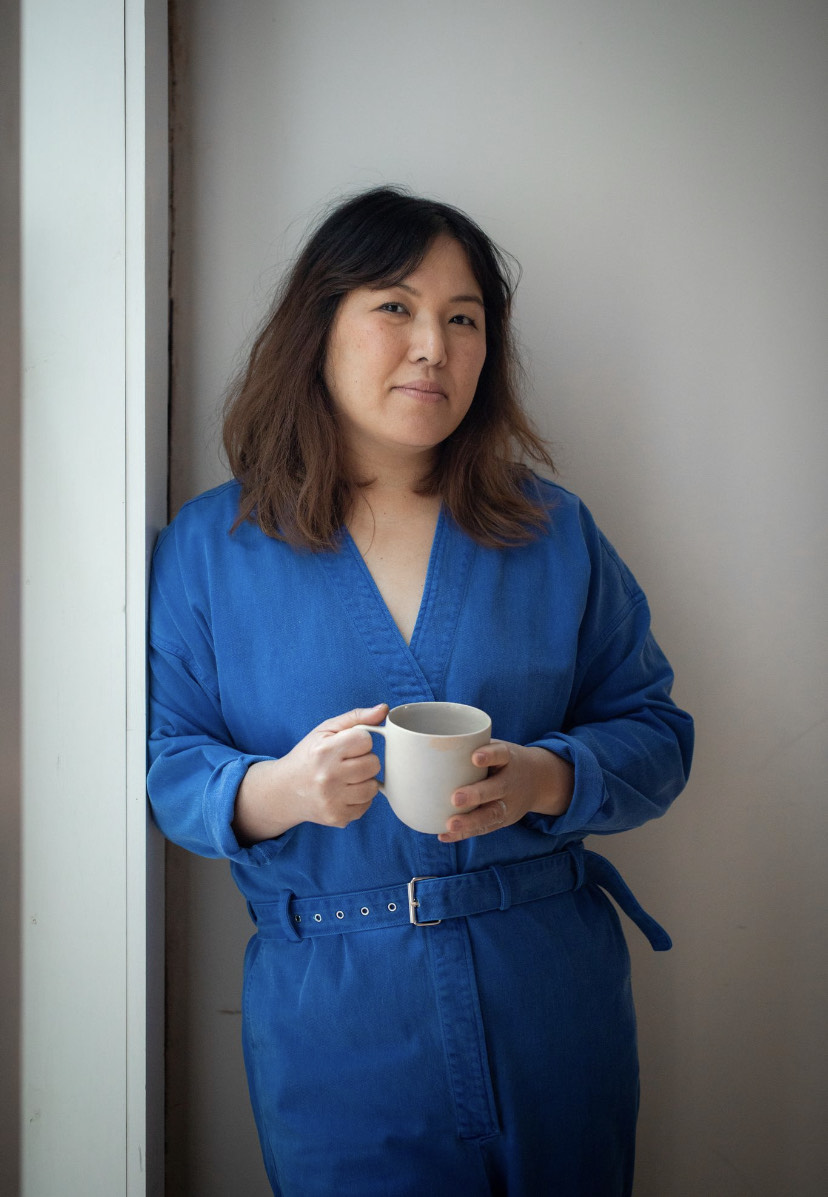 The flavours in To Asia, With Love are not strictly Chinese but rather "Asian-ish" – that is, inspired by tradition but with a modern, global interpretation. All the recipes are vegetarian (and often vegan) and emphasise the use of pantry staples and everyday ingredients.
In addition to the more traditional salt and pepper eggplant, red curry laksa, congee, and fried rice recipes, we are treated to some of McKinnon's uniquely modern interpretations, such as buttery miso vegemite noodles, stir-fried salt and vinegar potatoes, cacio e pepe udon noodles and grilled wombok caesar salad with wonton crackers.
In a side note, all the photos in the book are McKinnon's own, taken at her home in Brooklyn, in real time while the kids are eating, using her own tableware, never props. It adds an additional personal charm to the book, and as McKinnon says, "it's not always pretty, but it's my real life".
The recipe here, mapo tofu, is a rich, spicy tofu stew. Comfort in a bowl, it is one of the first recipes McKinnon's mother adapted for her when she became vegetarian.
---
Buy your copy of To Asia With Love from Book Depository (free delivery worldwide).
Buy your copy of To Asia With Love from Australian-owned Booktopia.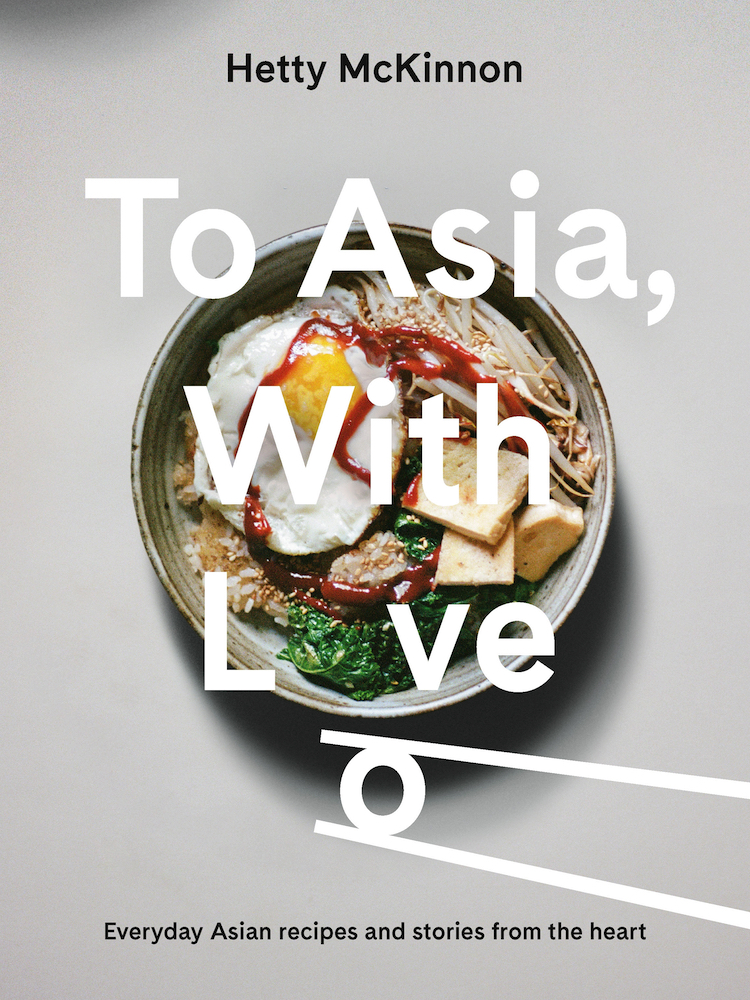 ---
Recipe For Mapo Tofu
Serves 4, with rice
20 g dried shiitake mushrooms, soaked in hot water for 20 minutes
1 tablespoon vegetable or other neutral oil
1 tablespoon black bean sauce
1 long red chilli, finely chopped (remove the seeds if you prefer less heat)
1 garlic clove, finely chopped
2.5 cm piece of ginger, peeled and finely chopped
1 carrot, peeled and diced
700 g soft tofu, broken into large chunks
250 ml (1 cup) vegetable stock
1 teaspoon sugar
1 tablespoon potato starch or cornflour, mixed with 1 tablespoon water
155 g (1 cup) frozen or fresh peas toasted sesame oil
2 shallots, finely chopped
sea salt and white pepper
Drain the mushrooms and squeeze out the water, then finely slice. In a Dutch oven, flameproof casserole dish or saucepan, heat the oil over medium-low heat, add the black bean sauce, chilli, garlic and ginger and cook, stirring, for 2 minutes. Add the mushroom and carrot, then reduce the heat to very low and cook for another 2 minutes.
Add the tofu, vegetable stock, sugar and 1 teaspoon of sea salt, then very gently fold everything together – the tofu will naturally break up. Cover and bring to the boil, then cook for 5 to 7 minutes until the carrot is tender. Uncover, gently stir in the potato starch or cornflour slurry and cook for 1 minute, until the sauce has thickened. Taste and season with sea salt and white pepper, as needed. Finally, add the peas and cook for another minute until they are just tender.
Remove from the heat immediately. Drizzle with sesame oil and scatter the shallot over the top. Serve with rice.
Recipe and images from To Asia, With Love by Hetty McKinnon, published by Plum, photography by Hetty McKinnon. Reproduced with the publisher's permission.
This story originally appeared in PS News.