Mulberry Cottage looks like the quintessential country cottage with its white picket fence and climbing roses out the front, and the interior décor has a touch of country style about it too.
Located on the main road leading out of Stanthorpe on Queensland's Granite Belt, this comfortable two-bedroom cottage has been decorated with flair. Fortunately, there's not a pink and green floral quilt or dried flower arrangement to be seen.
Instead there are wonderful old black and white photographs of Stanthorpe on the walls, a candle and some beautiful locally made soaps in the bathroom, and some pretty china cups and a teapot on the table in the lounge (along with a packet of Tim Tams). Didn't I say it was cute?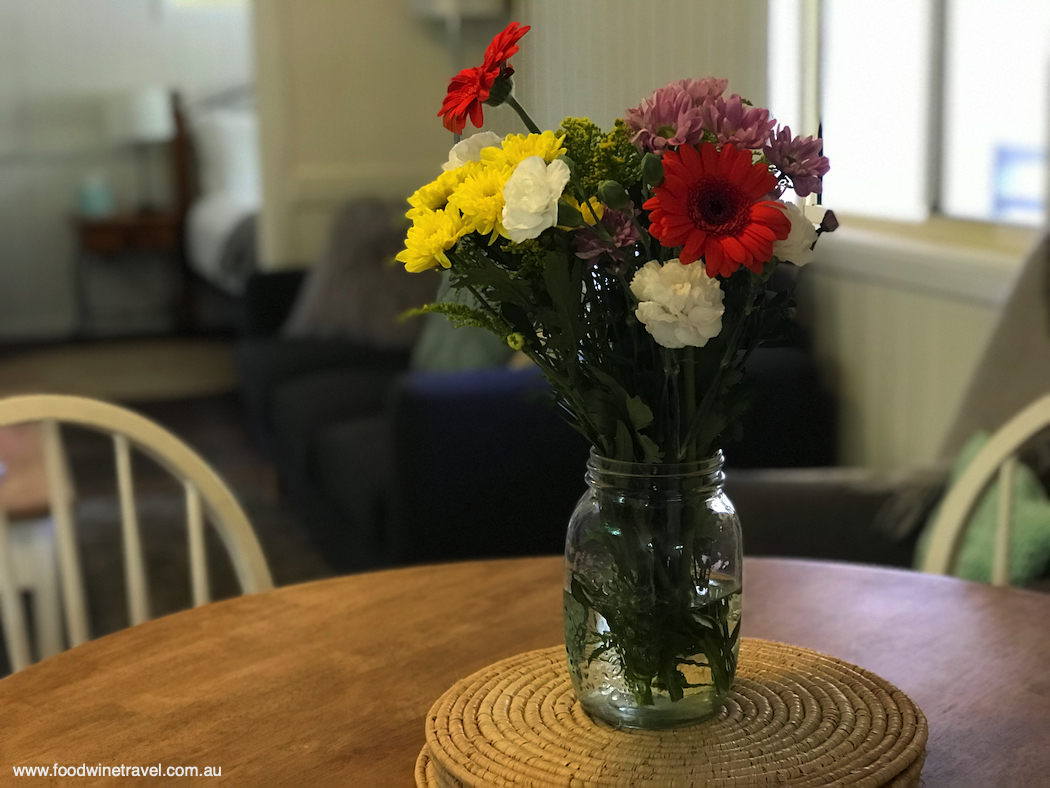 The cottage provides self-catering accommodation in Queensland's premier wine region and would be perfect for a family or friends getting together to explore the local wineries. One bedroom has a very comfortable queen bed; the other is at the opposite end of the cottage and has two single beds. There's only one bathroom; it's next to the main bedroom but is not an ensuite.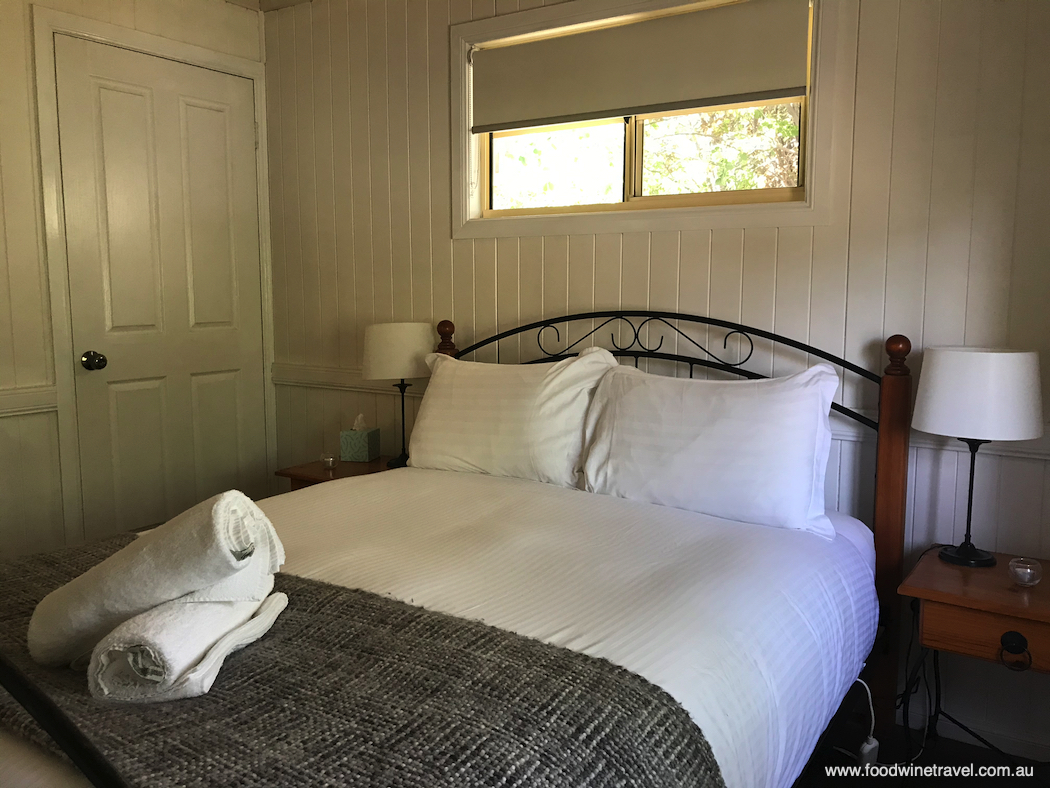 If that's an issue, Debbie, the owner, has two other cottages in her Briar Rose Cottages collection. Cedar Cottage has three bedrooms and two bathrooms, while sweet little Silky Oak Cottage is designed for just two people with a loft bedroom. Although Mulberry Cottage is located on the main street, it is blissfully quiet at night as highway traffic is diverted away from the town. Good roller blinds add further privacy and noise reduction.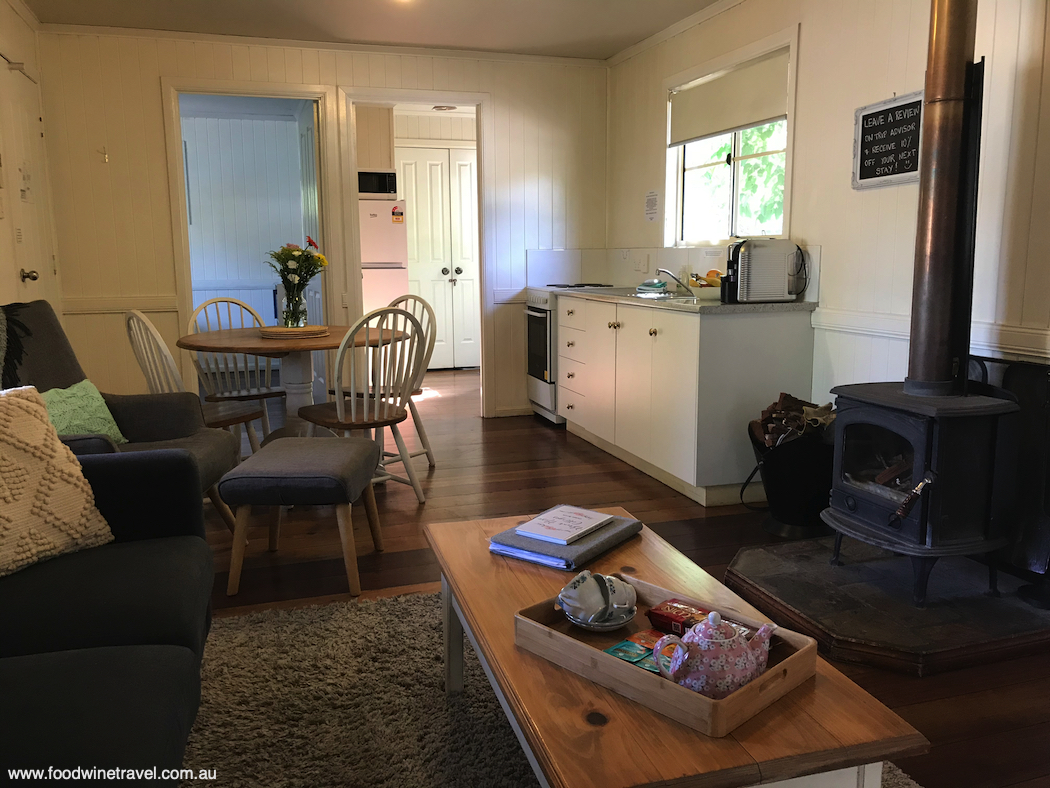 The cottage's living area has a cosy lounge, a dining area big enough for four, and a small well-equipped kitchen with an electric stove and pod-style espresso coffee machine. The full-size fridge is in the adjacent laundry, along with a washing machine. Debbie left some nice touches for us, including fresh flowers on the table and a bowl of fruit (including a delicious ready-to-eat mango).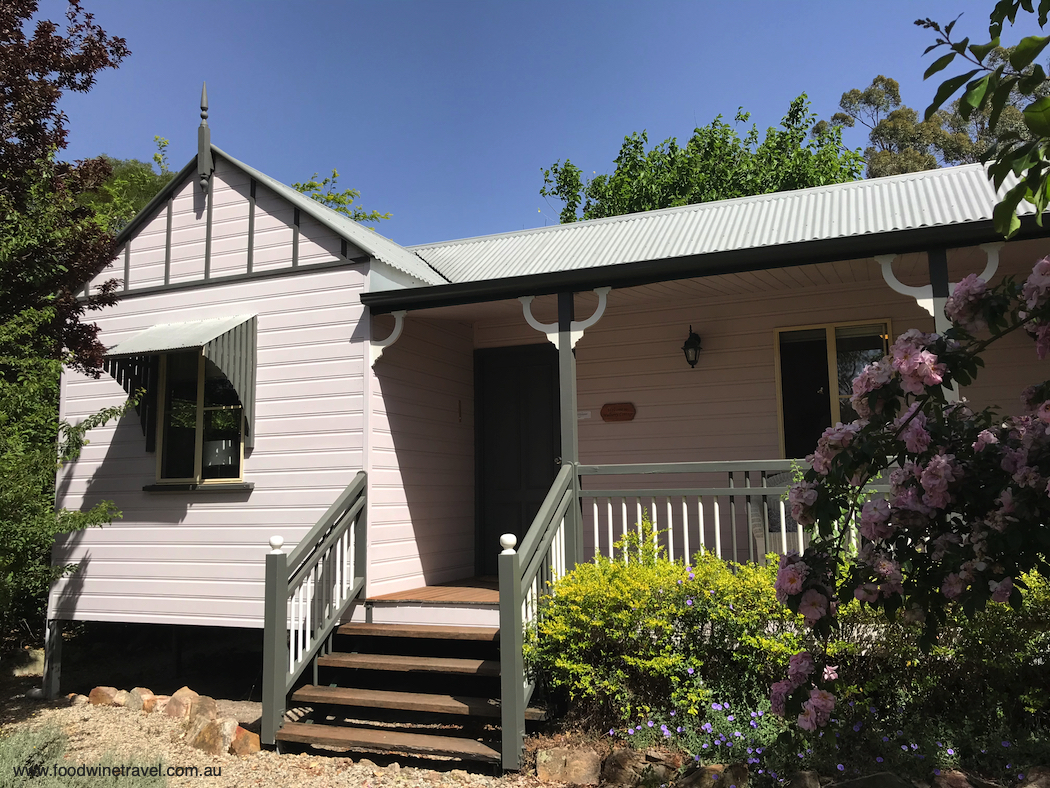 Along the front of the cottage is a veranda with a couple of chairs although, aside from the flowering rose, no great outlook to speak of. Behind the house there's a pleasant little courtyard with a table and a couple of chairs. It's not completely private from the neighbouring Silky Oak Cottage but it's peaceful and has the air of a French country garden.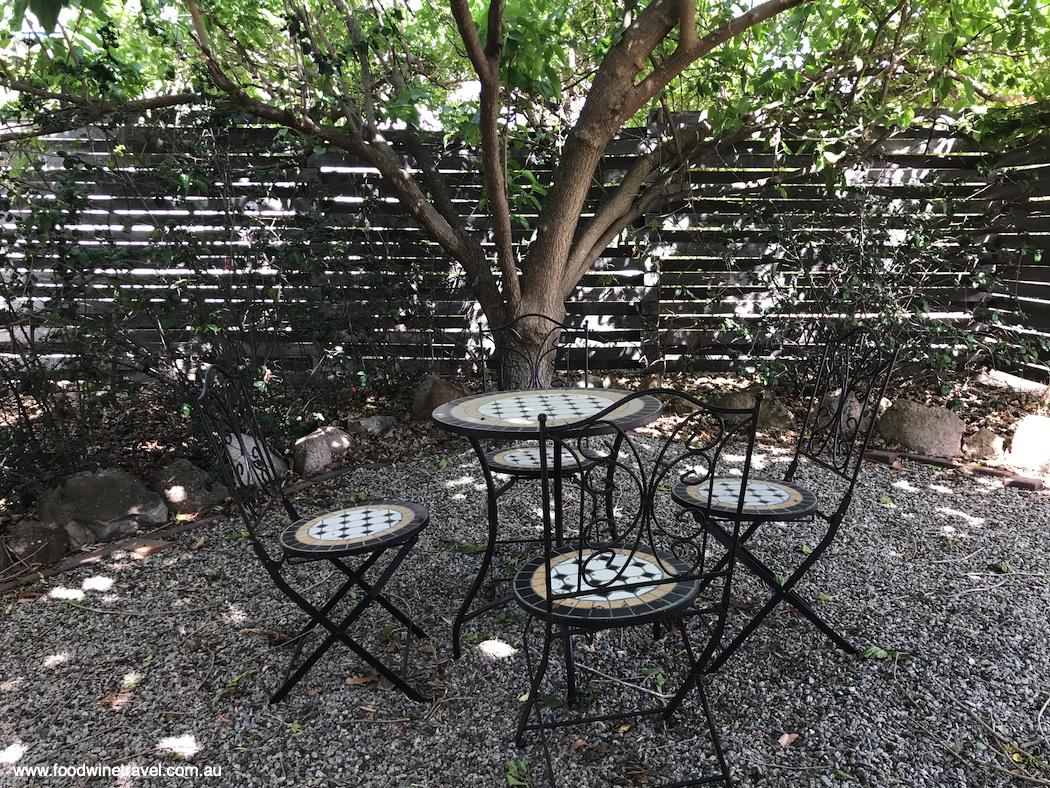 Inside, there's a big selection of DVDs for our entertainment, and a carafe of port – a quaint touch. We enjoy the nightcap. The cottage is air-conditioned; we didn't use it but I'm sure it is welcomed by many guests, especially those staying in winter when Stanthorpe can get surprisingly cold. There's also a wood heater for chilly nights.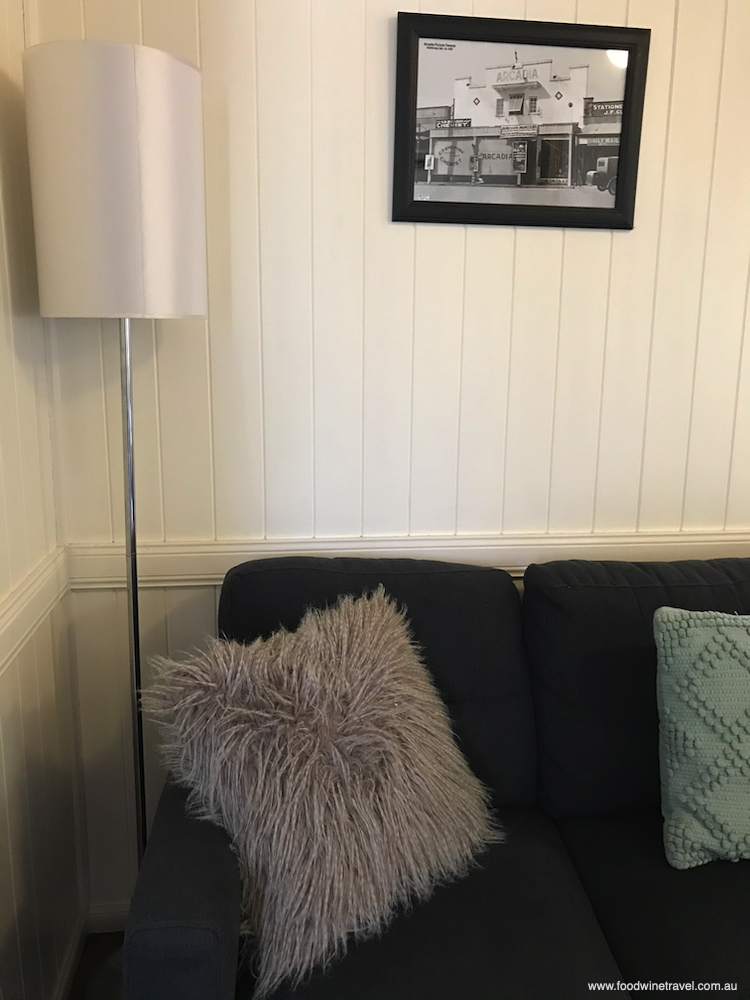 All in all, we were very comfortable at Mulberry Cottage. There's much to do in and around Stanthorpe as you can see from our post, 10 Reasons Why You Need To Visit Stanthorpe Now. Mulberry Cottage would make a great base from which to explore the region.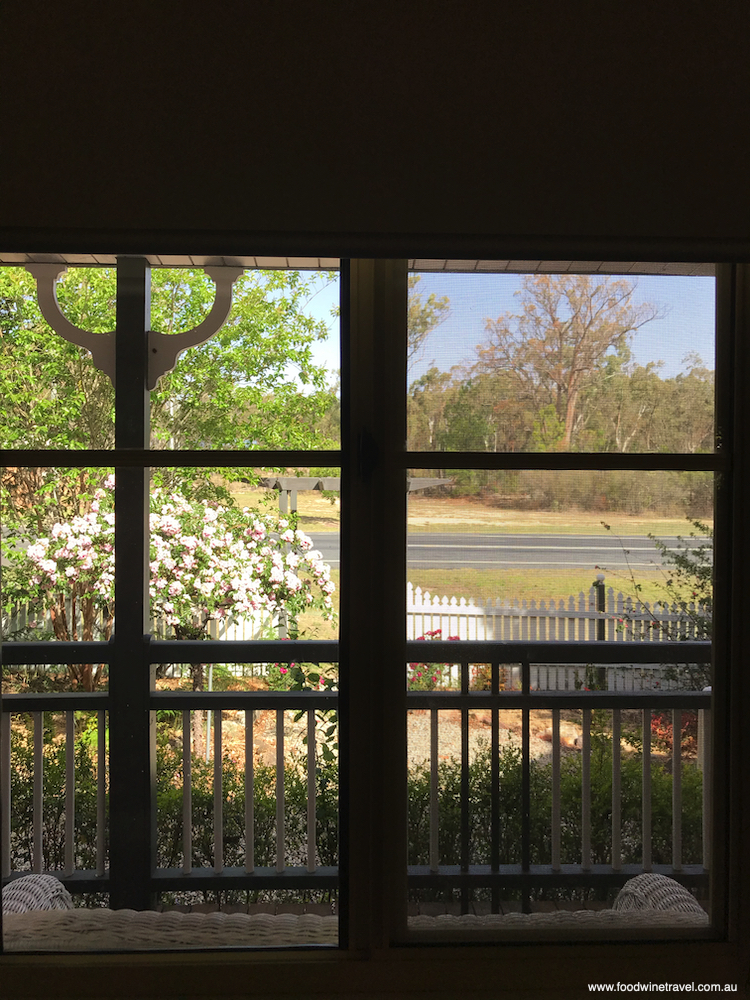 If you go:
Mulberry Cottage
66 Wallangarra Road,
Stanthorpe Qld 4380
Australia
www.briarrosecottages.com.au
Tel: 0427 327 344
We spent two nights at Mulberry Cottage as guests of Granite Belt Wine Country.