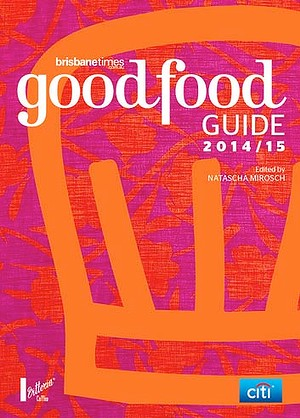 It was perhaps the understatement of the year. "It's a really nice restaurant," Esquire's Ben Devlin said of the restaurant that had just been named Brisbane's only three-hat restaurant for 2014. Devlin (at left, below) was up on the podium collecting a slew of awards for Esquire at the industry's night of nights. Named Young Chef of the Year, the first time the Brisbane Times Good Food Guide has had such an award, Devlin was recalled to the stage to collect the Chef of the Year award on behalf of Esquire executive chef, Ryan Squires.
Squires wasn't at the awards but was praised for his "breadth of knowledge, technical skill and natural curiosity" that lead him "where others fear to tread". Esquire has won three hats in all three editions of the Guide. Mark that one on your list of places to dine if you haven't already.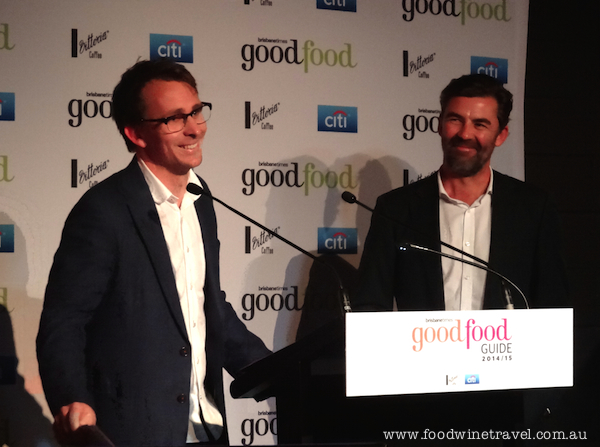 Brisbane is ready to be recognized for its dining scene, according to the Guide's editor, Natascha Mirosch. She oversaw a team of reviewers who had the task of reviewing more than 150 restaurants, bars and cafés. (Disclaimer: I was one of the team.) "The buzz in Brisbane is audible right now," said Mirosch.
The buzz was certainly audible in the Light Space, the converted warehouse in Fortitude Valley where a who's who of the Brisbane restaurant scene assembled to hear who was hot and who was not. Pol Roger Champagne flowed freely and there was a beautifully orchestrated selection of finger food from Dalton Hospitality.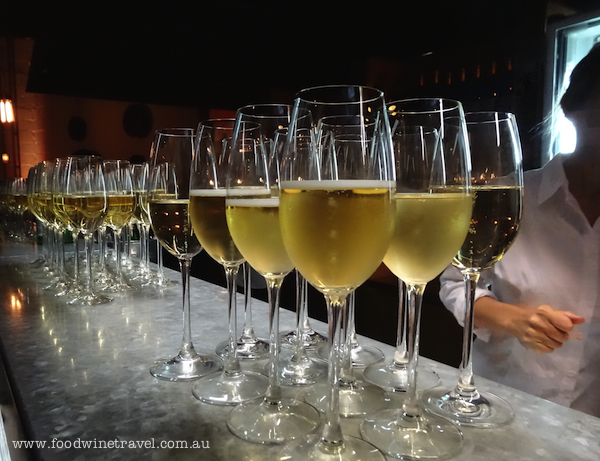 At the centre of the room was a magnificent cheese station complete with dried muscatels hanging on a mini washing line. Queensland triumphed with a Woombye Triple Cream Brie oozing with deliciousness, but there were beautiful Victorian cheeses too, along with various salumi, baby pickled figs (cutely presented in a copper saucepan), chutney & fig paste.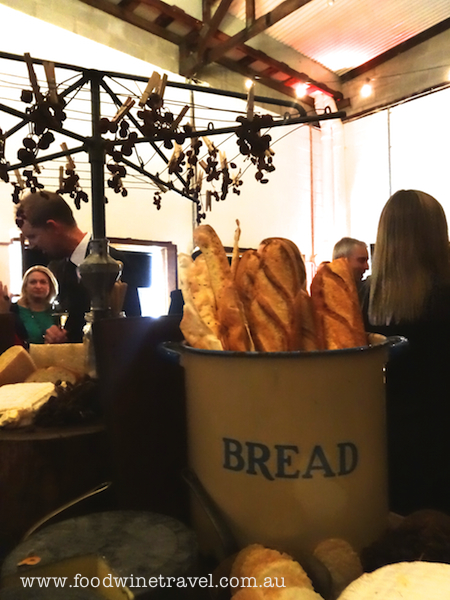 It was hard to tear myself away from the oyster bar where the "Oyster Whisperer", Mick Daw, was offering freshly shucked oysters from Batemans Bay, Bruny Island and Coffin Bay. Meanwhile, trays of finger food were being passed around the room: pork belly on slices of star apple; mandarin pieces with a dollop of chilli jam (my fave – simple but a great combo); meat pies and more.
There were espresso martinis for cocktail lovers and macarons for sweet fiends.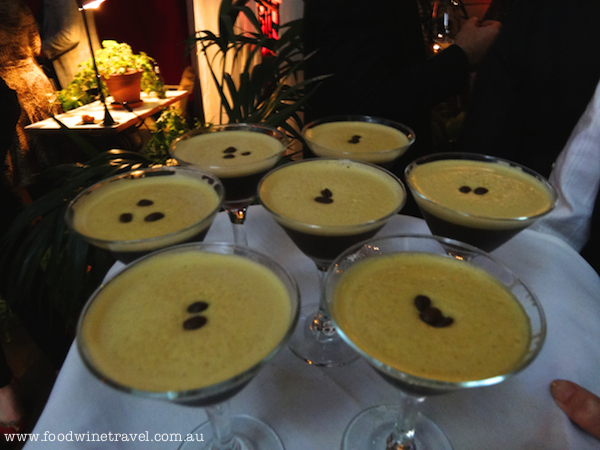 And then for the big announcements (not a complete list – that's at the end of this post): Black Hide Steakhouse, Cinco Bistro, The Foraging Quail, GOMA Restaurant, Jellyfish, Moda, Reserve and 85 Miskin St all gained a new chef's hat. Montrachet lost its one hat. Aria, Stokehouse and Urbane all retained their two hats.
There was a new Drinks List category, with the award going to Black Bird. It's designed to honour venues doing great cocktails and craft beer, as opposed to just wine. The best wine list award went to Bacchus.
It was exciting to see the award for best new restaurant go to The Foraging Quail as it's been on my must-visit list since it opened. Now the anticipation of experiencing chef Minh Le's food is greater.
And so to the pointy end of the evening.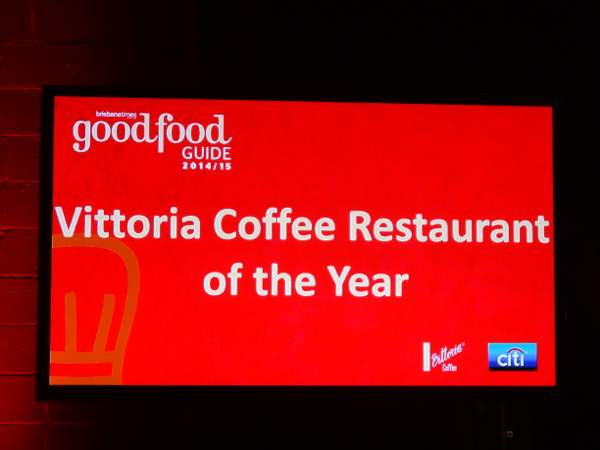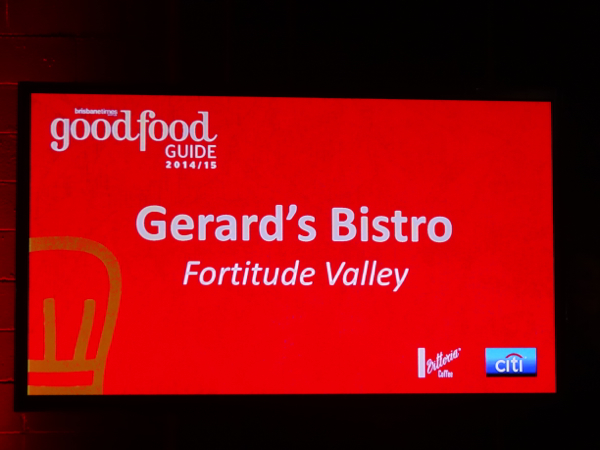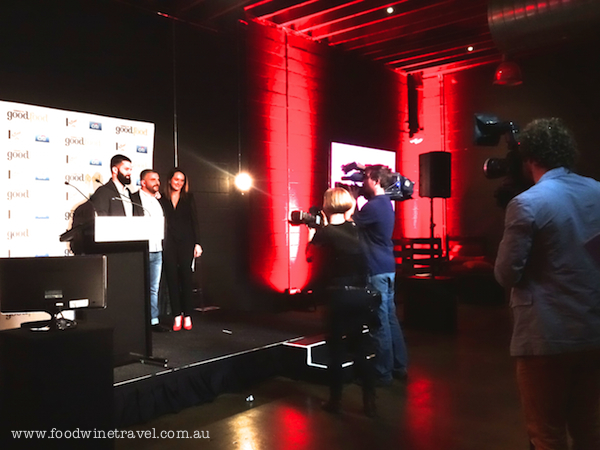 Last year's best new restaurant, Gerard's has firmly imposed itself on the Brisbane dining scene with its imaginative food, drinks, service and fit-out. Should a one-hat restaurant get the top prize?
"The restaurant of the year is not about being the most formal or the most expensive – it's about a place we want to go back to again and again," said Mirosch. "We look for a restaurant that offers the whole package – great food, service and a certain ambience – that doesn't mean it has to be a three-hatted restaurant or even a two hat."
And there you have it. Where would an awards night be without a few surprises?
The Brisbane Times Good Food Guide is on sale at newsagents ($12.99) and online at smhshop.com.au. From next week, it will also be available as an app.
Brisbane Times Good Food Guide awards
Vittoria Coffee Restaurant of the Year
Gerard's Bistro, Fortitude Valley
Citi Chef of the Year
Ryan Squires, Esquire, Brisbane
Villa Maria Best New Restaurant
The Foraging Quail, New Farm
Young Chef of the Year
Ben Devlin, Esquire, Brisbane
La Maison Du Thé Regional Restaurant of the Year
The Fish House, Burleigh Heads
BYO Restaurant of the Year
Cinco Bistro, Camp Hill
Citi Service Excellence
Scott Durietz, Baguette, Ascot
Champagne Pol Roger Sommelier of the Year
Penny Grant, Black Bird, Brisbane
Wine List of the Year
Bacchus, South Bank
Drinks List of the Year
Black Bird, Brisbane
Best Bar with Food
The Sangria Bar, South Bank
brisbanetimes.com.au Best Food Under $30
Kwan Brothers, Fortitude Valley
Vittoria Coffee Legend
Andy Georges, Il Centro, Brisbane
City & Suburbs
3 HATS
Esquire, Brisbane
2 HATS
Aria, Brisbane
Stokehouse, South Bank
Urbane, Brisbane
1 HAT
85 Miskin St, Toowong
Black Hide Steakhouse, Petrie Terrace
Cinco Bistro, Camp Hill
E'cco Bistro, Brisbane
The Euro, Brisbane
The Foraging Quail, New Farm
GOMA Restaurant, South Brisbane
Gerard's Bistro, Fortitude Valley
Il Centro, Brisbane
Jellyfish, Brisbane
Malt Dining, Brisbane
Moda, Brisbane
Prive 249, Brisbane
Public, Brisbane
Reserve, Milton
Restaurant Two, Brisbane
Sake, Brisbane
Tartufo, Fortitude Valley
Vintaged, Brisbane
Regional
2 HATS
The Fish House, Burleigh Heads
The Long Apron, Montville
The Tamarind, Maleny
Wasabi Restaurant & Bar, Noosa Sound
1 HAT
Allure on Currumbin, Currumbin
Berardo's, Noosa Heads
Chill on Tedder, Main Beach
Coast, Hervey Bay
Harrisons, Port Douglas
Nu Nu, Palm Cove
Ristorante Fellini, Main Beach
RockSalt, Broadbeach
Salt Grill Surfers, Paradise
Seaduction Surfers, Paradise
Spirit House, Yandina
Tamarind, Cairns
Ten Japanese, Broadbeach
Vanitas, Main Beach
You might also enjoy: Good Food Month; Winter Harvest lunch @ Mondo Organics; Gerard's Bistro: A Winning Formula; Night Noodle Markets; Vintaged Bar + Grill; Hats Off dinner @ Malt Dining; Champagne High Tea @ Customs House.
Food.Wine.Travel is delighted to be an official blogger for: