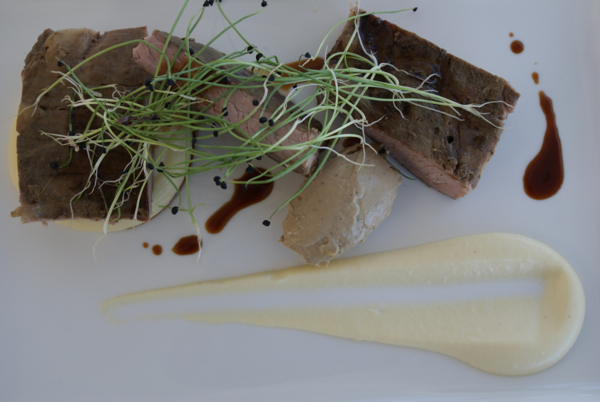 The following recipe is from Jamie Ryan, Executive Chef, Caves Beachside Resort, NSW. (Photo supplied.)
HUNTER VALLEY BEEF FLANK WITH DUCK LIVER PARFAIT AND PARSNIP PUREE
Serves 4
Preparation time: 30 minutes
Cooking time: 8 hours
1kg beef flank
250ml red wine
250ml beef stock
1 tsp fennel seeds
1 tsp whole black peppercorns
1 star anise
1 bay leaf
150g duck livers (from Nulkaba Hatchery)
1 gelatine leaf
50ml port
50ml pure cream
100g unsalted butter
500g parsnip
350ml full cream milk
250ml water
1 punnet garlic chives
This dish requires you to prepare the beef component well in advance of your meal. The night before is ideal as it can be chilled and re-heated.
Start by sealing the beef flank in one piece along with the red wine, beef stock and spices in a cryovac bag. Place this in a water bath for 12 hours at 65 degrees C. You can substitute this at home by using a sealed plastic Glad bag and softly simmering in a pot of water on the stovetop, which reduces the cooking time to 4 hours.
Remove the veins from the duck livers and soak in 100ml of the milk overnight. Drain the milk from the livers and pat them dry. Seal the livers in a hot non-stick frypan so that they colour on both sides but are still pink in the middle, about 10 seconds each side depending on their size, and place on a cooling rack.
Bring the port to the boil and soften the gelatin, then whip the pure cream to stiff peaks. In a blender, add the livers and port and blend till smooth on high. Slowly add the butter a little at a time so that it whips through the mixture, season to taste and pass through a fine sieve. Refrigerate for 2 hours before use so that it can set firm.
Peel and dice the parsnip into 1cm pieces. Put into a saucepan with the rest of the milk and the water and bring to the boil on a low heat for 1 hour or until the parsnip has softened. Strain off the liquid and reserve. Using your blender again, puree the parsnip using the reserved liquid to gain the desired consistency. Season to taste.
To serve this dish, cut the beef flank out of the bag and slice into individual portions, saving the liquid from the bag for your sauce. Then sear the beef portions in butter in a hot frypan.
The parsnip can go down first, position your beef and then quenelle the duck liver parfait straight from the fridge using a hot spoon. Pour the sauce on and garnish with garlic chives.
Chef notes:
If you're not on a diet, try serving this dish with a nice rich béarnaise sauce. It's worth the extra calories!
Jamie uses duck livers from Nulkaba Hatchery in Pokolbin. Local, fresh and full of flavour.
Try to ensure that all ingredients for the parfait are at room temperature before blending, to avoid the mixture splitting.
Beef skirt is also a great meat to grill if you would prefer a quicker prep time, but get your butcher to tenderise it for you and never cook it past rare, as it gets too tough to enjoy eating.
Related post: The Ultimate Food Fight, Sumac Crusted Tuna.