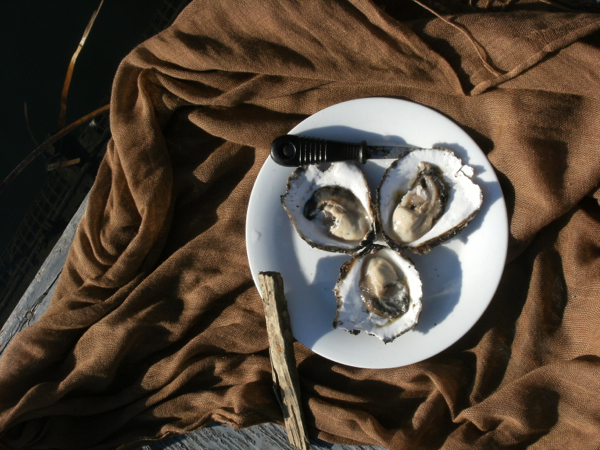 Former MasterChef winner Julie Goodwin is a very busy lady indeed. I mentioned in a recent post that she would be doing cooking demonstrations on board Captain Cook Cruises' Murray River cruise in June. (I'm looking forward to catching up with her then.)
In the meantime, she'll be at Narooma on the weekend of May 4-5, where she will be doing cooking demonstrations for the Narooma Oyster Festival. (And I hope to see her there too!) Julie is a great fan of the local Wagonga Inlet oysters and enjoyed the festival with her family even before TV shot her to stardom.
"The festival has such a beautiful community feel about it. It's always really exciting with terrific food, lots of fantastic cooking demonstrations, beautiful art works and lots of wonderful people who also enjoy these things," she said. "The boys are given their pocket money and they go around, eat themselves silly and have a ball."
Not surprisingly then, she's excited about making a guest appearance at this year's event. The festival celebrates Sydney rock oysters from Wagonga Inlet and surrounding estuaries, along with other local produce and the region's culinary and artistic talents.
As well as the cooking demonstrations, Saturday's "Naturally Gourmet" program will include the Ultimate Oyster Experience, food and craft stalls, music, art exhibitions, sand modeling workshops and other family activities.
On Saturday night, everyone will be kicking their heels up at the Oyster Farmers' Ball at the local golf club. Sunday's "Narooma on Show" program allows visitors to explore surrounding areas such as Montague Island, Bodalla and Tilba and there'll also be an opportunity to enjoy more oysters at local eateries.
Details: www.naroomaoysterfestival.com
Pictured below: Julie Goodwin compering the 2012 Narooma Oyster Festival. Photo by Tim Burke of Twist Photography.