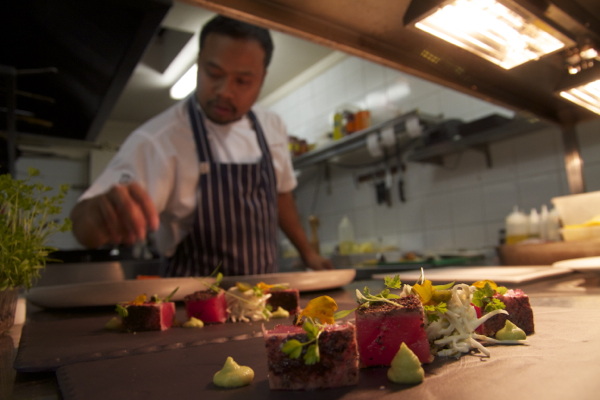 The following recipe is from Emerson Rodriguez, of Emerson's Pokolbin, Hunter Valley, NSW. (Photo supplied.)
SUMAC CRUSTED YELLOWFIN TUNA WITH CELERIAC REMOULADE
Serves 4
500g slab fresh yellowfin tuna
150g sumac spice
350g celeriac
4 whole small cornichons
1 punnet chervil micro herb
2 egg yolks
30ml red wine vinegar
1 small garlic clove
300ml good olive oil
1/2 bunch of chives
50g baby capers
1 ripe avocado
200g breadcrumbs
1 whole lemon
Julienne the celeriac finely and place in bowl of cold acidulated water (lemon or vinegar water). This will avoid vegetables like celeriac and artichoke from oxidising and discolouring.  Stand for 10-15 minutes and drain well.
Place egg yolk, garlic clove and red wine vinegar in food processor. Process by adding 150ml of olive oil slowly until smooth and creamy. Add chopped chives and baby capers. Season with salt and pepper to taste. Combine celeriac and remoulade. Set aside.
Combine breadcrumbs, zest of one whole lemon and juice of half a lemon and 50ml of olive oil. Place breadcrumb mixture in small baking tray in an oven on 140 degree C for 1 hour to dry out. Place in a food processor, season with salt and pepper and process until combined well. Set aside.
Peel avocado and take seed out. Place in a food processor with 100ml of olive oil and half a lemon juice. Process until smooth and season with salt to taste. Place avocado mousse in a piping bag with a small piping nozzle and place in the fridge to set.
Cut tuna into 2.5cm thick slice length ways. Season with salt and pepper and sprinkle well with the sumac spice on both sides. Sear tuna in a smoking hot pan for 5 seconds each side, then remove the pan and rest.
To serve, cut tuna in 5cm rectangular pieces. Sprinkle lemon crumbs on the bottom of the plate, assemble celeriac remoulade and tuna on the centre of the plate. Pipe avocado mousse around it, and garnish with cornichon and chervil micro herb.
Chef notes:
Use Japanese Panko bread crumbs to make the lemon crumb mixture.
When making remoulade, add the olive oil slowly to avoid splitting it.
Ask your fishmonger for the freshest tuna for this dish.
Related post: The Ultimate Food Fight, Beef Flank With Duck Liver Parfait.