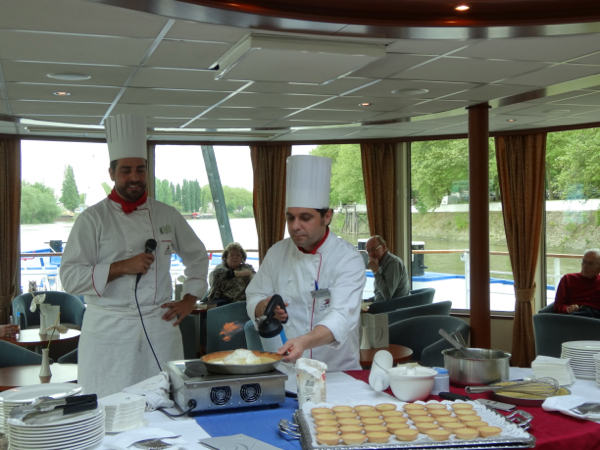 With a name like Victor Hugo, no wonder the Spanish-born chef on board Viking Pride feels right at home in France.
I've been cruising the Seine River to Normandy, a leisurely week-long journey with Viking River Cruises. The food has been exceptional, with a delightful French touch evident in everything from the sauces to the soufflés and feather-light Hollandaise sauce. Eggs Benedict never tasted so good!
As the ship returns to Paris, gliding gently to its final destination near the Eiffel Tower, its executive chef is entertaining passengers with a cooking class. Together with his Greek pastry chef, Dimitri, Victor Hugo (right) is demonstrating how to make a classic lemon tart.
It's so simple, so French and so delicious.
TARTE AU CITRON RECIPE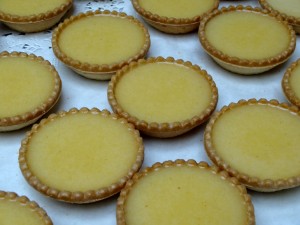 Pastry:
1¾ oz / 50g sugar
3½ oz / 100g butter
5 ¼ oz / 150g flour
1 egg
Filling:
7oz / 200g sugar
2 eggs
3 egg yolks
zest and juice of 2 lemons
5¼ oz / 150g butter in small pieces
Make a dough by kneading together 1¾ oz sugar, 3½ oz butter, 1 egg and 5¼ oz flour, wrap in foil and allow to cook in fridge for at least 20 minutes. Then roll out as thinly as possible, place in a greased tart dish and pierce several times with a fork. Bake for about 25 minutes at 180 degrees C (350 degrees F).
Heat the lemon juice with the lemon zest. Remove from heat. Mix the eggs with the egg yolks and sugar together. Add this mix to the warm lemon juice and stir. Heat once again until the mixture is thick and remove from heat. Add little by little the small pieces of cold butter. Add mixture to the base and let cool completely and chill.
Related posts: Normandy River Cruise; Farmers Market Conflans Ste Honorine.