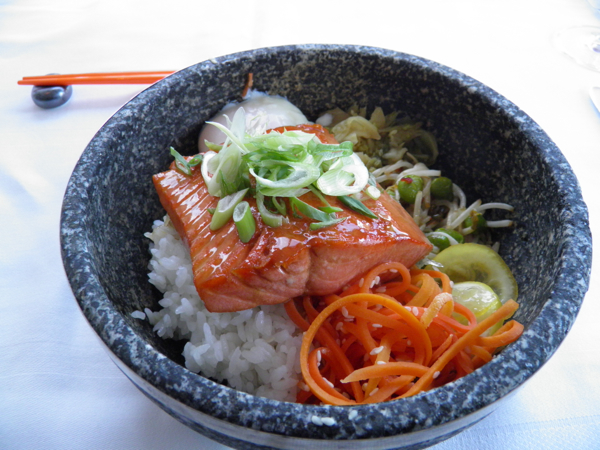 Vancouver lays claim to being the spiritual home of the 100 Mile Diet, the concept of eating only foods grown within a 100 mile radius.
If you were to fully embrace the idea, there could be worse places to do so than this attractive Canadian city, blessed as it is with its proximity to the sea, the mountains and fertile farmland.
But when writers Alisa Smith and J.B.MacKinnon set out in 2005 to eat locally for a whole year – and I mean completely locally ie. no sugar, rice and many other staples – it was somewhat more difficult to suss out what was at their doorstep.
The account of their experience, The 100 Mile Diet: A Year of Local Eating, inspired what has become known in North America and the rest of the world as the locavore movement.
Focusing on seasonal produce has always been important for conscientious chefs, but now more than ever it's a philosophy that drives them, coupled with a commitment to sourcing as much as they can locally. And if the product comes from small, artisan producers, so much the better.
In Vancouver, which is aiming to be the most sustainable city in the world by 2020, menus are increasingly being written according to the season or the catch of the day.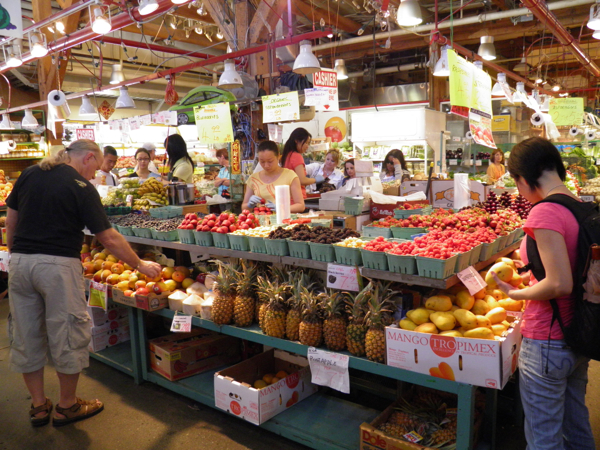 A visit to the Granville Island Public Market reveals the bounty of produce on the city's doorstep. There are stalls bursting at the seams with intensely flavoured berries and fantastic seafood, including oysters in a huge array of sizes and flavour profiles, and numerous types of salmon.
While I think we can be proud of our Australian-farmed salmon, Canada's wild salmon is out of this world. Seafood, not surprisingly, plays a starring role on most Vancouver menus.
The city is a melting pot of immigrants and that's reflected in the broad range of cuisines on offer in Vancouver restaurants, such as ORU in the Fairmont Pacific Rim Hotel.
Executive Chef David Wong makes a point of using locally sourced and responsibly harvested ingredients in ORU's pan-Asian dishes, served in buzzy surrounds in what has my vote as one of the world's most splendid hotels.
We also had a lovely meal, thoughtfully matched with local wines, at O'Doul's Restaurant & Bar, which entertains diners with live jazz and an eclectic West Coast menu.
The Metropolitan Hotel Vancouver, another gorgeous hotel, also has a restaurant, Diva at the Met, with a menu firmly rooted in the creative use of local produce. It has been rated highly but we didn't have time to check out the restaurant during our stay.
We celebrated our last night in Vancouver with dinner at the Blue Water Café, where executive chef Frank Pabst presents a seafood experience that is truly exceptional.
Located in a historic industrial building in Yaletown, Blue Water Café draws on an amazing array of seafood, from halibut, salmon and albacore tuna to sea urchins, jellyfish, periwinkles, scallops, clams and mussels.
Pabst, who has worked in Michelin-starred restaurants in France and Germany, says sustainable seafood is not only about which fish are pulled from the water, but what impact fishing has on the ocean.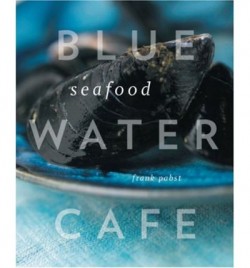 "We promote wild seafood, first and foremost, but we only take fish from people who we know practise responsible methods," he says in the introduction to Blue Water Café, a beautiful cookbook celebrating his philosophy and creative achievements.
Following is one of the salmon recipes from the book, my autographed copy serving as a great memento of a seafood feast extraordinaire.
Related posts: World Oyster Invitational,
All Aboard For A Fine Dining Experience, EAT! Vancouver Food + Cooking Festival
SALMON WITH BRAISED FENNEL, VANILLA AND GREEN OLIVES
Serves 4
Braised fennel:
2 tbsp olive oil
2 bulbs fennel, trimmed and cut in 6 pieces each
4 cloves garlic, chopped
3 large shallots, chopped
2 sprigs fresh thyme
1 bay leaf
1 cup dry, crisp chardonnay
3 cups chicken stock
24 small organic green olives, pitted
2 Roma tomatoes, roughly chopped
1 tsp fennel seeds
1/2 vanilla bean, seeds scraped but pod reserved
Juice of 1/2 lemon
2 tbsp chopped parsley
12 grape tomatoes, halved
Salmon:
4 salmon fillets, 140g each, skin removed
2 tbsp olive oil, for searing salmon
Drizzle of extra-virgin
olive oil, for garnish
Braised fennel: Preheat the oven to 190 deg C. Heat olive oil in a large ovenproof sauté pan on medium heat. Add fennel, garlic, shallots, thyme and bay leaf and sauté for about 5 minutes until fragrant. Season with salt and pepper.
Deglaze the pan with wine and chicken stock. Bring the mixture to a boil and stir in olives and Roma tomatoes. Cover the pan with aluminium foil and braise in the oven for about 20 minutes until vegetables are just tender. Use a slotted spoon to transfer fennel and olives to a second oven-proof pan and set them aside.
Add fennel seeds and vanilla bean, both seeds and pod, to the remaining liquid and cook it on medium-high heat until it has reduced by half, about 12 minutes.
Discard the vanilla pod. Purée the braising mixture in a blender, then pass the sauce through a fine-mesh sieve into a clean bowl. Season with lemon juice, salt and pepper. Reduce the oven temperature to 95 deg C.
Add parsley and grape tomatoes to the fennel and olives. Pour the sauce over the fennel mixture, toss well to combine, and keep warm in the oven.
Salmon: Heat a sauté pan over high heat. Season fish with salt and pepper, then add olive oil to the pan. Reduce the heat to medium, add the salmon and sear for 2 minutes on each side.
To serve: Place three pieces of fennel in each of four large, shallow bowls. Add a quarter of the sauce, then top with a fillet of salmon and finish with a drizzle of olive oil.
From: Blue Water Café Seafood Cookbook. By Frank Pabst. Published by Douglas & McIntyre.