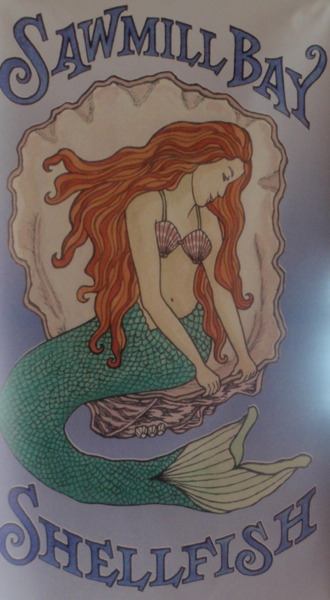 If there's one place in the world I'd like to be on Sunday, it's the Canadian ski resort of Whistler.
Why, I hear you ask, would a ski resort be high on my list of priorities when it is summer in the northern hemisphere?
The answer lies in its oysters.
Canada is home to some mighty fine oysters as we discovered during our trip last year. We took every opportunity to indulge.
We loved that there was a real attempt in restaurants to identify the oysters by source and to describe them by their various flavour profiles.
"Plump, tender, briny," read one menu description. "Smooth, mild, kiwi fruit after-taste," read another. For oyster aficionados like us, it was heaven.
So if you're an oyster-lover too, trust me when I say that there's only one place you should be on Sunday and it's the Bearfoot Bistro in Whistler for the 2012 World Oyster Invitational.
By chance, we happened to be at last year's event and it was a blast.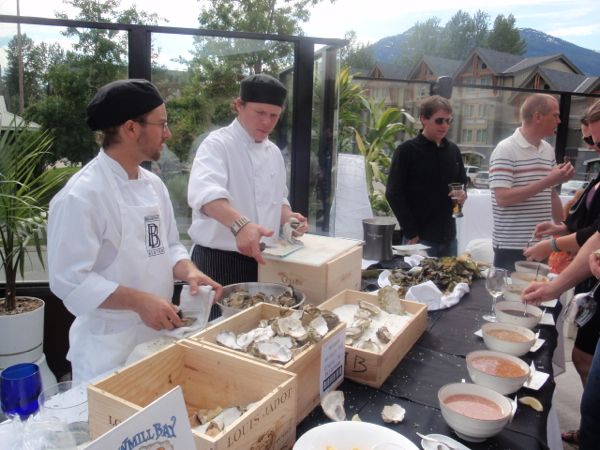 It was the first time the event had been held and I reckon it was quite possibly the best value money I've ever spent.
For $48 (not including those dreaded taxes that are slapped on everything), there was an unlimited supply of oysters from the Sawmill Bay Shellfish Company.
They ranged enormously in size, from tiny through to the size of a small plate. Maurie reckons he stopped counting at 40; my count was lower but still not inconsiderable.
The oysters were shucked on the spot and offered with a choice of mignonette dressings that we could vote on. Aussie Ben May's raspberry vinegar mignonette tied for the popular vote.
There must have been around 350 people in the bistro, some of them spilling out onto the patio where a portable smokehouse was cranked up, turning out oysters topped with a smoky barbecue sauce.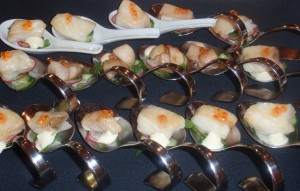 A station set up on the patio was serving icecream in cones, while inside there was a fantastic array of finger food. We could see into the open kitchen and everything was cooked and prepared on the spot – pulled pork rolls on freshly baked buns, salmon sashimi in cones, spoons with albacore tuna. Top quality and so delicious.
As well as a plentiful supply of vodka, there were wines from Canada, the US and New Zealand, all included in the price; and an afternoon of top entertainment including live music and an oyster shucking competition.
Twelve champion oyster shuckers battled to better the Guinness World Record of 38 oysters shucked in one minute.
None came close but Ben May did Australia proud, shucking 28 and winning second place and $1000 prize money.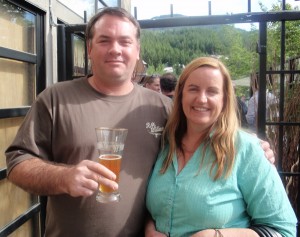 Ben was the quickest in the line-up but was penalized for not shucking six of the oysters properly – judges can deduct points for shell fragments, damaged oysters and various other misdemeanours.
First prize of $5000 went to Eamon Clark, of Rodney's Oyster House in Toronto, who went on to compete at the 2011 Galway International Oyster & Seafood Festival, where he came 5th.
Brisbane boy Ben (pictured here with yours truly), strangely enough, doesn't like oysters and has only eaten a few in his life. But he's great at shucking them, having learnt his trade as a seafood processor on the Brisbane waterfront, where he regularly opened more than 3000 a day.
Ben has represented Australia in Galway a couple of times. The Galway Festival is world-famous. I've been there too – as a spectator; it's an absolute hoot – but we really liked the intimacy of the Whistler event, the great food and wine, and the ambience of the occasion.
Proceeds from last year's event went to the Canadian Red Cross Japan Relief Fund and that resonated with me, having been in Japan during the massive earthquake and tsunami only a few months earlier.
This year's event is in support of the B.C. Children's Hospital Foundation. You'd be mad to miss it!
Fact file:
Bearfoot Bistro World Oyster Invitational
When? Sunday, July 15, 2012. 1 to 5 pm.
Where? Bearfoot Bistro, 4121 Village Green, Whistler, British Columbia, Canada.
Cost? $48 (plus tax & service fee).
Tel: +60 (0)4 932 3433 ext. 1
www.bearfootbistro.com
We stayed at The Fairmont Chateau Whistler
4599 Chateau Boulevard, Whistler, BC, Canada.
+60 (0)4 938 8000
www.fairmont.com
Related posts: Galway International Oyster Festival, All Aboard For A Fine Dining Experience, Going Local In Vancouver