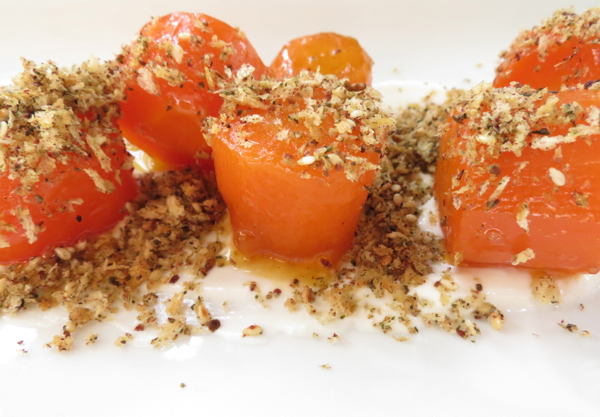 Simon Zalloua had a dream of showing that Lebanese food could be modern and elegant, and he's certainly achieving that with the beautiful dishes he is turning out at Embers Mezze Bar in Sydney's Darlinghurst.
The former Rockpool chef has headed the kitchen at Embers since it opened in early 2011. It's a grand Rococo-style building with high ceilings and striking murals of men and women smoking hookahs.
I'm not sure if it was the promise of Zalloua's fine food or that the lunch was promoting Abu Dhabi and Oman – exotic destinations still relatively undiscovered by Aussie travellers – but Embers was packed to the rafters for our Australian Society of Travel Writers meeting.
While the promoters for both destinations painted a picture of stunning desert landscapes, lush oases, pristine beaches and places steeped in culture and history, the food kept coming … and coming.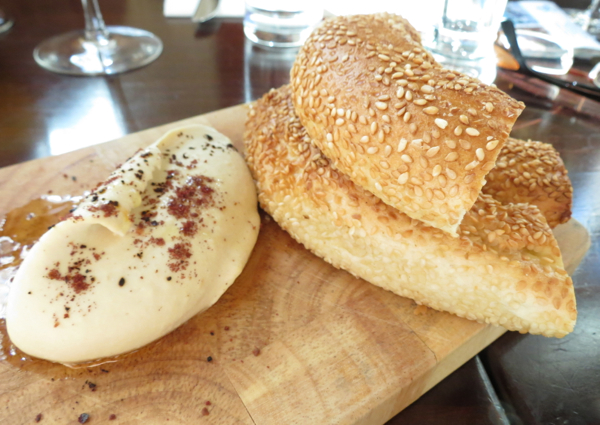 Here's what we enjoyed:
Hommus with kaak (pretzel-shaped sesame bread).
Shanklish sambusek with preserved lemon salsa (moon-shaped pastries filled with melted shanklish, a Middle Eastern hard cheese). Loved the sharpness of the lemon and the delicious whiff of garlic.
Carrots, labne and za'atar (the latter is a herb and spice mix made of dried oregano, thyme, sumac and sesame seeds). Only one word for this dish – sensational!
Scallop nayeh with baba ganoush and Persian raisins – (a ceviche-like dish: nayeh is an Arabic word for raw).
Cauliflower, chickpea and pomegranate salad – Colourful, lots of great tastes and textures, another amazing dish (see recipe below).
Barbecued spatchcock and fattoush – beautifully moist spatchcock coated with delicate fragrant spices.
Lamb shawarma and sour tahini – shredded lamb wrapped up like a sandwich.
Tahini brulee with dried Persian figs and candied chickpeas.
Rose jelly, sahleb cream and sumac strawberries – (sahleb is the tuber of an orchid found only in Turkey). A pretty dessert topped with dried rose petals which added a delicious perfume.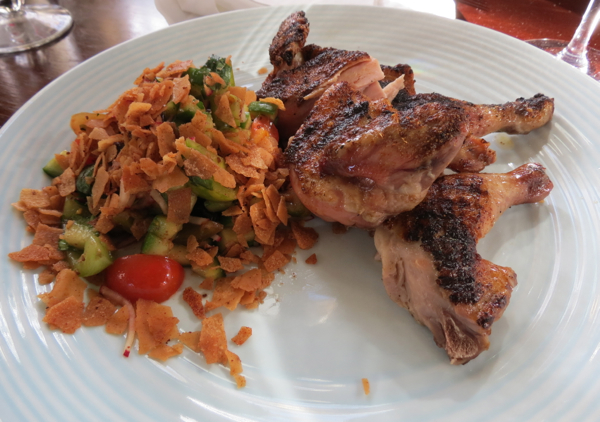 Not only did we eat like kings and queens, but the wine hit the right spot too (or at least the red did – I didn't try the white).  Chateau Ksara 2009 Reserve du Couvent is a smooth, easy-drinking Cabernet Shiraz from Lebanon's Bekaa Valley.
Embers has whetted my appetite for fine Middle Eastern food and for exploring these lands around the Arabian Gulf.
Among attractions that caught my interest, Abu Dhabi has a gourmet festival every February which sounds like fun. And in Oman, it's possible to sleep on the beach ("think of it as Coffs Harbour" said the vivacious Emma Gardiner), enjoy a homestay or sleep in a Bedouin tent.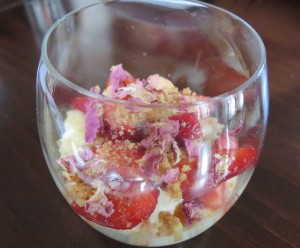 Count me in.
Fact file:

Embers Mezze Bar
52 Oxford Street
Darlinghurst NSW 2010
Australia
+61 (0)2 8354 1100
www.embersmezzebar.com.au
www.visitabudhabi.ae
www.tourismoman.com.au
CAULIFLOWER, CHICKPEA AND POMEGRANATE SALAD
1/2 cauliflower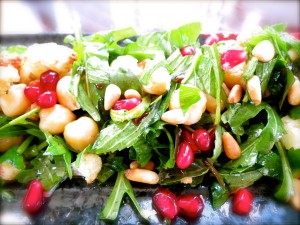 1 tin chickpeas, drained
50 grams rocket
1/2 bunch mint
1/2 bunch flat leaf parsley
2 tablespoons pomegranate seeds
2 tablespoons roast pinenuts
pomegranate molasses
Dressing:
75 ml red wine vinegar
75 ml lemon juice
250 ml olive oil
2 garlic cloves, crushed
2 teaspoons salt
2 teaspoons sugar
Heat oil in a deep fryer to 180 degrees C. Prepare the cauliflower in florets. Combine all dressing ingredients in a jar and shake well.
In a large bowl, combine 1/2 the chickpeas, roughly chopped rocket, parsley and mint.
Place the cauliflower florets in the basket of the deep fryer and cook until a nice golden colour.
When cooked, transfer the cauliflower onto kitchen paper and pat well.
Add the still warm cauliflower to the chickpea and rocket mix. Add enough dressing to give the salad a nice sheen without drowning it.
Mix lightly. Arrange on a large flat plate and then scatter with fresh pomegranates and the pinenuts.
To complete the salad, drizzle a light stream of pomegranate molasses all over for a nice sweet balance to the dish.
Recipe courtesy of Simon Zalloua, Embers Mezze Bar.