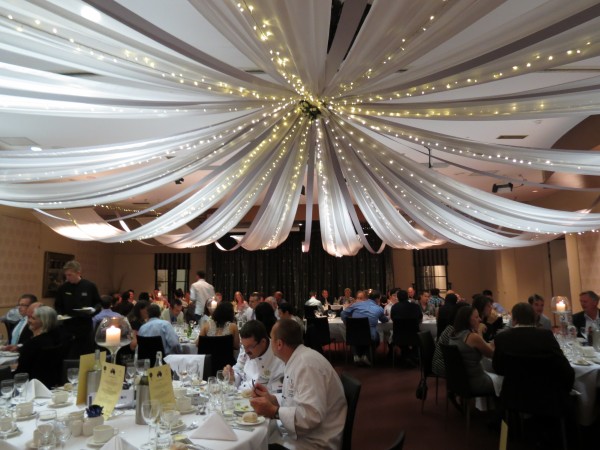 Every four years, there are the Olympic Games, the Paralympics and the Winter Olympics, but you might be surprised to know that there is also a Culinary Olympics. What's more, it's taken just as seriously, right down to the competitors marching into the stadium in their national teams.
The world's largest professional competition for chefs and pâtissiers, the event is organised by the World Association of Chefs' Societies, which represents more than 10 million chefs worldwide.
This year's event will be held in Erfurt, Germany, from October 6 to 9. The Culinary Olympics have gained a reputation for setting trends and benchmarks, and to take out a medal in the competition is a very high honour.
Australia has a good track record in the competition, with both the junior and senior teams finishing in the top 10 in the world in the 22nd Culinary Olympics in 2008. The junior team came sixth with a gold and a silver medal, while the senior team finished ninth with two gold, one silver and a bronze.
Can this year's Australian team top that? They're certainly giving it their best shot, and after tasting the results of their second practice run, I think they'll do a great job of defending our culinary reputation.
I was a guest of the National Press Club, which hosted Monday night's dinner where Shane Keighley (Qld, Captain), Shannon Kellam (Qld), Steve Clarke (WA), Jennie Key (SA), Royston Clark (WA), Patrick Carlin (WA), Matt McBain (Vic, pastry team), Dan Hurley (ACT) and Che Tam Nguyen (WA) prepared the three-course menu they plan to do in Germany.

They had spent the previous two days prepping at the National Convention Centre, whose executive chef, Mike Scheumann, is president of the ACT chapter of the Australian Culinary Federation.
The dinner was organised by the Federation to raise much-needed funds to send the team to Germany, as well as gain valuable feedback.
The three courses were incredibly intricate so it's almost impossible to describe them without listing a huge number of ingredients, but here's a summary of what we enjoyed: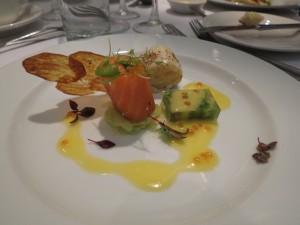 Entrée: Lemon sole soufflé, kipfler potato and fennel pollen crisp, apple cured and smoked Tasmanian salmon (out of this world delicious!) and cucumber terrine.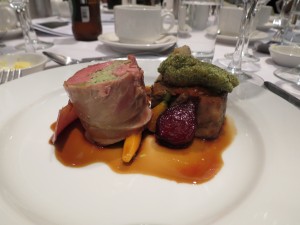 Main dish: Dorper lamb loin wrapped in pancetta, milk-poached kidney, gremolata-crusted sweetbread, wild mushroom polenta, beetroot glazed shallot. (Beautifully matched with Serafino 2009 Shiraz from McLaren Vale.)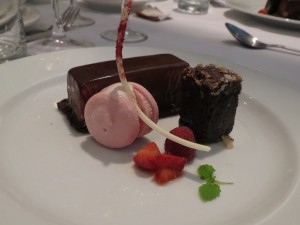 Dessert: Chocolate and raspberry bar, chocolate pudding, strawberry macaron (filled with strawberry gelato, a nice twist) and other yummy morsels.
According to team manager Patrick O'Brien, the team members were being assessed on Monday night as only six would be able to compete in the hot kitchen team in Germany, and they were looking for the "best fit".
The selection process is, understandably, rigorous as the chefs will work in a five metre by four metre space, with just five hours to prepare a three-course meal for 110 people, as well as a buffet table displaying their work.
Other team members will have duties in the cold table team. All up, a total of 21 people will be going to Germany, with a full complement of senior, junior and pastry teams.
It's a huge job raising sponsorship as the expense of getting three teams to Germany is enormous. According to the president of the Australian Culinary Federation, Peter Wright, they are about a quarter of the way towards their goal.
I'm sure they'd appreciate any extra help so do contact the Australian Culinary Foundation if you'd like to get involved.
Peter Wright has a broad vision of where he'd like to take the Culinary Federation. "One of our big goals is to drive the future of Australian culinary arts," he said.
"We have a shortage of chefs in this country; what we're trying to do is give these chefs an avenue to stay in the industry so they'll be the leaders of the future."