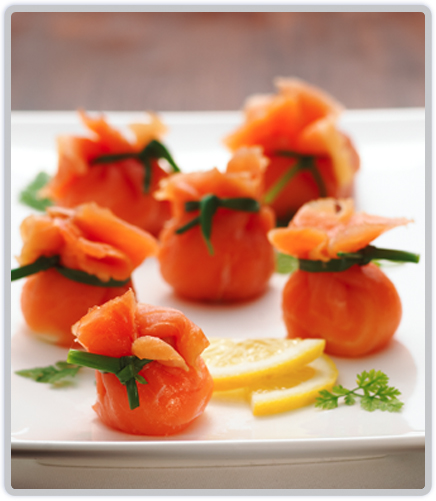 Our Easter plans have gone somewhat pear-shaped. Maurie is unwell and so the rendezvous that we had planned with loved ones has been substituted with a spell in Calvary Hospital. There's disappointment that we won't be sitting around a table with friends and family, the one thing we love more than anything in the world.
On most Australian tables this weekend, seafood will feature. Easter is the peak season for seafood consumption, and of all the seafood on offer, salmon rates highly. In recognition of that, I'm going to present you with two recipes from Tassal, Australia's largest producer of fresh and frozen Atlantic salmon.
Its salmon is grown in the crystal-clear waters of the Great Southern Ocean, off the coast of Tasmania. Every Easter, Tassal records major spikes in its sales of fresh salmon portions, even more so than at Christmas.
It also produces sliced smoked salmon and a salt-reduced sliced smoked salmon. I queried the level of salt because salt is a natural preservative and I wondered if it would affect the shelf-life of the product. But according to Tassal's PR spokesperson, there is no difference in the shelf life, despite a 60% reduction in salt in the second product.
Salmon is a rich source of Omega 3s and is therefore considered to be one of nature's superfoods. I'm calling on it to do the right thing by my man.
SALMON BON BONS
(Pictured above)
875g smoked salmon slices
24 baby boconcini balls
200g dill pesto
24 chives, blanched
Sliced lemon to serve
Dill leaves to garnish
Remove smoked salmon from packaging and separate the slices a couple at a time. Lay slices flat on a board and slice in half. Place a small dollop of pesto into the centre of each slice of smoked salmon, then top with a baby boconcini cheese. Gather up the edges of the smoked salmon to make a parcel and secure gently with a chive tying off firmly. Trim chive decoratively. Repeat with remaining smoked salmon and cheese. Arrange the smoked salmon bon bons on a large serving platter and garnish with sliced lemon and dill leaves.
SMOKED SALMON AND DILL FRITTATA
(Pictured below)
100g smoked salmon slices
8 eggs
50ml thick cream
Salt & pepper, to taste
1 zucchini, sliced into ribbons
1 spring onion, finely sliced
1 capsicum, finely sliced
Small handful dill, chopped
Small handful parsley, chopped
1 cup grated cheese
Garden salad, to serve
Pre-heat oven to 180°C. Whisk the eggs with cream and season. Line a 24cm slice tin with baking paper. Layer the zucchini, spring onions, capsicum and smoked salmon in the slice tin. Pour over the egg mixture, top with herbs and grated cheese. Place in an oven for 18 to 20 minutes or until golden. Cut into pieces and serve hot or cold.
Recipes and photos courtesy of Tassal.