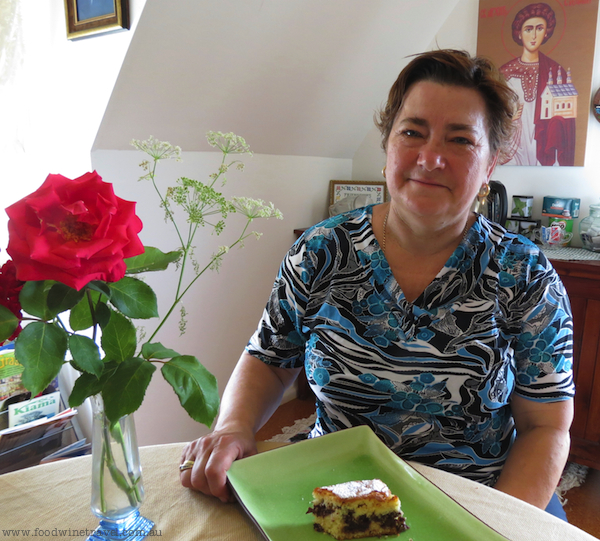 'Homely' is the best way to describe Adriana's Bed and Breakfast Country Retreat, where we stayed for a night during the 2012 Cherry Festival.
Owners Adriana and Milan Brankovic accommodate up to three couples in their Tudor-style home on a 20-acre property just outside of town.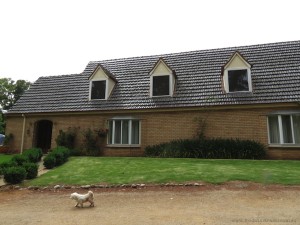 Adriana is a keen cook who treats her guests to a terrific cooked breakfast, not to mention some delicious sweet treats for afternoon tea and supper. And naturally, in season, you'll find a bowl of luscious cherries on the table.
Adriana and Milan are of Serbian origin, and Adriana kindly shared the recipe for the Apple Slice she served during my visit.
The recipe was passed on to her by her mother but carries her own special twists. "My mother used to make a lot of cakes," she said.
LENJA PITA ("LAZY SLICE") – APPLE SLICE
4 eggs
18 tablespoons sugar
18 tablespoons self-raising flour
100ml sunflower or vegetable oil
100ml milk
Beat eggs and sugar till fluffy, then fold in flour. Mix in oil and milk.
To prepare the filling:
5 granny smith apples, peeled and grated
2 cups ground walnuts
½ cup sugar
2 tablespoons cocoa
1 teaspoon lemon zest
1 teaspoon lemon juice
Cinnamon to taste
Preheat oven to 180 degrees C. Squeeze the juice out of the grated apple and put aside in another dish. Add walnuts to the grated apple, then add the sugar, cocoa, lemon zest and lemon juice. Add cinnamon if you like.
Line a large slice pan with Gladbake. Spread half the cake mixture in the bottom of the pan, then spread the filling over. Spread the remaining half of the cake mixture on top.
Bake for 20 to 25 minutes. When cool, sprinkle with icing sugar and vanilla sugar.
Details: www.adrianasbnb.com.au
Related posts: Young, NSW; National Cherry Festival; Street Parade; Chinese Tribute Gardens; Ballinaclash Orchard; Poppa's Fudge and Jam Factory; Old Schoolhouse Café; Hilltops Wine;
Check out some great cherry recipes at A Table Full Of Cherries.