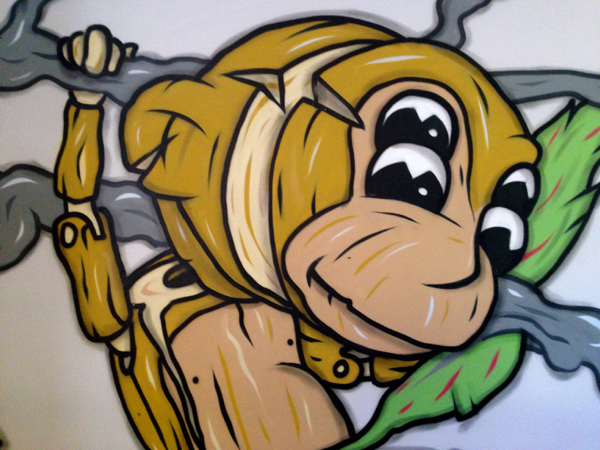 Darby Street, Cooks Hill, is within walking distance of Newcastle's CBD and is full of interesting and quirky shops, some great street art and lots of lively restaurants and cafés. If Newcastle has a food street, then this surely is it. We dropped in for breakfast at Three Monkeys and were super impressed.
Nick Williams (below) has been running the café for 12 years and his dedication shows in the large and varied menu, the quality of the food and simple touches like the use of real leaf tea. Such a small thing and yet it makes so much difference to our enjoyment of a place.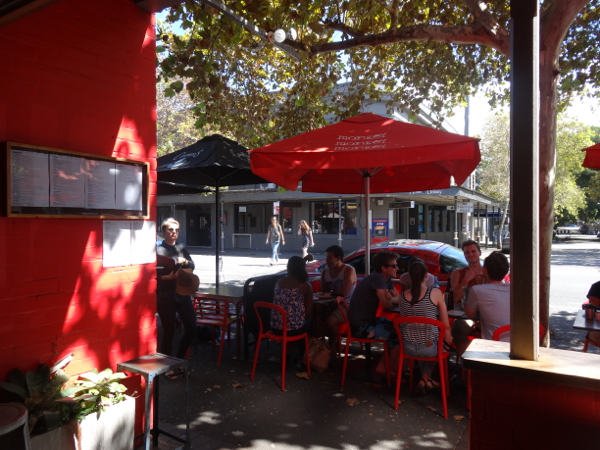 The café gets very busy on weekends but there are plenty of options for seating: upstairs or downstairs, on the footpath, an upstairs balcony or in the courtyard out the back. We sat in a corner nook upstairs which was light-filled and perfect for a leisurely breakfast.
The atmosphere is great. The old building has quirky murals painted on the walls, hanging lights and cool background music. The crowd ranged from young couples to teens on their way to Saturday sport, a dad with his young child, middle-aged folk and 20-somethings.
A butterfly was flying around the room as we ate!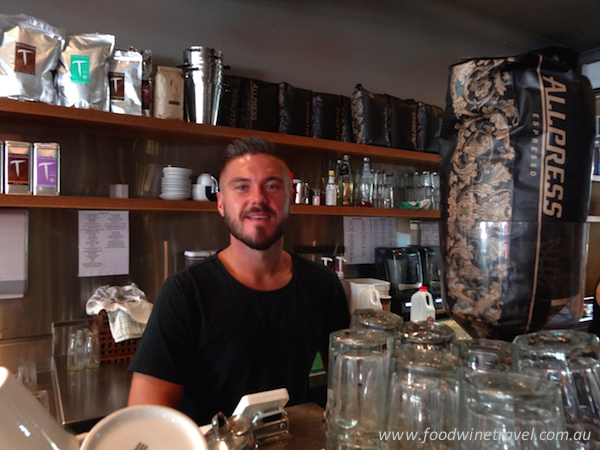 One of the things I love about the menu is that breakfast and lunch overlap (by a long shot). The breakfast menu is available from 7.30am to 3pm; lunch from 10am till 5.30pm. How many times have you gone into a restaurant at 11.05 only to find that breakfast finished at 11 and lunch doesn't start till 11.30?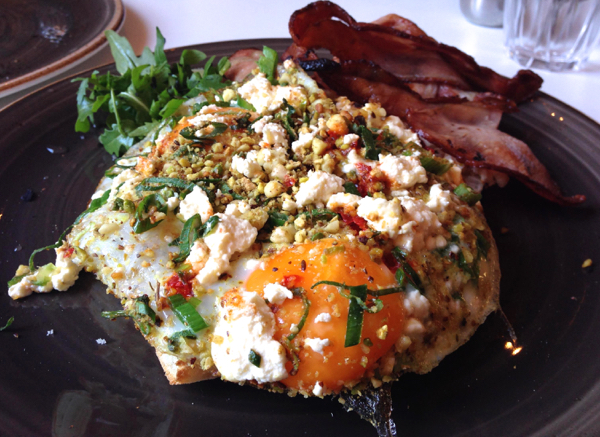 We ordered the Moroccan eggs and the Eggs Benedict from the breakfast menu and were very happy with both. The fried Moroccan eggs ($17, above) were nicely runny and served on toasted Turkish bread with dukkah, mild chilli, shallots, crumbled feta and a sprinkle of lime on top. Bacon was served on the side for $3.50 extra.
The Eggs Benedict ($17.50, below) had soft poached eggs, just the way we like them, with shaved ham but could have been ordered with smoked salmon instead. Other dishes we could have chosen from the breakfast menu included ricotta pancakes, French toast, corncake stack or a delicious sounding quinoa porridge made with vanilla bean infused quinoa, caramelized banana, strawberries and mascarpone. Yum!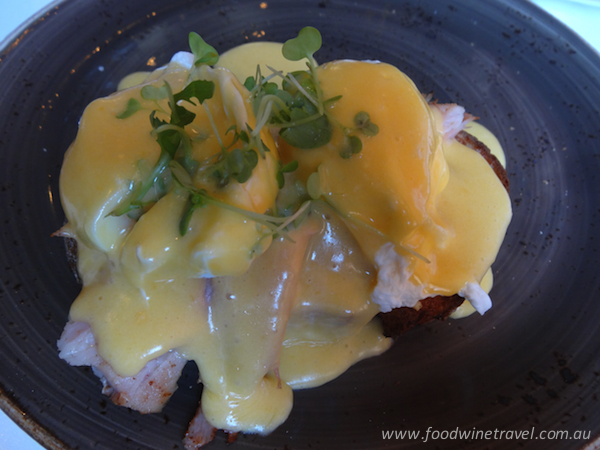 A lot of the dishes have quirky names such as Green Monkey (spinach, mushrooms, chorizo, tomato, chilli, garlic, poached egg with truffle oil on toasted Turkish bread) and Frozen Monkey Brains (Watermelon granita, coconut gelato and raspberry sorbet).
The smoothies, frappes, juices and health shakes are to die for, and there's a huge range to choose from. We settled on Frog in a Blender (below), a combination of green apple and strawberry, and Fruit Tingle, a blend of pineapple, strawberry, mint and lime. Other juices that sounded great had names like Waterfall, Orangutan, Energiser Bunny and Capow.
The lunch menu has a wide range of pizzas, pasta, burgers and dishes such as duck shanks with an orange glaze, slow-cooked lamb ribs, and chicken chimichanga. The dinner menu, available from 6pm till 9pm is similar, and the beverage list includes a good selection of beer, wine and cocktails.
Fact File:
Three Monkeys Café
131 Darby Street,
Cooks Hill,
Newcastle NSW Australia
+61 2 4926 3779
Open 7 days
You might also like: Gertrude & Mabel; Scout Café; Novotel Newcastle Beach.