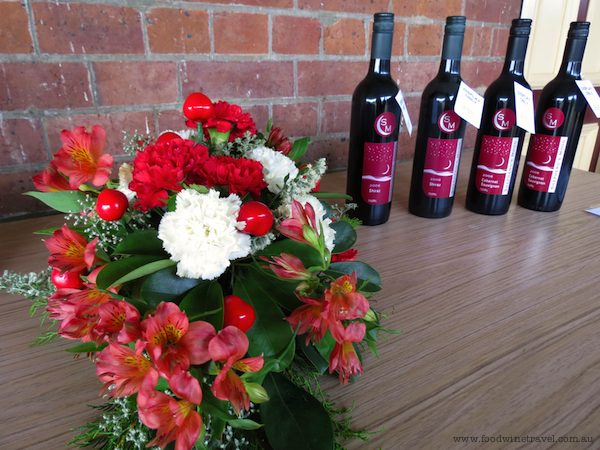 The Hilltops region comprises the shires of Young, Boorowa and Harden in the South West Slopes of New South Wales, an area of long, dry summers with warm daytime temperatures and cool nights.
There are more than 25 vineyards in the region, 14 of them producing their own wine. Most of the fruit goes to companies such as McWilliam's and Yellowtail producer Casella, but a determined few are working hard to ensure the region has a place on Australia's wine map.
Jason Brown initially intended his Moppity vineyard to be a contract vineyard, which he could "pick the eyes out of" to make some special wines. But he very quickly made the decision to be not just another fruit grower. "I believed it was holding the region back. It finishes up in the mass-produced blends of the big boys."
So as well as his Moppity estate wines which sell for around $20 to $25, he now makes a lower-priced Lock and Key range which has been incredibly successful (not surprising really, because they are remarkably good value at under $15).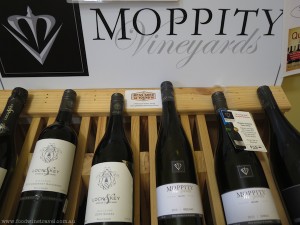 "We've gone from 1000 cases seven years ago to 30,000 cases," said Brown, who thinks the region is an "undiscovered gem".
"Our Shiraz really is unique. It's got a little more generosity than Canberra Shiraz. It's riper than Orange. It's a bit of a hybrid between Barossa and the Grampians."
When Canberra winery Eden Road won the prestigious Jimmy Watson trophy using Hilltops fruit, it helped put Hilltops on the map, but Brown said there was more to the region's success than that.
"The terrific thing about the region is that it is capable of producing a consumer-friendly style. It's medium weight, it's got plenty of complexity, it's got a lot of interest, it's got heart and soul. It's a really attractive style to drink."
Brown says that climatically, there are a lot of similarities between Hilltops and South Australia's Clare Valley, which is noted for its Riesling.
Brown is making Riesling under both his labels, and Chalkers Crossing does a very good Riesling too, not to mention a range of other exceptionally good wines made under the watchful eye of French-born winemaker Celine Rousseau.
Chalkers and Grove Estate helped revitalize an industry that had been introduced to the region in 1860.
Grove Estate has been making Zinfandel and the Italian variety Nebbiolo for years. There's a bit of a buzz in the region over Italian varieties.
Freeman Vineyards has won numerous accolades for its 'Secco' Rondinella Corvina, including a gold medal at the 2012 Australian Alternative Varieties Wine Show.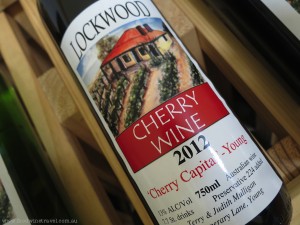 Freeman also uses Rondinella grapes to make a refreshingly spicy salmon-pink Rosé, which is delicious served chilled for summer drinking.
Moppity was absent from the Hilltops Wine Expo during the 2012 National Cherry Festival, but most of the others were offering tastings of their wines.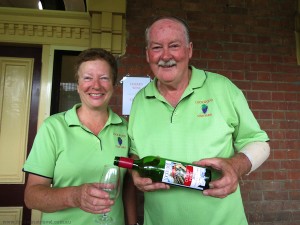 I caught up with Judith and Terry Mulligan (pictured) of Lockwood Vineyard who make a very good Shiraz Viognier and a surprisingly dry cherry wine.
(Well, it wouldn't be Young without cherry wine, would it?)
The highlight of the Wine Expo for me was the 2009 Nebbiolo made by a small and relatively new producer, Trandari.
Doug Gauntlett planted his Trandari vineyard in 2004 and has his wine made for him by Orange winemaker Chris Durez. He planted Nebbiolo after doing his research and finding the climate was just like Piedmont. He grows his fruit organically and also makes an impressive Shiraz. This is definitely a label to watch out for.
The Young Visitor Information Centre in the old Railway Station in Lovell Street has a cellar door (pictured below) where you can taste a selection of Hilltops wine.
Related posts: Young, NSW; National Cherry Festival; Street Parade; Chinese Tribute Gardens; Ballinaclash Orchard; Adriana's Apple Slice; Poppa's Fudge and Jam Factory; Old Schoolhouse Café;
Check out some great cherry recipes at A Table Full Of Cherries.