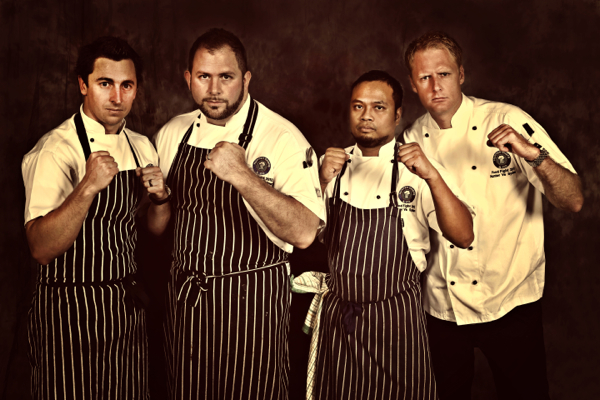 You might remember that some time ago I posted a story about the Ultimate Food Fight, in which chefs from Sydney and the Hunter Valley were about to go head-to-head, cooking for 250 lunch guests in a competition to raise money for the Brett Graham Scholarship.
It's my happy duty to report that the Hunter team won the day, though by all accounts the result was extremely close. Voting on the courses was anonymous.
The winning team included Jamie Ryan from Caves Beachside Hotel, Tim Montgomery from Bacchus, Emerson Rodriguez from Emerson's Pokolbin, and Troy Rhoades-Brown from Muse (photo supplied).
They were up against Sydney chefs Matt Kemp, formerly of Balzac; Warren Turnbull from Assiette; Colin Fassnidge from 4Fourteen; and Justin North, formerly of Becasse.
Organised by Hunter Valley Chefs & Co to showcase Hunter Region produce and foster upcoming local talent, the event raised more than $10,000 for various apprentice initiatives and the Brett Graham Scholarship.
The scholarship enables an apprentice chef to be flown to London to work alongside former Newcastle boy, Brett Graham, at his renowned Notting Hill Restaurant, The Ledbury.
Congratulations to the Hunter team and what an impressive fund-raising effort!
More information: www.hunterchefs.com.au
Related post: Kitchen Heavyweights In The Ultimate Food Fight