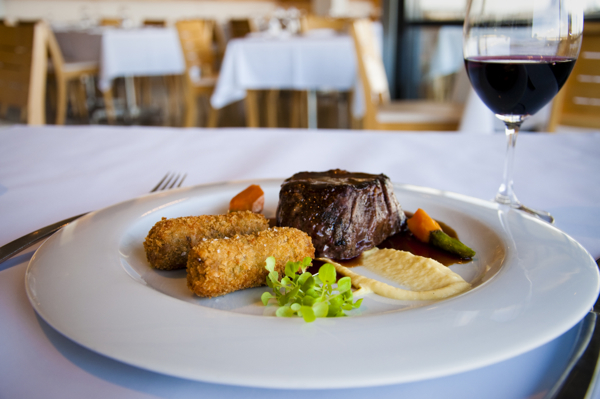 Ebonnie Newby began her apprenticeship in Newcastle and had 10 years experience cooking in the NSW Hunter region before spending time in Melbourne at venues such as Silk Road Bar and Lounge, Waterfront Restaurant and Station Pier in Port Melbourne.
Back in her old stomping ground, the Hunter Valley, she is now nurturing the menu at Esca Bimbadgen Restaurant at Bimbadgen Estate, Pokolbin.
When it comes to plating up the perfect beef dish, Newby favours the use of Grainge beef and Chantenay carrots, a small, squat, flavoursome variety.
BEEF FILLET WITH BRAISED OXTAIL CROQUETTES AND SHIRAZ BUTTER
Serves 4
4 beef fillets
500g oxtail (bone in)
100g carrots
100g onion
100g celery
500ml Shiraz (200ml for Braised Oxtail & 300ml for Shiraz Butter)
30g tomato paste
600ml beef stock
2 bay leaves
200g parsnip
270g butter (20g for Croquettes & 250g for Shiraz Butter)
20g chopped parsley
12 peeled and boiled Chantenay carrots
200g flour
4 eggs, whisked with a dash of milk
500g panko breadcrumbs
Braised Oxtail:
Sauté 100g peeled and cut carrot, peeled and cut brown onion, and celery. Add 30g tomato paste and cook out to release the flavour. De-glaze with 200ml Shiraz.
Add 600ml beef stock, 2 bay leaves and 500g oxtail (bone in)(Cooked weight approx. 50% less.)
Place in oven with a lid for about 8 hours at 110 degrees C and cook until the meat falls off the bone. Allow to rest overnight before shredding.
Croquettes:
Wrap 200g parsnip in foil and bake in the oven until a knife goes straight through with no resistance. Remove the parsnips from the foil and then remove the skin. Mash the parsnips with 20g butter, salt and pepper.
Add 200g of the shredded and braised oxtail. Add 20g chopped thyme and 20g chopped chives. Combine altogether and check seasoning, adjust if needed.
Roll the mix into logs. Toss in flour then into an egg mix and finish in panko breadcrumbs. Set aside, ready to fry.
Shiraz Butter:
Reduce 300ml of Shiraz to 100ml. Beat 250g of softened salted butter and slowly add Shiraz syrup. Then add 20g chopped parsley. Roll butter into a log, wrap and refrigerate until set. When set, cut into pieces about 1.5cm wide.
To serve:
Chargrill beef fillet to medium rare. Set aside to rest for 8 minutes. While beef is resting, fry the parsnip and oxtail croquettes.
On the plate, arrange the croquettes, place the beef down, pour a little red wine jus. Place chantenay carrots which have been peeled and boiled. Place the Shiraz butter on top of the beef, allow to melt slightly. Garnish with micro herbs and serve.
If You Go:
Esca Bimbadgen Restaurant
Bimbadgen Winery
790 McDonalds Road
Pokolbin NSW 2320
Australia
Tel: +61 (0)2 4998 4666
www.bimbadgen.com.au
Open 7 days for lunch 12pm – 4pm.
Dinner Wednesday to Saturday nights from 6pm.