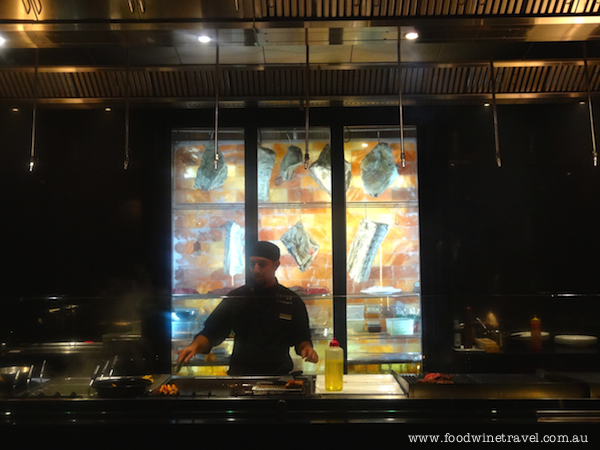 I've always loved walking into the Hilton Brisbane because of the big arrangement of fresh flowers that greets visitors at the Elizabeth Street entry. As I step into the lift to the reception desk on level six, the hotel has already won me over. We can all do with more flowers in our day.
Opened in 1986, the hotel was designed by legendary architect Harry Seidler. It's an eye-catching design with an enormous atrium more than 80 metres high, topped by a striking glass dome. Seidler's sketches inspired the giant mural that forms a backdrop for the Vintaged Bar + Grill.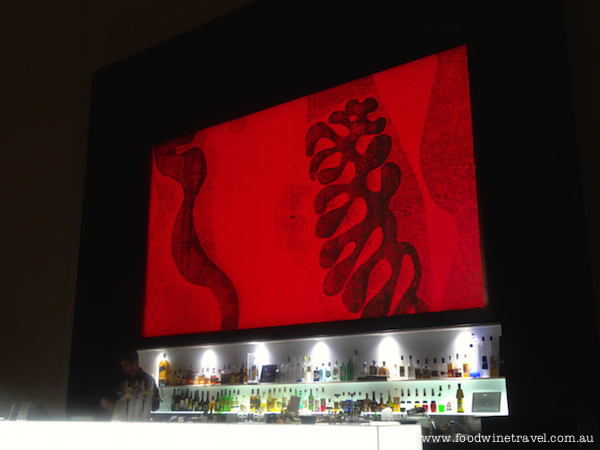 The mural, created by local artist Simon DeGroot, was unveiled a few months ago. It's suitably modernist, in keeping with the design of the hotel, and it has special lighting that enhances the vivid colours. It almost looks like a screen print or a digital image rather than an original artwork, but it certainly draws your eye to the bar. Twelve of DeGroot's working samples are on display in the hotel's business centre until August 30.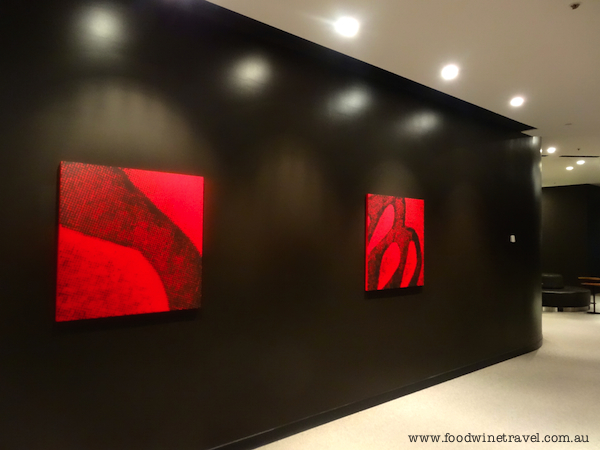 If you pop in to have a look at the After Image exhibition, you might like to take advantage of a special for Good Food Month where you can get a main course (choice of four dishes) and a glass of wine or beer for $35. The hotel also has an accommodation package celebrating the Harvest: Art, Film + Food exhibition currently on at GOMA (Brisbane's Gallery of Modern Art).
Vintaged Bar + Grill was awarded a chef's hat in the Brisbane Times 2014/2015 Good Food Guide. This is the third edition of the Guide and the restaurant has scored a hat each time.
It's a casual restaurant, but still with a certain elegance, and the chefs cook at an open grill in front of an illuminated wall of Himalayan rock salt used for dry-ageing meat. We had a prime spot at the Chef's Table overlooking this spectacular wall and it was great fun watching the chefs at work. The table can take up to nine people and anyone can book it; in our case, it was just the two of us enjoying this very special spot.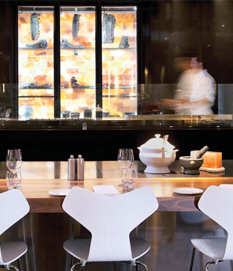 Almost all the dishes, including an extensive selection of steaks, are prepared on the grill. The restaurant showcases local produce and we loved the Mooloolaba swordfish dish that executive chef Jeremy Clark created with inspiration from GOMA's Harvest exhibition. It's accompanied by avocado puree, fennel, thinly sliced discs of radish and cucumber, baby herbs and sorrel, all ingredients sourced from boutique providores within a 200 kilometre radius of the hotel.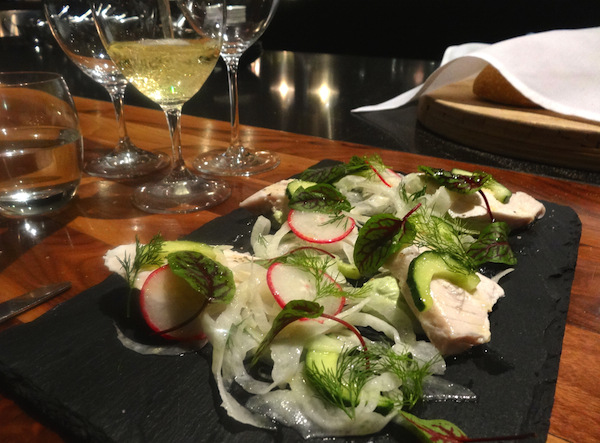 I have to add a word of praise here for our excellent waiter Daan and very talented sommelier Dasha. Dasha chose a Reichsgraf von Kessels 2011 Kaseler Riesling Trocken to go with the swordfish and with tasting spoons of salmon gravlax, and scallop with asparagus puree and caviar. This lightly aromatic German wine was a lovely match with its gentle acidity and ever so slight sweetness.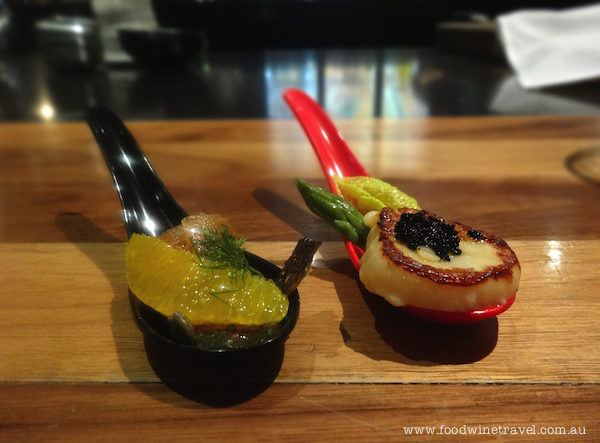 Dasha opted for a Cloudy Bay Pinot to go with the meats, a stunning charcuterie plate followed by slices of wagyu and sirloin and a couple of prawns. I can't begin to tell you how good the charcuterie is: Kurobuta Berkshire capocollo (from the heritage Berkshire breed of pig), Cantimpalo salami and Wagyu beef bresaola. Of course, all the great flavour comes from lots of lovely fat that you can feel going straight to the hips.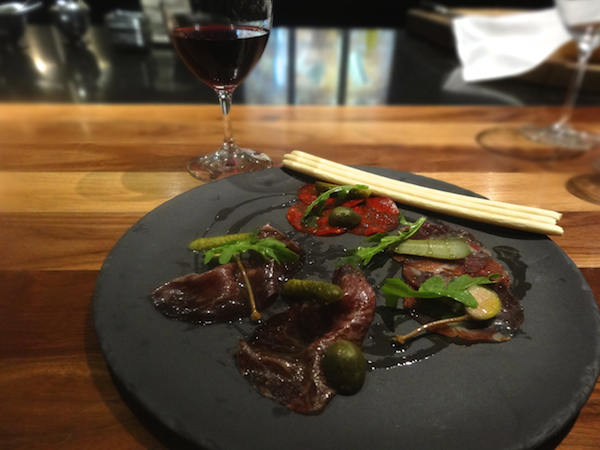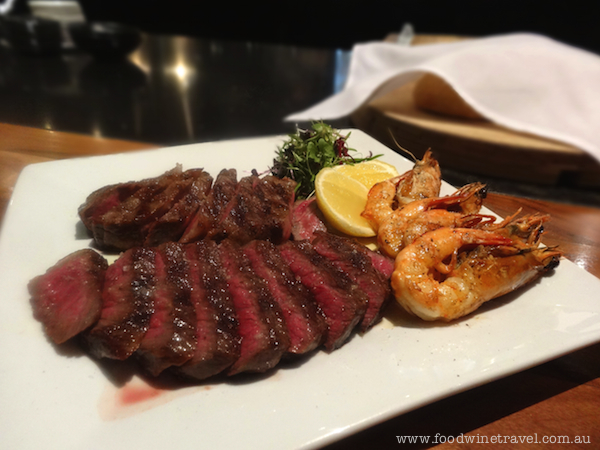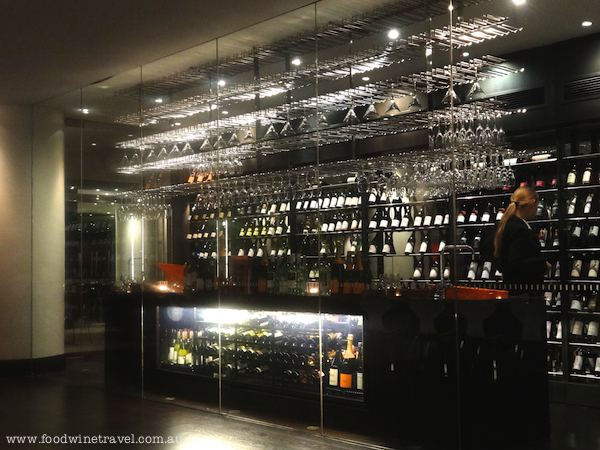 Dasha took us on a tour of the Wine Room, a glass-walled room strutting its stuff in the middle of the restaurant. Around 120 Australian and imported labels are on the shelves, from the tiniest producers you've never heard of to real icons like Rockford Basket Press Shiraz. In front of the Wine Room there's another unique dining space in the Wine Table, a 5.5 metre long table that has an illuminated ice well running the length of the table. Up to 12 people can sit here.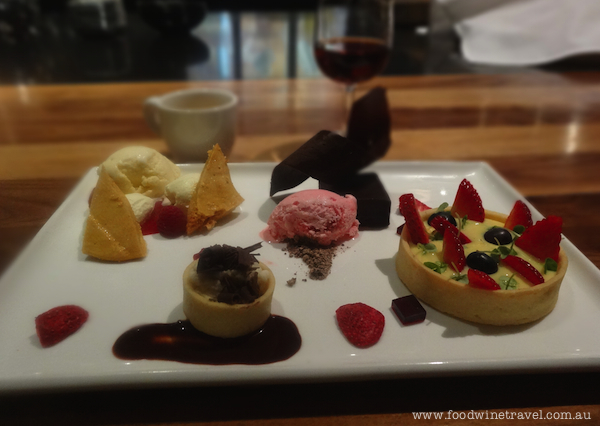 We drew on the special stomach reserved for desserts to enjoy a glass of Campbells Muscat and a tasting plate of treats including icecream with honeycomb and a little jug of caramel sauce. The hotel makes all its icecream in-house. I love that attention to detail.
Christine & Maurie dined as guests of Hilton Brisbane.
Fact file:
Vintaged Bar + Grill
Hilton Brisbane
190 Elizabeth St, Brisbane, Australia
+61 (0)7 3231 3265
www.vintagedbarandgrill.com
After Image art exhibition: May 22 – August 30, 2014.
Harvest-inspired lite bite available until September 21, 2014.
'Harvest: Art, Film + Food' experience at Hilton Brisbane, from $270 per room per night.
Download the full Brisbane Times Good Food Month program here.
More posts on Good Food Month: Good Food Guide Awards; Good Food Month; Winter Harvest Mondo Organics; Gerard's Bistro: A Winning Formula; Night Noodle Markets; Hats Off dinner at Malt Dining; Champagne High Tea @ Customs House;
Food.Wine.Travel is delighted to be an official blogger for: