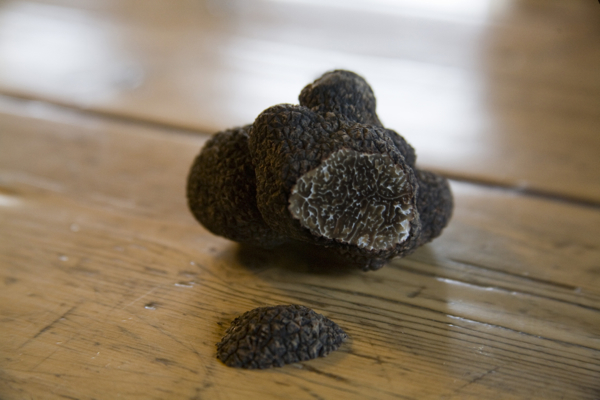 Although I've been privileged to have enjoyed truffles at many a special dinner, I've never actually cooked with them at home.
They're so exotic and expensive (selling for up to a couple of thousand dollars a kilo) they don't exactly feature in most people's everyday repertoire.
So when my daughter brought home one small black truffle last week, there was great excitement in the house and much deliberation over what to do with it.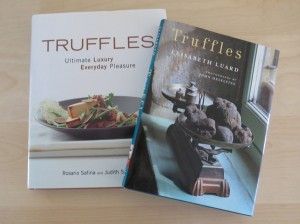 Out came the cookbooks, including two specifically on truffles.
Truffles, by Elisabeth Luard, captures beautifully why an underground tuber that looks like a lump of roughly cracked earth (to put it politely) can be considered the diamond of the kitchen.
I've met Luard and love her evocative prose, her detailed research and classic recipes.
In her book, she suggests slicing the truffle into paper-thin slices and sandwiching two slices together with butter, then sprinkling a little bit of salt on top.
Only the best would do for this so we used exquisite Pepe Saya butter and a sprinkling of pink Murray River salt flakes. This was a great way of appreciating the raw, nutty crunch of the truffle, its heady fragrance and lingering umami taste.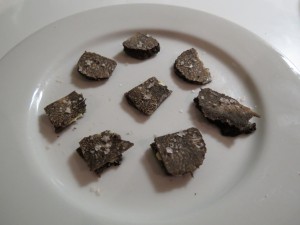 We had to stretch out the experience so we used less than a quarter of the truffle in this way, saving the rest for a main dish.
We tossed around a lot of ideas (eggs, potatoes – both natural partners) but in the end, decided on a variation of the smoked duck salad that appears on the cover of Truffles: Ultimate Luxury Everyday Pleasure by Rosario Safina and Judith Sutton.
We used Poacher's Pantry smoked duck and Chinese cabbage from our own garden, picked just a few hours before serving.
My recipe is loosely based on the one in the book and was a great success, with the exotic truffle aroma preceding the dish as it was brought to the table.
We are blessed in Canberra to have a burgeoning truffle industry on the fringes of the city and in the surrounding region. As I mentioned in one of my earlier posts, the region hosts a month-long Truffle Festival, kicking off on Thursday.
Related post: Follow Your Nose To Canberra
******
Truffles: Ultimate Luxury Everyday Pleasure appears to be out of print, but I can highly recommend Elisabeth Luard's book with its beautiful still-life cover.
It is available from Book Depository with free worldwide postage. If you click on the following book covers, they will take you directly to it and a few other good books on truffles available from Book Depository.
SMOKED DUCK SALAD WITH PANCETTA AND BLACK TRUFFLE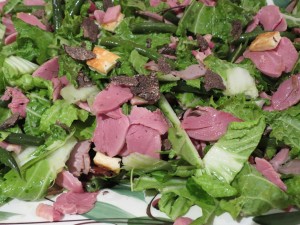 350g green beans, trimmed
1 tablespoon extra virgin olive oil
250g pancetta, diced in 1cm pieces
175g haloumi cheese, sliced
1 small Chinese cabbage, torn into pieces
2 tablespoons flat-leaf parsley, chopped
250g boneless smoked duck breast
1 fresh black truffle
Dressing (recipe follows)
Steam beans until tender then rinse under cold water until cool; drain well.
Heat oil in a frypan and cook pancetta until browned but not crisp. Drain on paper towel.
Using the same pan, fry haloumi slices till nicely golden.
Remove skin from duck breast, trim fat and thinly slice the meat.
On a platter or in a big bowl, arrange the beans, cabbage, parsley, pancetta and duck breast.
Sprinkle the dressing over (see recipe below), scatter haloumi on top and shave the truffle over. Serve immediately.
Dressing:
1 tablespoon fresh lemon juice
1 tablespoon shallots, minced or crushed with mortar and pestle
¼ cup extra virgin olive oil
½ teaspoon truffle oil
¼ teaspoon Dijon mustard
¼ teaspoon honey
salt and freshly ground black pepper
Whisk together the lemon juice, shallots, mustard and honey. Add olive oil, continuing to whisk as you do. Whisk in the truffle oil and continue whisking till dressing has blended nicely. Season with salt and pepper.
The dressing can be made a day ahead. Refrigerate and bring back to room temperature before pouring over the salad.
Related post: Canberra Truffles