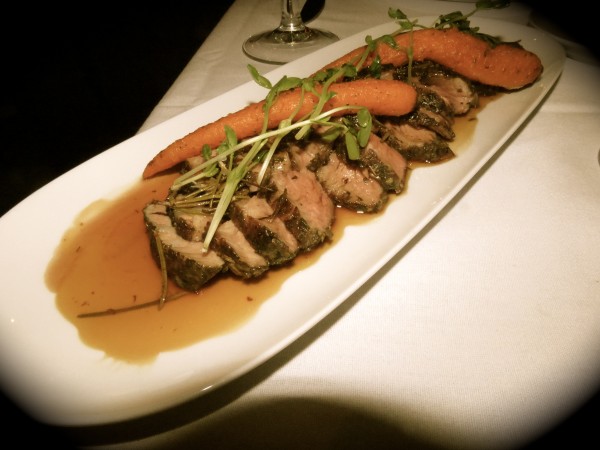 Canberra is the sort of place where you have to know where things are – they don't just leap out at you. That's certainly the case with Pistachio Dining, a fantastic little restaurant in suburban Torrens.
It's located in a very nondescript shopping centre and those of us who live on the north side of town have quite a hike to get there. But nowhere is too far for me to travel if there's the promise of a good meal at my destination, and I can happily report that Pistachio Dining is worth the trip.
To my mind, owner/chef David Keeley and his tight little team are doing some of the best food in Canberra. It's creative without being overly intricate, and it is always beautifully executed. Plus the restaurant has just the right ambience. It's classy without being pretentious, and the soft furnishings and gentle background music make conversation easy.
Keeley has good credentials on the Canberra dining scene. He trained under Jean Luc Obers at Chez Moustache, and then worked with James Mussillon at Aubergine, Courgette and Sabayon. He ventured out on his own with Pistachio Dining a couple of years ago and I feel he is just beginning to settle into a nice groove with it.
He is determined to maintain high standards and to use high quality produce, but is not aiming to be the next René Redzepi. Furthermore, his prices are very reasonable. (I'm even more convinced of this after making the unfortunate mistake of dining at a club this week – I'm not going to say which, but let's just say I paid nearly the same price that Pistachio charges for its mains and there was no comparison, in either food or ambience).
A good way to sample a selection of entreés is the $19 tasting trio but the Seared North Atlantic scallops were so inviting I didn't want just a morsel on a tasting plate. The full entrée offered three succulent scallops served on "sandwiches" of blue swimmer crab with garnishes of parsley, garlic, lemon and tomato.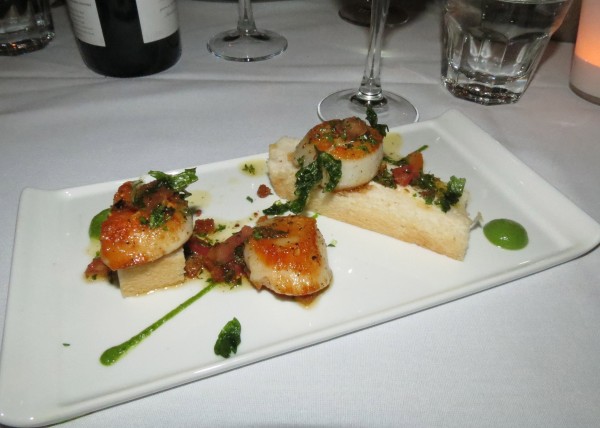 There was a treat in store for us with the mains as there was a special of lamb scotch that Keeley had slow-cooked for around seven hours, sous vide (sealed in a bag in a water bath). Served with rosemary, jus and a scattering of carrots and greens, it was melt-in-the-mouth tender, juicy and flavoursome (see photo at the top of this post).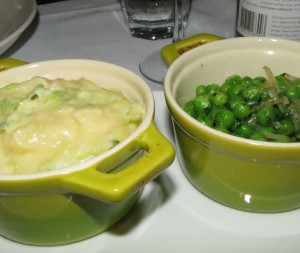 The dish was designed for two and priced at $64, compared with $28 for individual mains. It came with sides of fresh peas and colcannon, the traditional Irish dish of mashed potatoes and cabbage.
The colcannon was deliciously buttery but we felt the kitchen could have held back with the salt on the peas as it tended to mask their beautiful sweet flavour. Call us greedy if you like, but we also wouldn't have minded a few more peas and mash!
There is also a dessert tasting plate for $19, but with the promise of a quince and almond tart ($14) made with quinces from the family garden, who could resist? It appeared more like a slice than a tart, and was perfectly complemented by a scoop of lemon verbena icecream and little dollops of lemon verbena jelly.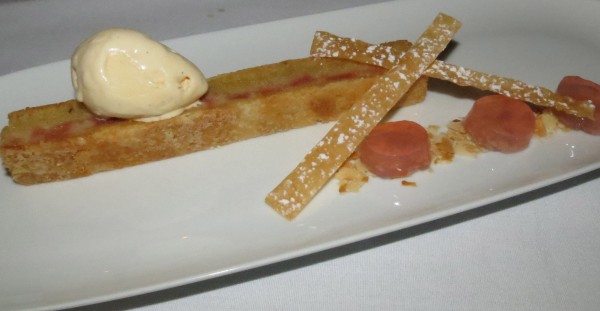 Catching up with our wine connoisseur friends, Gilbert and Kathy, this was an occasion to raid the home cellar for some very special drops. One of the great things about Canberra dining is that so many restaurants allow BYO (often with a high corkage fee, but I don't have a problem with that).
So over the course of the evening, here's what we consumed: Ciccone 2010 Arneis, Steingarten 2001 Riesling, St Henri 2003 Shiraz, St Hugo 1998 Cabernet Sauvignon.
What a line-up! The King Valley Arneis was crisp and lively and a beautiful match for the scallops. The Riesling was as fresh as a daisy, and just goes to show what great longevity these well-made Rieslings have.
The St Henri was beautifully rounded with slight chocolate notes and soft tannins, and the St Hugo was still a vivid red and in tip-top shape. Needless to say, I feel quite chuffed about how well my cellar has performed.
We were fortunate to be able to indulge in this way, as Pistachio has an outstanding wine list. If it wasn't for the fact that our catch-up was an excuse to pull out some terrific oldies, I would have been more than happy to go with any of the wines on the list.
The list is exclusively Canberra District, a bold but admirable move. A huge amount of thought has gone into this list, with many of Canberra's finest wines featured, and there's a great selection available by the glass for between $8 and $11.
For people from out of town – and for locals too – it's a great opportunity to become further acquainted with this up and coming wine region.
Pistachio Dining at Torrens
3A Torrens Place, Torrens, Canberra
+61 2 6286 2966
www.pistachiodining.com.au