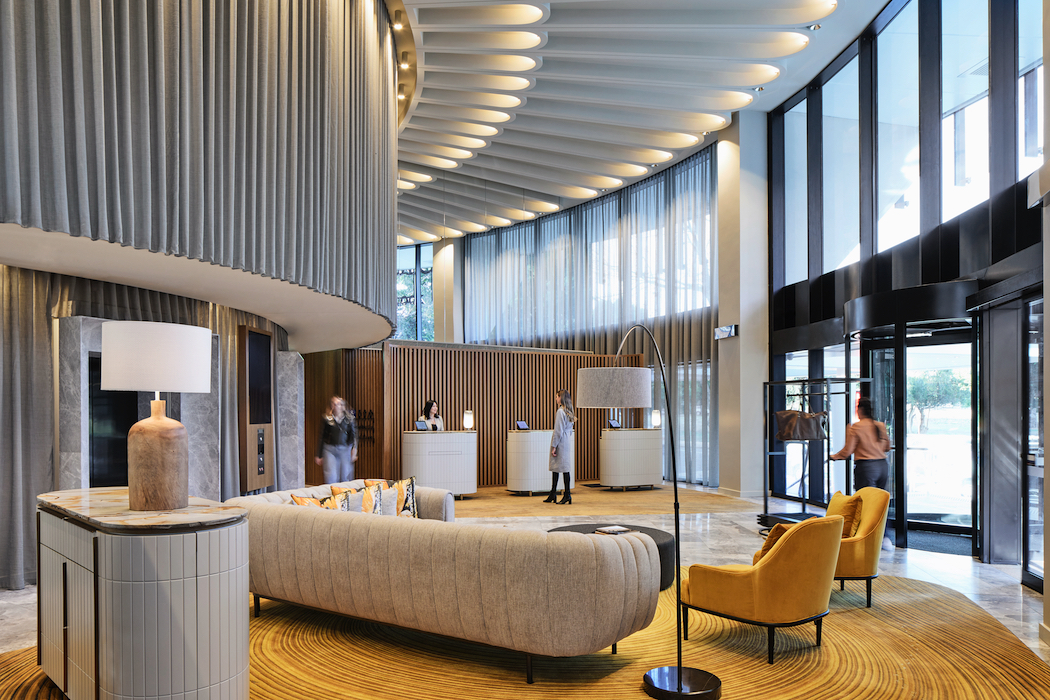 Anyone who reads my posts will know that I love the idea of re-purposing old buildings. So, it goes without saying that I'm a little bit in love with Crystalbrook Kingsley Newcastle. No, not just a little. A lot.
The luxury hotel opened in June 2021 in what was formerly Newcastle's Council Administration Centre, a 1970s concrete masonry, round building that has undergone an amazing transformation.
There's history here in spades: the name Kingsley is a reference to Newcastle's earlier 19th century name of Kingston. The colours yellow and charcoal that predominate throughout the hotel tell the story of Newcastle's mining past (yellow for the canary in the mine).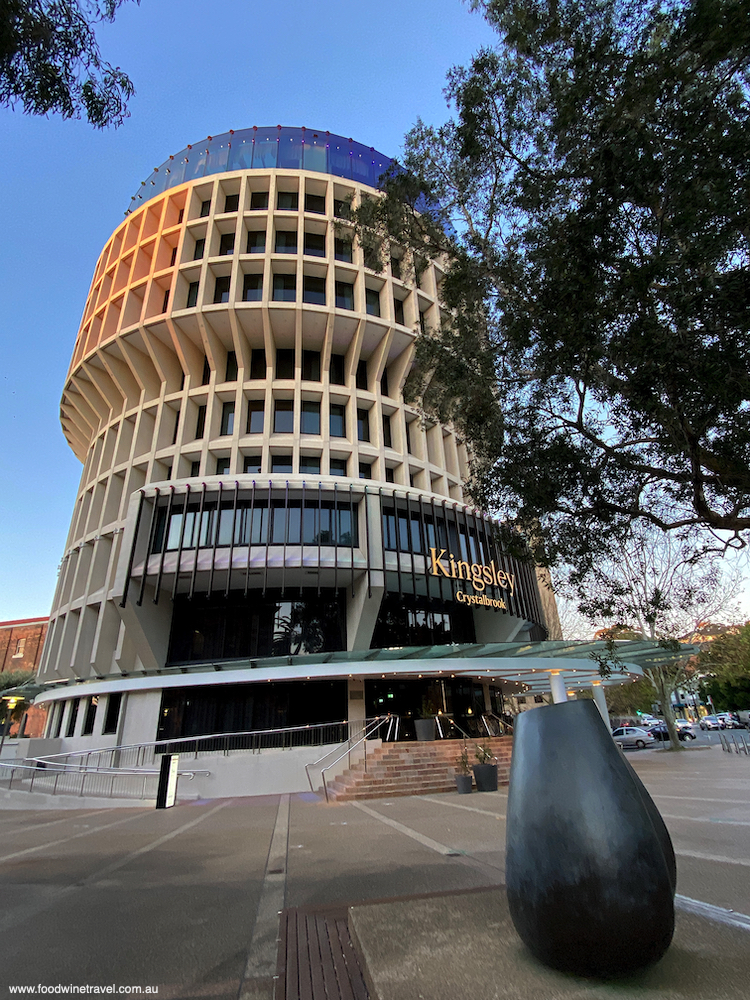 The original building was created by Newcastle architects Wilson and Suters in collaboration with Melbourne architects Romberg and Boyd, who were inspired by Boston City Hall, Massachusetts.
That such a solid utilitarian building – "brutalist" to use its unflattering architectural term – has taken on new life in such a grand way is a credit to Newcastle firm EJE Architecture and its lead architect, Barney Collins.
In many ways, the building was perfect for use as a hotel – all its floors are similar, allowing for a consistency of rooms and for efficient hotel operations. Collins added a portico at the front and plonked a floor on top that now houses the stunning Roundhouse restaurant and Romberg's bar.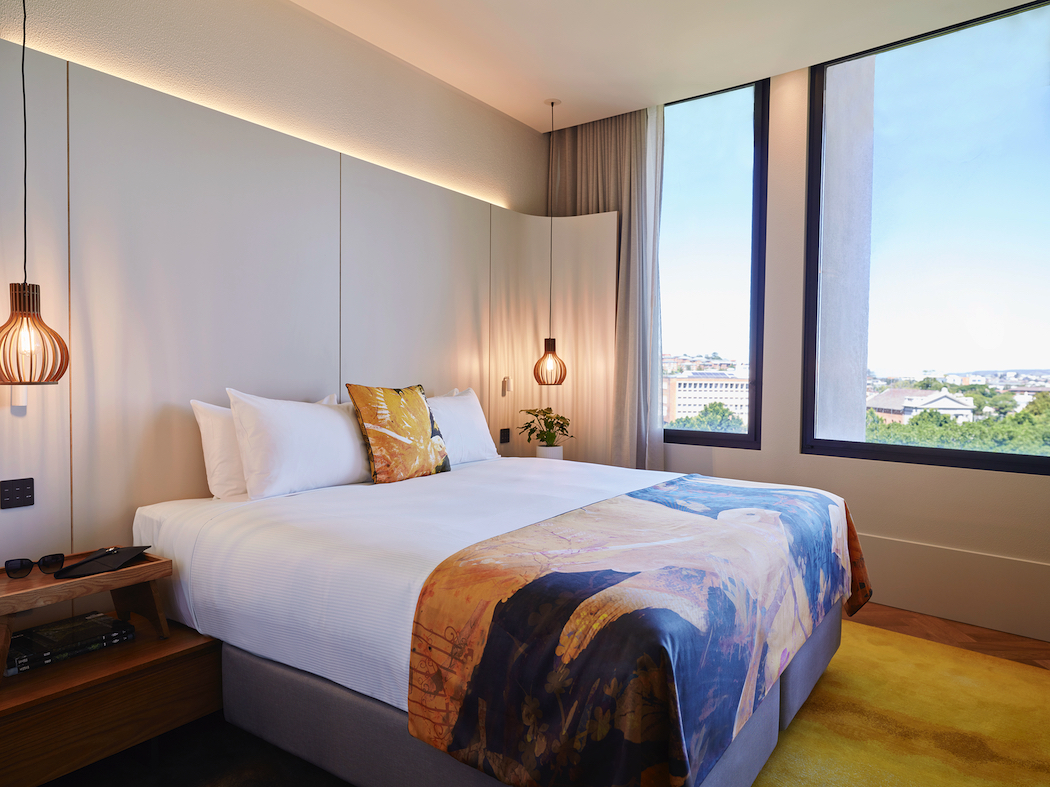 Such is the wow factor that the hotel has already won a swag of awards including the coveted Paul Davis Award for Hotel of the Year at the Australasia-Pacific Hotel Design awards. In May, the Heritage Council of NSW added it to its list of prestigious New South Wales State Heritage Register buildings, alongside the likes of the Sydney Opera House and Government House.
The 130 guest rooms and public spaces have been strikingly decorated by Melbourne-based Suede Interior Design. Our room on the 8th floor had views over parkland towards the sea in the distance. It had a super-comfy bed with crisp white linen, a small sitting area, and a curved marble-topped counter with tea and coffee making facilities including a De Longhi capsule espresso machine. The bathroom was particularly stunning with mosaics of shimmering tiles and refillable bottles of Rosella body wash and liquid soap.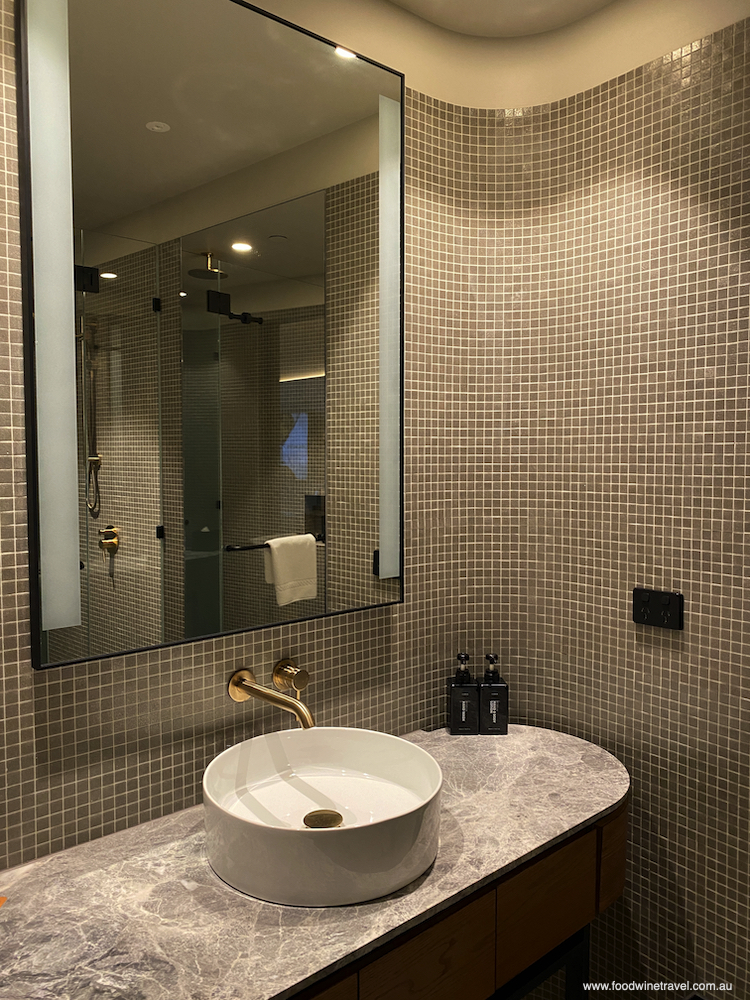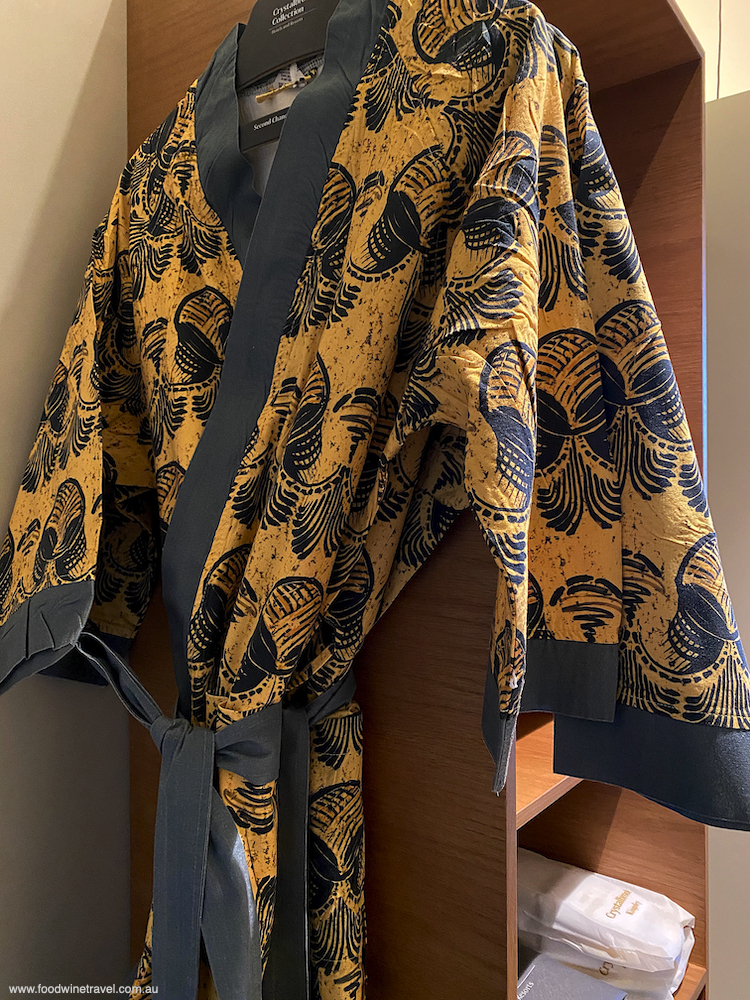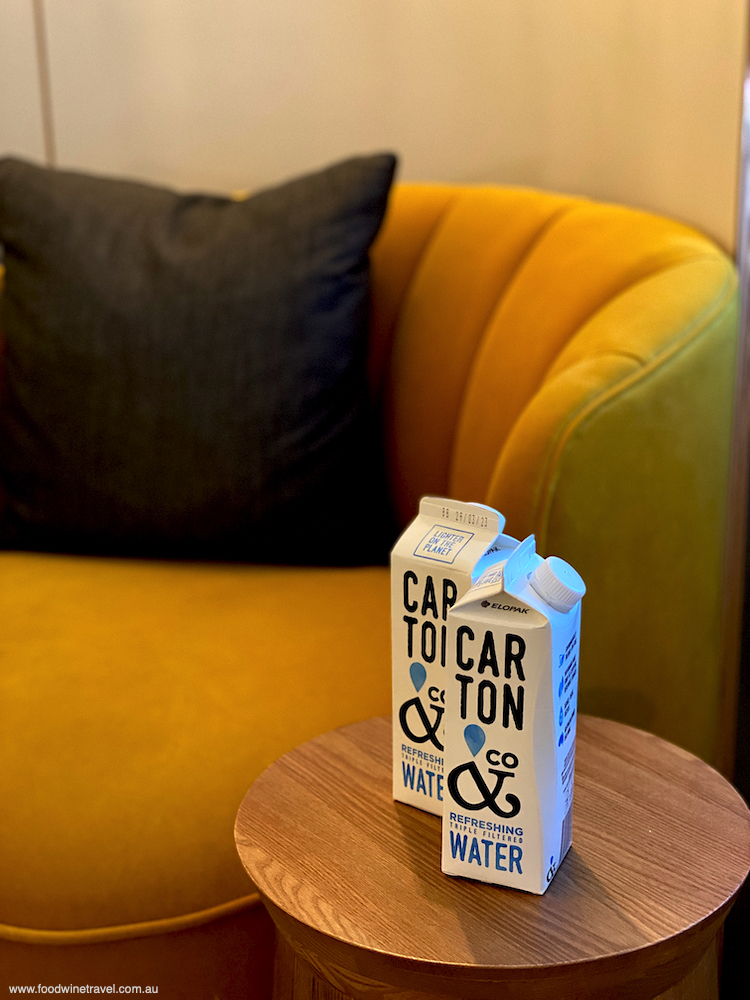 Crystalbrook Collection hotels have a strong sustainability focus – what it calls "Responsible Luxury". For Crystalbrook Kingsley, local suppliers were used as much as possible, key furniture pieces were made by a local carpenter using reclaimed timbers, carpets were made from 100% undyed sheep yarns, and earthenware and key decorative pieces were crafted by a local potter.
Room amenities include key cards made from recycled wood rather than plastic; cardboard coathangers; and toothbrushes made from sugar cane and cornstarch.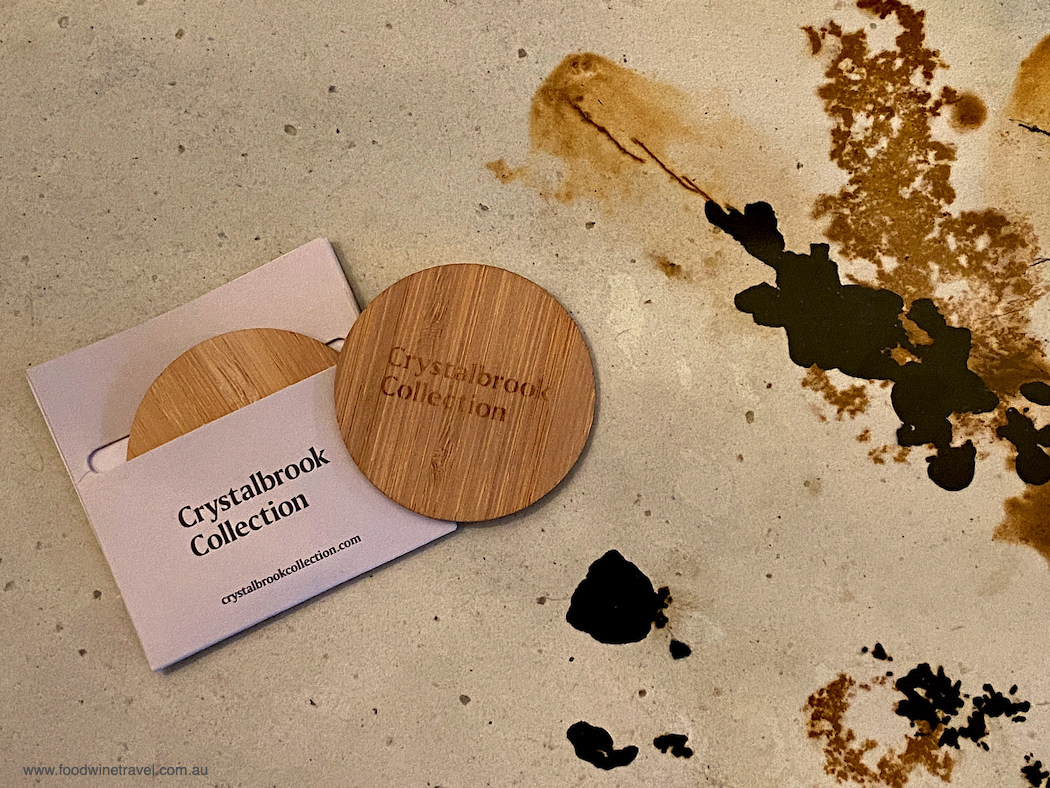 Conscious of food miles, chef Matthew Smith, who heads the hotel's Roundhouse restaurant kitchen, aims to source 80% of his ingredients from less than three hours' drive away. He also prefers to use ingredients that are ethically produced or packaged. We enjoyed a beautiful meal in Roundhouse, which you can read about in a separate post.
Breakfast was one of the best hotel buffets we've had in a long time, with a huge choice of fruit, yoghurt, coconut chia pudding, cereals, cold and hut dishes. Labels denote the source of local ingredients such as Udder Farm full-cream milk.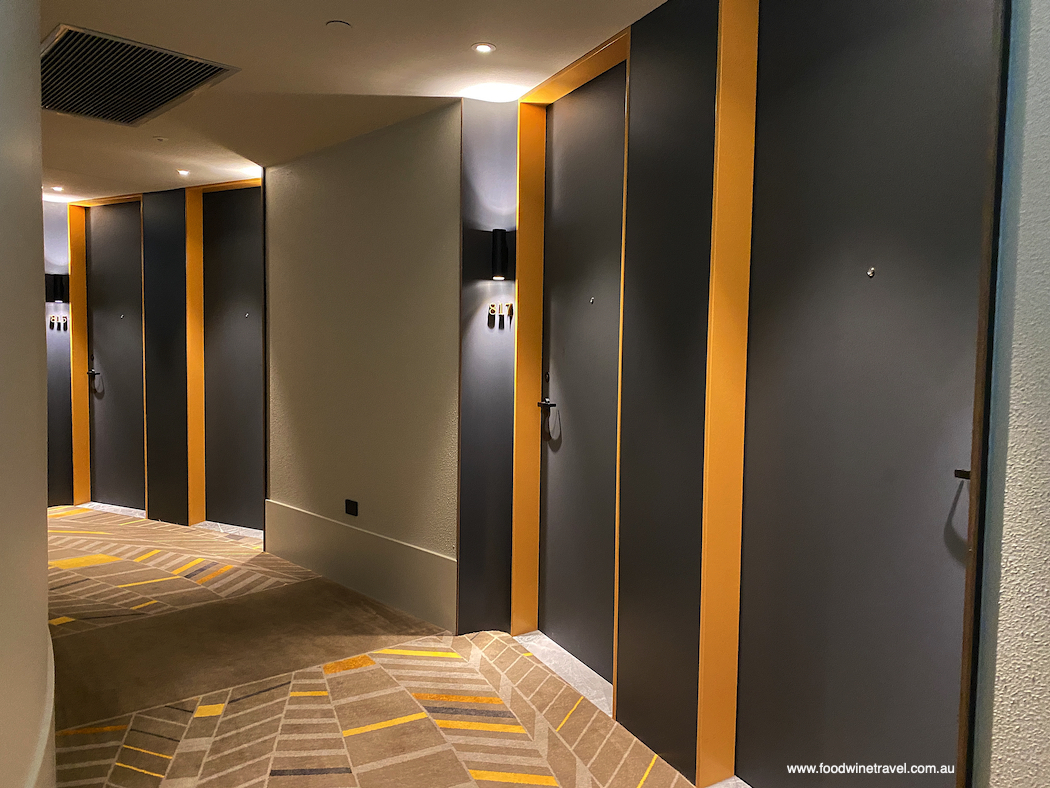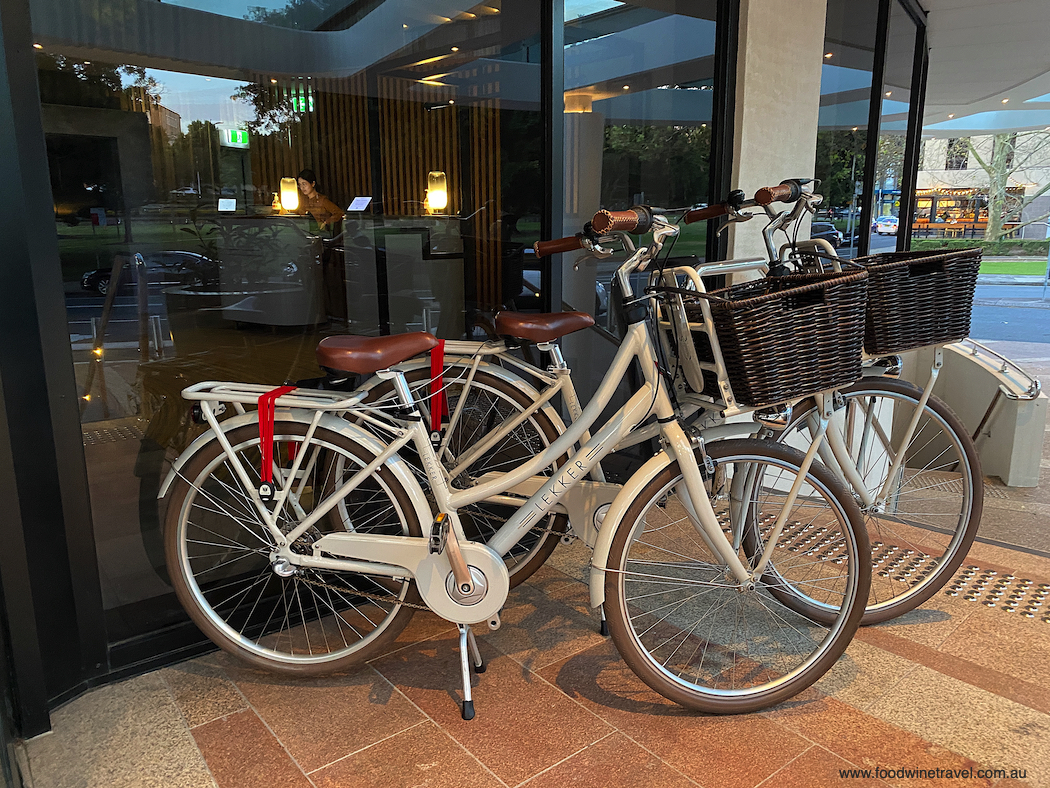 As well as the rooftop restaurant and bar, Crystalbrook Kingsley has a casual café and bar on the ground floor, Ms Mary, with wine tastings on Fridays at 5pm, complimentary canapés with drink purchases, and live music. The café offers an indulgent high tea on Fridays and Saturdays.
For those in the corporate/meeting space, Crystalbrook has introduced a program of team-bonding activities called Meet Mindfully. Among the activities Crystalbrook Kinsley is offering are a gin blending class with Earp Distilling Co, and a personally curated walking tour with Newcastle Afoot.
Just as Crystalbrook Kingsley surprises with its remarkable transformation, so too does Newcastle with lots of secrets hidden away in its architecture, street art, laneways and seascapes. Wandering the city on foot is the perfect way to fall in love with the city – not just a little, but a lot.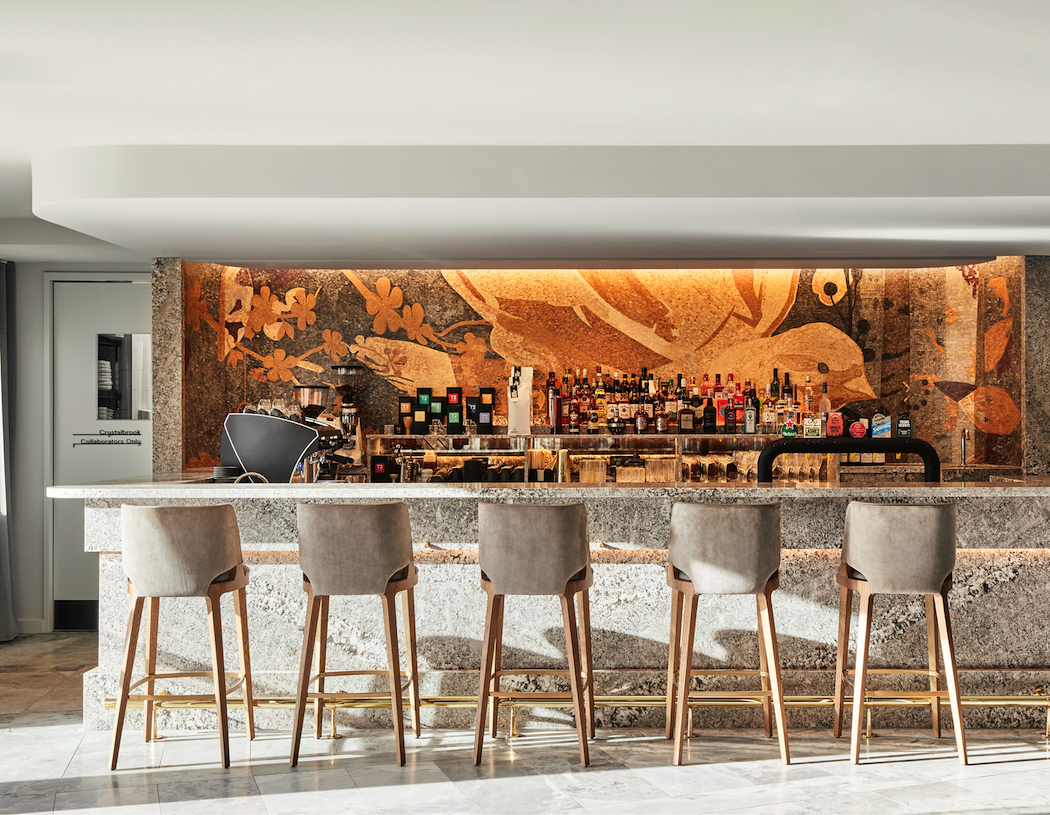 If you go:
Crystalbrook Kingsley
282 King Street
Newcastle NSW 2300
Tel: 1300 00 20 50
+61 2 4928 8600
wwww.crystalbrookcollection.com
With thanks to Crystalbrook Kingsley for hosting our one-night stay. We stayed in room 818.
If you enjoyed this post, you might also like to read our story about Roundhouse restaurant and its efforts to source locally and ethically.