Last week I posted a round-up of my top travel experiences for 2013 and today I'm going to reflect on some of my top food experiences for the year.
The best apple crumble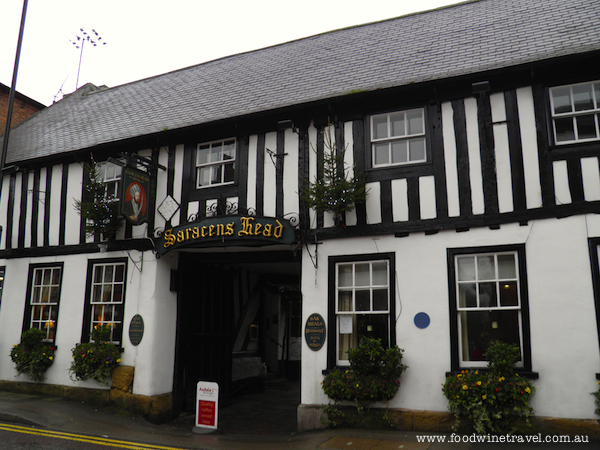 The setting was the 700-year-old Saracens Head Hotel in Southwell, England. We enjoyed a pleasant meal in the hotel dining room and being a cold winter's night, decided a pud was in order. It was probably the best apple crumble I've ever tasted. I later contacted the hotel for the recipe, expecting that there might be a secret to the dish, and was amused when it came back to me as:
Peel and chop apples, put into a pan with castor sugar and butter and allow the apples to cook down. Add cinnamon and finish off nice and soft. For the topping, rub butter into flour and add sugar.
No quantities, nothing out of the ordinary, just like that! Perhaps it was the apples that made this dish stand out. I read later that Southwell is the home of the Bramley apple and the original tree, now 200 years old, still stands on Church Street. Pity I didn't know about the Bramley apple when I was there. Don't you hate finding something out about a destination after you've left?
The Boat House, Bangor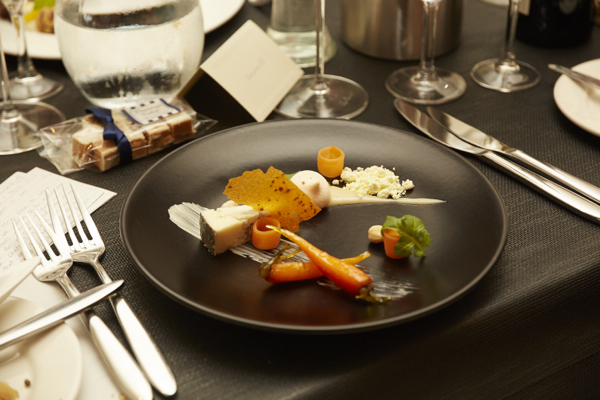 If I said one of the best meals I had this year was at a wedding reception, you probably wouldn't believe me. But it's true – the food at The Boat House, in the Northern Ireland seaside town of Bangor is creative, inspired and a wonderful showcase for regional ingredients. Think goose breast with Jerusalem artichoke purée, red cabbage, crispy kale, spiced currant and liquorice jus. Or in a tribute to the chef's Dutch heritage: 'Speculaas' spiced cake with marzipan stuffing, cinnamon foam, cranberry coulis and pumpkin jam. Add some rollicking good Irish music to the mix and it was a wedding to remember.
Sardines on the beach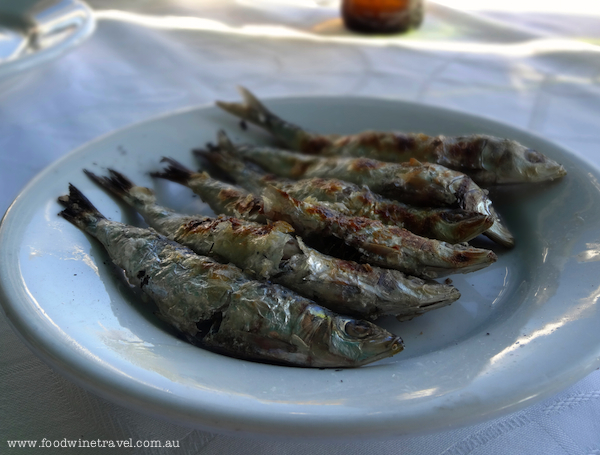 As I wrote in my blog post at the time, often the success of a meal is not just in the food but in that moment when all the stars align. That was certainly so when we had lunch in Pedregalejo, a fishing village on the outskirts of Málaga, Spain. The sun shone on a glorious winter's day, the sea sparkled and we had the whole restaurant to ourselves as we watched our sardines being cooked over olive wood coals on the beach. If all sardines were as good as these, people would have no trouble getting their daily quota of omega-3.
100 Manieres, Lisbon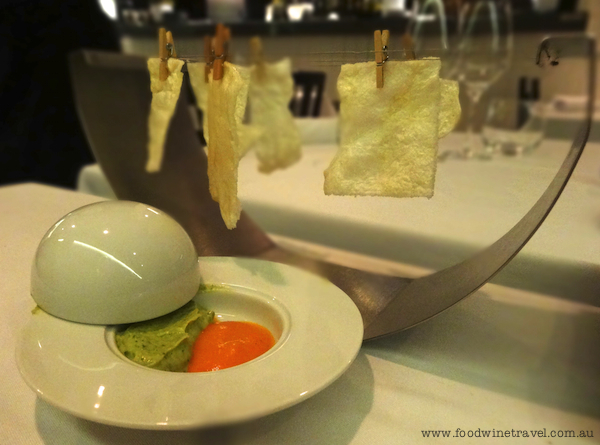 We let the chef surprise us at 100 Manieres in Lisbon and we weren't disappointed. Elated, more like it. Highlights of the 8-course degustation menu included delicate, exquisite scallop carpaccio with mashed cauliflower and spinach, truffle and hazelnut salad; and a spicy, earthy dish of pigeon stuffed with mushrooms, chestnuts and ras el hanout. And I'm still smiling when I think of the dried codfish, cutely pegged out on a mini washing line.
On the hummus trail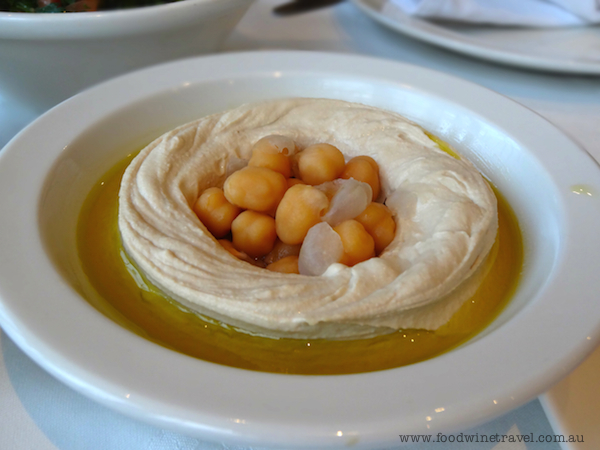 Hummus is so ubiquitous in Australia that it's a supermarket staple (and often not a very good one at that). So what a treat to have hummus in Jordan, where it is something else again – flavoursome, garlicky and smothered generously with olive oil and sometimes pomegranate seeds, chickpeas or pine nuts. It was served at practically every meal during my week in Jordan and I never tired of it. Another treat was Um Ali, a Middle Eastern dessert that is a bit like our bread and butter pudding. The one served at the Petra Marriott Hotel was divine, and the kind folk there happily shared their recipe.
Taiwan: a gourmet journey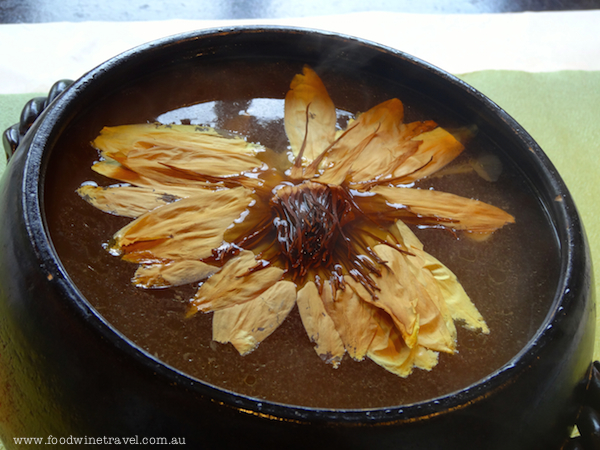 Admittedly my (hosted) trip around Taiwan had a gourmet theme but the meals I had over the course of a week there were some of the finest I have had. From the rustic Yao Zhong Indegines Cuisine restaurant run by an Aboriginal chef who takes wild ingredients and turns them into masterpieces, to the banquet at Silks Palace restaurant in the National Palace Museum that creates edible replicas of the country's national treasures, to the pork and truffle dumplings at Din Tai Fung, the food was to die for. I loved the very fine food at Du Hsiaw Uyea, a seafood restaurant in Yilan, and at Shi Yang, a beautifully serene restaurant in the mountains on the outskirts of Taipei. There, a dried lotus flower was brought to the table in a heavy pot, the steaming broth beneath it causing the flower to unfurl and reveal its beauty. Pure magic.
Berowra Waters Inn, Sydney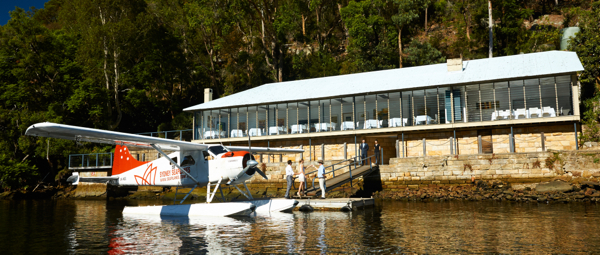 In June I had the privilege of re-visiting Berowra Waters Inn, which I first visited under Dietmar Sawyere's reign (on that occasion I was flown in by seaplane, a very memorable way to arrive). The restaurant is on the Hawkesbury River and can only be accessed by water. This time I came by water taxi, which would have to rate a pretty close second for spectacular arrivals. Under Brian Geraghty's stewardship, the restaurant continues to do beautiful food including – the highlight for me – Tasmanian beef cooked at a very low temperature for 40 hours and rolled in panko (Japanese breadcrumbs). It was served with tarragon, braised leek and pickled shallots, along with a tiny dollop of white wine vinaigrette gel and a stinging nettle on top.
A long lunch with truffles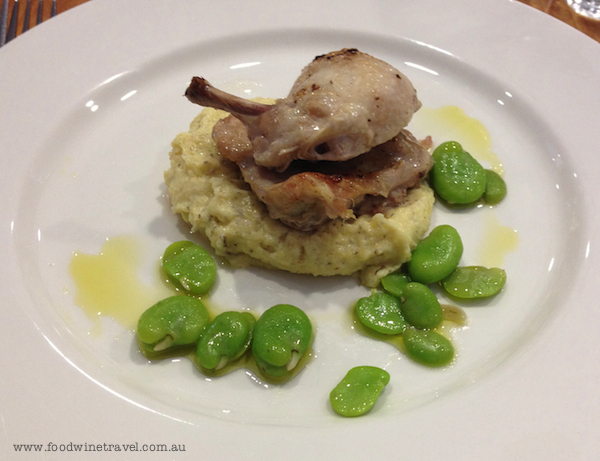 Closer to home, I had the pleasure of attending a leisurely Truffle Long Lunch at 3Seeds Cooking School in Canberra's Fyshwick markets. There were truffles in every course – can one have too many truffles? I don't think so. Chef Andrew Haskins created some beautiful dishes including breast of spatchcock filled with truffle-infused brie, with creamy polenta and broad beans on the side. The recipe has been one of my most popular to date.
Wellington on a Plate
New Zealand's Wellington on a Plate calendar is packed with terrific food and wine events but my pick was the Oyster Saloon, set up in a carpark in Cuba Street, where I worked my way through – I don't know how many but it was a helluva lot of – oysters from various parts of the country. It was hard to choose between the Mahurangi, Orongo Bay, Clevedon Coast, Te Matuku Bay and Stewart Island oysters. Oh, go on, may as well just scoff the lot. Earlier in the year we went to the Narooma Oyster Festival and that was heaven for oyster lovers too.
#abitetotwEAT with Luke Nguyen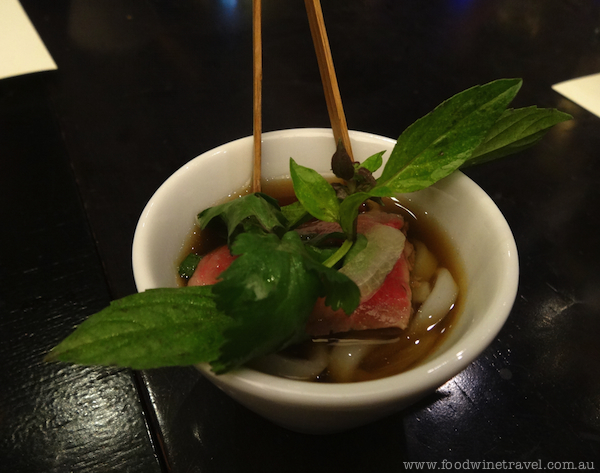 It's not every day a girl gets to sit next to the very charming Luke Nguyen, television chef extraordinaire who has shone the spotlight on my favourite Asian cuisine. Nguyen has brought Vietnamese food into our restaurants and living rooms, and now he is also feeding diners at the Fat Noodle, in The Star Sydney, where I was invited with other bloggers to #abitetotwEAT. The restaurant features good, simple comfort food like pho which is cooked for more than 20 hours, and salt and pepper silken tofu. It's remarkably cheap and I recommend a visit, though I can't guarantee you'll get to dine with a star.
Filipino boodle feast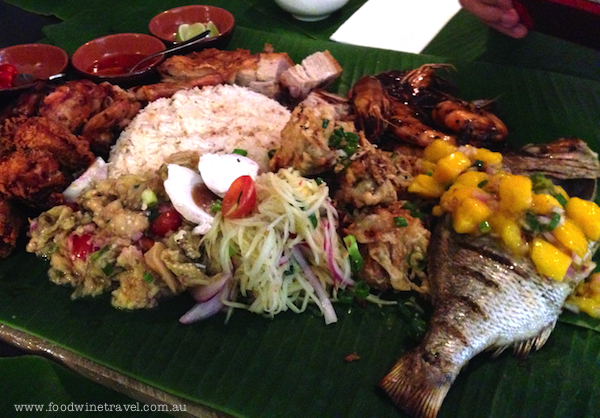 For this last entry, I'm delighted to choose a Canberra restaurant and a relatively humble meal at that. Have you ever heard of a boodle feast? I hadn't either until a Filipino restaurant, Kusina, opened in a shopping centre in Weston and started doing monthly feasts, with mounds of food served on a banana leaf in the middle of the table. Apparently boodle feasts began as a Filipino army tradition, giving officers and cadets an opportunity to eat together regardless of rank.
You help yourself to food from the middle of the table, put it on a banana leaf in front of you, and eat with your hands. The chef chooses the menu – on the night we dined, there were huge grilled prawns, green papaya salad and eggplant salad, fried chicken, melt in the mouth pork belly, and a whole baby snapper with mango salsa. It had all the elements that make me happy: good food served with a smile, shared with people I love, an experience that is interesting, different and fun. Bon appétit for 2014.
Related Post: Christine's 2013 Travel Highlights