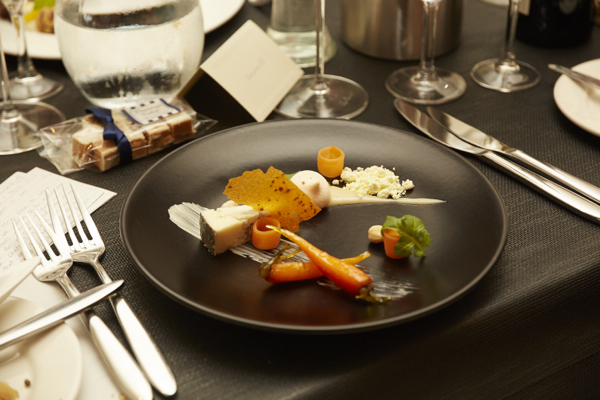 It's not often that I'd recommend a restaurant on the strength of a meal I've enjoyed at a wedding. But The Boat House, in Northern Ireland, is a little bit special. No, not just a little bit special … a lot special.
We were there earlier this year for the wedding of my sister and her Irish-born partner, who tied the knot in a beautiful room at Bangor Castle. Their reception was held at The Boat House, overlooking the marina at Bangor, a seaside town not far from Belfast.
The 1840s stone building was once the Harbour Master's house and has loads of historic charm, with just enough room in the downstairs dining section for the 40-odd guests (and, especially for the wedding, a trio playing traditional Irish music).
Both the restaurant and its chef, Dutch-born Joery Castel, have won a number of accolades from the Restaurant Association of Ireland, including the association's 2012 Ulster Chef of the Year.
Coincidentally, Joery featured on the front cover of Northern Ireland's Flavour magazine the very week we were there.
Joery's brother, Jasper Castel, runs the front of house and does a great job of keeping everything ticking over. The restaurant has a great drinks list, and the prices (of both the wine and the food) are remarkably good value. The brothers genuinely believe that good food and wine should be accessible to all, regardless of budget, and as an Aussie used to paying high prices in restaurants, it was refreshing to see such attention to detail given the very reasonable prices they were charging.
Joery serves an inspired menu of seafood, meat, poultry, game and vegetarian dishes, using quality ingredients that are sourced locally wherever possible.
Inspired by his mother, a keen home cook, he did a 5-year apprenticeship in the Netherlands before working in France and London with Alistair Little. He then took a job in Ireland at Castle Leslie, which made headlines when it was the venue for the marriage of Sir Paul McCartney and Heather Mills.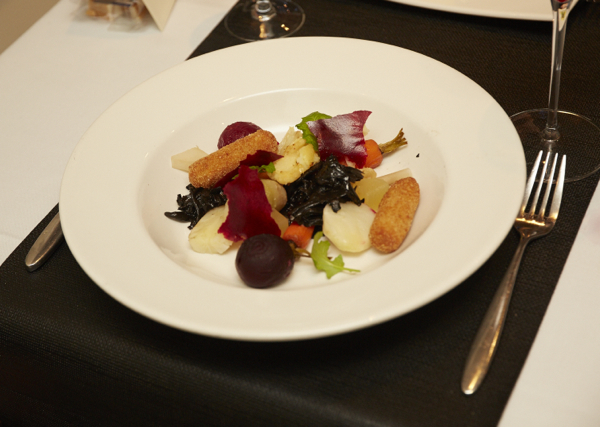 After a stint with a highly successful catering company, during which time he had the honour of cooking for Queen Elizabeth II during a royal visit, he and Jasper opened The Boat House in 2008.
Joery delights in being creative with colour and texture, yet not at the expense of flavour. His food is modern and beautifully plated, and occasionally he'll introduce a dish that is a tribute to his Dutch heritage. For example, one of the desserts at the wedding was a traditional Dutch spiced cake with marzipan stuffing and cinnamon foam (below), inspired by the popular Dutch speculaas cookies.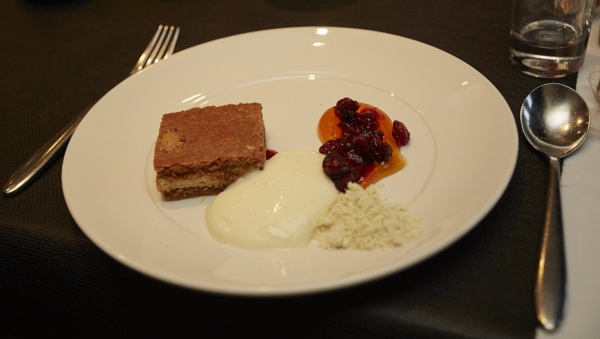 I'm going to reproduce the wedding menu in its entirety so you'll know what I mean when I say that this was no ordinary feast. If the dishes sound like unusual combinations, let me say that everyone was bowled over by how beautifully they worked. Joery has a suitably restrained hand and as you can see by the photos, it was a feast for the eyes as well as the tastebuds.
And in case you might be inspired to re-create one of his dishes at home, Joery has kindly offered me a recipe for one of his starters.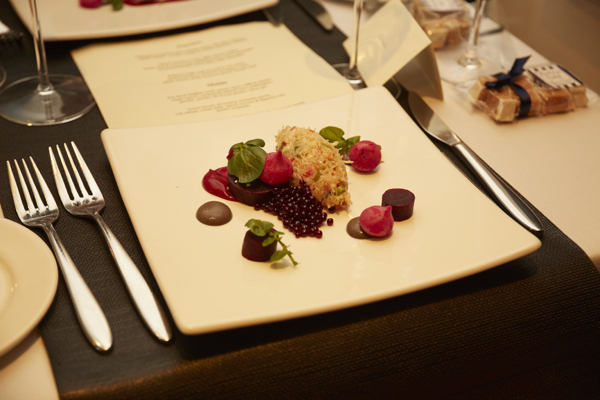 Starters
Schezuan cured Roe deer, celeriac purée, foie gras emulsion, salted walnuts, orange, orange and walnut dressing, celeriac.
Glazed carrots, Crozier Blue cheese crème, hemp seed and carrot crisp, pickled carrot, carrot meringue, toasted hazelnuts, cocoa nibs, white chocolate. (see recipe below)
Belfast Lough crab dressed in XO sauce, smoked beetroot, beetroot meringue, cress, black sesame purée, beetroot purée, sesame seed.
Mains
Pan-fried Halibut steak, potato sauce, saffron potato, crispy capers, cardamom-infused sauce hollandaise, parsley, parsley oil, frozen grapes, citrus gel.
Goose breast, Jerusalem artichoke purée, red cabbage, crispy kale, spiced currant and liquorice jus, potato croquette.
Smoked beetroot, rosemary crushed parsnip, honey-roasted carrot, salt-baked artichoke, beetroot crisp, pickled Jerusalem artichoke, baked potato jelly, potato croquette, Cep powder, trompette mushrooms.
Sweets
Gingerbread cake, white chocolate and ginger bavarois, tonkabean foam, cardamom and milk gel, pistachio soil, candied apple.
Treacle tart, salted caramel mousse, brandy tuille, orange gel, confit of orange, orange powder.
'Speculaas' Traditional Dutch spiced cake with marzipan stuffing, cinnamon foam, cranberry coulis, pumpkin jam.
Fact file:
The Boat House
1a Seacliff Road
Bangor, County Down, BT20 5HA
Northern Ireland
Tel: +44 28 9146 9253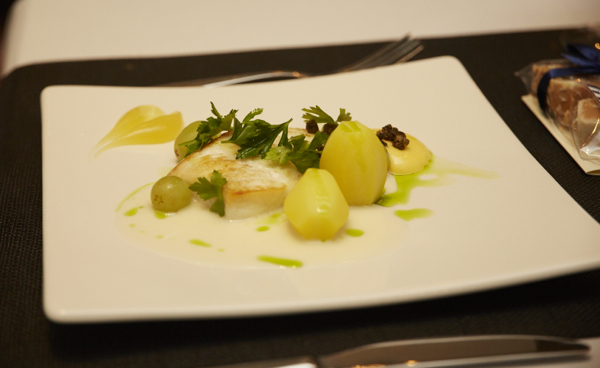 GLAZED CARROTS AND CROZIER BLUE CHEESE
INGREDIENTS
8 baby carrots
50ml sugar syrup (equal amounts of water and sugar, boiled and cooled)
80g Crozier blue cheese, cut in 4 wedges
20 hazelnuts
1 tablespoon cocao nibs
For carrot crisp:
50g cooked carrot
14g tapioca flour
squeeze of lime juice
salt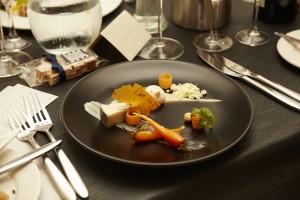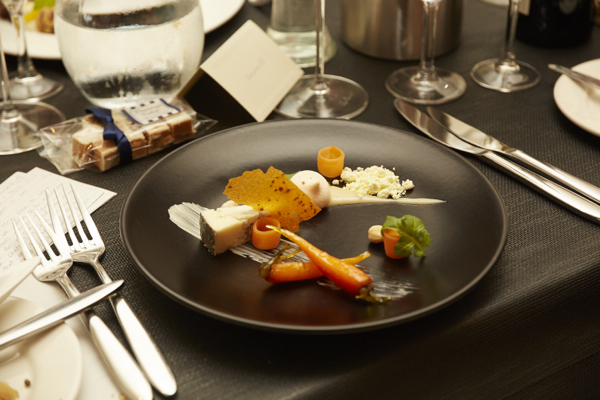 For the meringue:
40ml carrot juice
20ml apple juice
7g isomalt*
4g glucose
4g caster sugar
squeeze of lemon juice
2.2g texturas metil*
0.3g xantana*
For the crème:
25ml hazelnut oil
25ml grapeseed oil
10g hazelnuts, toasted and skinned
40ml milk at room temperature
1 lime
few drops white wine vinegar
25g Crozier blue cheese
For the pickled carrot:
2 carrots, thinly sliced
50ml orange juice
50ml white wine vinegar
25g honey
METHOD
To pickle the carrot:
Heat the vinegar with the honey and orange juice. Once it boils, pour over the carrots and cool. Reserve until needed.
To make the meringue:
Heat the juices with sugar, isomalt and glucose. Strain through a cloth and reserve 50g. Cool. Using a hand blender, mix in the metil and xantana and blend for 2 minutes. Cool in fridge for 2 hours. Once cold, use an electric mixer to whisk until tripled in volume and stiff. Transfer to a piping bag and pipe dots on a silicone mat. Dry in a gas oven set on pilot light for 10 hours or in a dehydrator at 57 degrees.
For the crème:
Blend the hazelnuts and warm milk to a thin puree. Add the cheese and slowly add the oils as in making mayonnaise. Finish of with vinegar and lemon juice to taste.
For the carrot crisp:
Heat all the ingredients to 90 degrees Celsius for about 15 minutes, blitz in a food processor and rest in fridge over night.
Spread thinly on a silicon mat, sprinkle with hemp seeds and crisp in an oven at 120 degrees C for half an hour.
Blanch the carrot in water with salt and refresh in iced water. Heat in some sugar syrup so they get a nice glaze.
To serve, brush some melted white chocolate on a black plate. Swipe some cheese crème beside it, dress the Crozier blue and carrot preparations on the plate and sprinkle with some toasted hazelnuts and some cocoa nibs.
* Products available from Infusions For Chefs