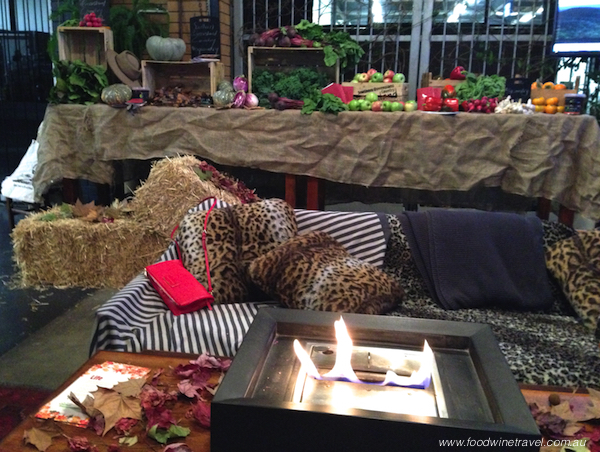 With the incredible run of warm weather we've been having in Brisbane, it's hard to imagine anywhere in the state having open fires and autumn foliage. But on the other side of the mountains, in Southern Queensland Country, the air is distinctly cooler and the leaves are starting to turn to autumn colours. The region has four distinct seasons and a bounty of autumn produce, some of which was showcased at a very special dinner we attended at The Golden Pig Food & Wine School in Newstead.
It was just a small taste of what's in store for city folk who 'cross the range'. The passionate producers of Southern Queensland Country will put on an even bigger show when they take some of their products and characters to Eat Street Markets in Hamilton this afternoon and tomorrow.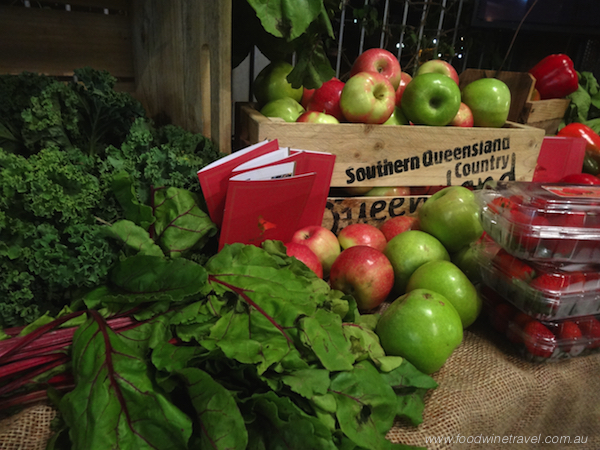 The talented owners of The Golden Pig, Mark and Katrina Ryan, hosted a wonderful evening to showcase Southern Queensland Country, complete with comfy lounges, a toasty fire, hay bales and inviting displays of amazing produce. We were greeted on arrival with a glass of Robert Channon Sparkling Chardonnay, one of Queensland's few méthode traditionnelle sparkling wines, along with little crostini topped with beetroot, labneh and pecan.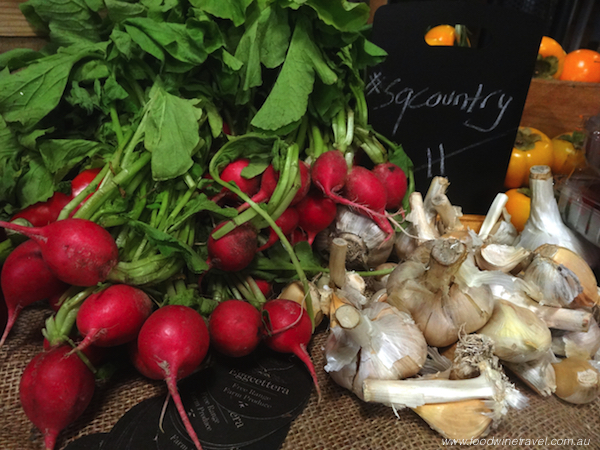 It set the scene for a series of hands-on sessions in which we helped assemble some delicious appetizers, including lamb dumplings and duck egg tartlets. Katrina showed how to fold the dumplings, which were filled with minced lamb from a farm near Stanthorpe, and which came with a fantastic ginger and shallot dipping sauce. You can find the recipe here.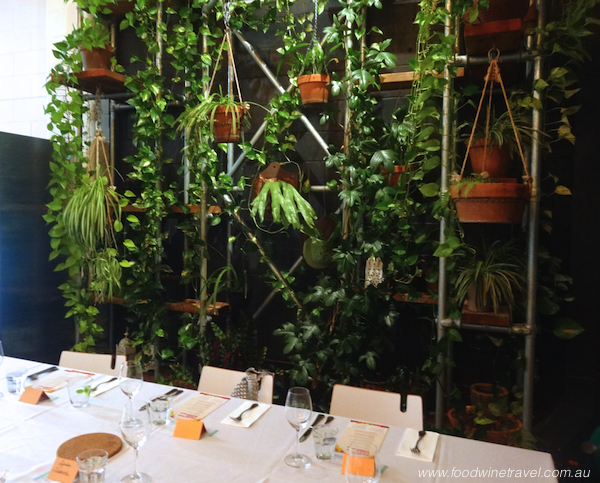 Queensland's new Minister for Tourism (and seemingly everything else), Kate Jones (below), was a special guest and proved to be a great sport, helping to make the dumplings and cracking eggs for the duck eggs tartlets. That's Maurie in one of the pictures below, cracking eggs alongside her. She mentioned something about running a deli in another life, so she was clearly in her element.
Brisbane chef Jocelyn Hancock, who hails from Killarney in Southern Queensland, showed how to make the tartlets with beautiful duck eggs from Eggcettera near Allora. Then we snuggled into the lounge for tastings of Killarney beef brisket with pink lady apple salad and apple syrup. Sutton's in Stanthorpe are said to be the only people in Australia doing apple syrup; it's made by an incredibly labour-intensive process and we're very privileged to have this producer on our doorstep. Their Dry Cider was matched with the dish, and it certainly whetted my appetite for another trip out that way.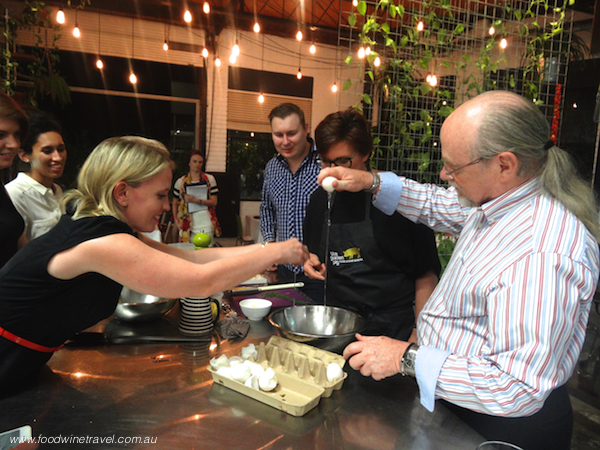 The main course was a Shared Table of hearty dishes made with more beautiful Southern Queensland Country produce: Roast pork belly with apple sauce and sweet and sour red cabbage; Inglewood chicken with sweet pepper sauce and aioli; Roast pumpkin and potatoes with locally grown rosemary; and Sauté of snake beans with tomato, garlic and radicchio. Dessert was Jocelyn Hancock's delicious Strawberry Roulade, the recipe for which is featured here.

Jocelyn says the thing she loves about Southern Queensland Country, apart from the seasons and the landscape, is that "you can connect with people". Southern Queensland Country Tourism CEO, Mary-Clare Power, says the people and the produce are the region's strengths. "People are producing these things because they believe in what they're doing. They're not doing it for the money; they're doing it for freshness and regionality."

Wine distributor David Bone, of Cuttings Wine, came up with some great wine matches including Symphony Hill Gewurztraminer for the duck egg tartlets, Ballandean Estate Late Harvest Sylvaner for the dessert, and Bent Road Le Petit Mort Marsanne and Boireann Nebbiolo for the mains. The Nebbiolo is pretty much a cult wine, produced in such small quantities and in such demand from consumers that David was almost reluctant to bring it. The lamb dumplings were matched with an Irish Red Ale from Granite Belt Brewery in Stanthorpe.

Autumn is Russell Jackson's favourite time of year. This wise bushman (pictured above) takes people on bush tucker tours from Bestbrook Mountain Resort and he is the region's greatest advocate. He was at the dinner too, putting in his two cents worth that city folk need to "get over the range" to experience a place where the skies are big and life happens at a more leisurely pace.

If that sounds like something you're after, tourist operators in the region have joined forces to offer six Autumn Breathe Breaks. You can find out details about them at www.somewherecountry.com.au.

Over the next two days, you can meet some of the Southern Queensland Country folk at Eat Street Markets in Hamilton. Celebrity chef, Miguel Maestre, a keen supporter of the region, will be there along with a whole host of regional producers and artisans.

You might also like: Exploring Killarney; Lamb Pot Stickers; Strawberry Roulade.