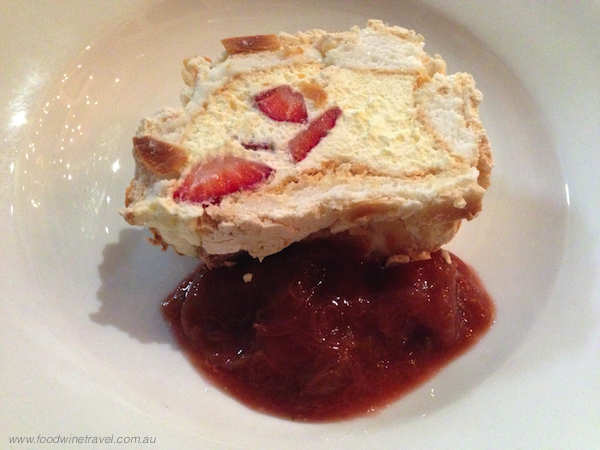 Earlier this week we attended a delicious autumn dinner showcasing produce from Southern Queensland Country. It was quite a feast, as you can see by our post on the event, and the sweet finale was this very more-ish Strawberry Roulade created by Jocelyn Hancock.
Jocelyn is a Brisbane chef whose family has had a property in Killarney (Southern Queensland's Killarney, that is) for many generations. Jocelyn and Killarney chef Bev Ruskey are the driving forces behind the Southern Downs Harvest lunch, to be held on May 2. Jocelyn has kindly shared her recipe here.
STRAWBERRY ROULADE
Serves 8
INGREDIENTS
5 grams melted butter for brushing paper-lined tray
140 grams room-temperature egg white (about 5 egg whites)
275 grams caster sugar
47g flaked almonds
Filling:
300ml cream
1 teaspoon vanilla paste
30 grams icing sugar + icing sugar for dusting
1 punnet strawberries, quartered, or 1 punnet blueberries
1 punnet raspberries
Preheat oven to 200 degrees C. Whisk egg whites in a bowl until soft peaks form, gradually add sugar, 1 tablespoon at a time, still on high speed. When stiff and glossy, spread smoothly and quickly into a 33cm x 25cm Swiss roll tin that has been lined and lightly greased (allow 2cm overlap of paper). Sprinkle with almonds.
Bake in the middle of oven at 200 degrees C for 8 minutes then reduce temperature to 160 degrees for a further 15 minutes until just golden. The meringue will puff up and crack slightly. Whilst baking, place the whipped cream in a medium-sized mixing bowl with vanilla and icing sugar. Combine until just firm; don't over beat.
Remove meringue from oven and set for a few minutes then invert onto a sheet of baking paper dusted with icing sugar; slide the whole meringue and paper onto a cooling wire. Remove top sheet of paper from meringue gently and allow to cool for 10 minutes.
Top with whipped cream, allowing a 2cm border on longest sides. Sprinkle with sliced strawberries/blueberries and raspberries.
Create the roulade by beginning the roll with the longest edge closest to you. Once firmly rolled, fold the overlapping end paper under the roulade to secure the roll. Chill for a minimum of 2 hours before unwrapping and re-dusting with icing sugar.
Serve with extra strawberries or raspberries, or poached rhubarb when in season, and Crème Anglaise. Cut with a hot dry knife to achieve a clean and neat slice.
You might also like: Lamb Pot Stickers; Southern Queensland Country; Exploring Killarney.