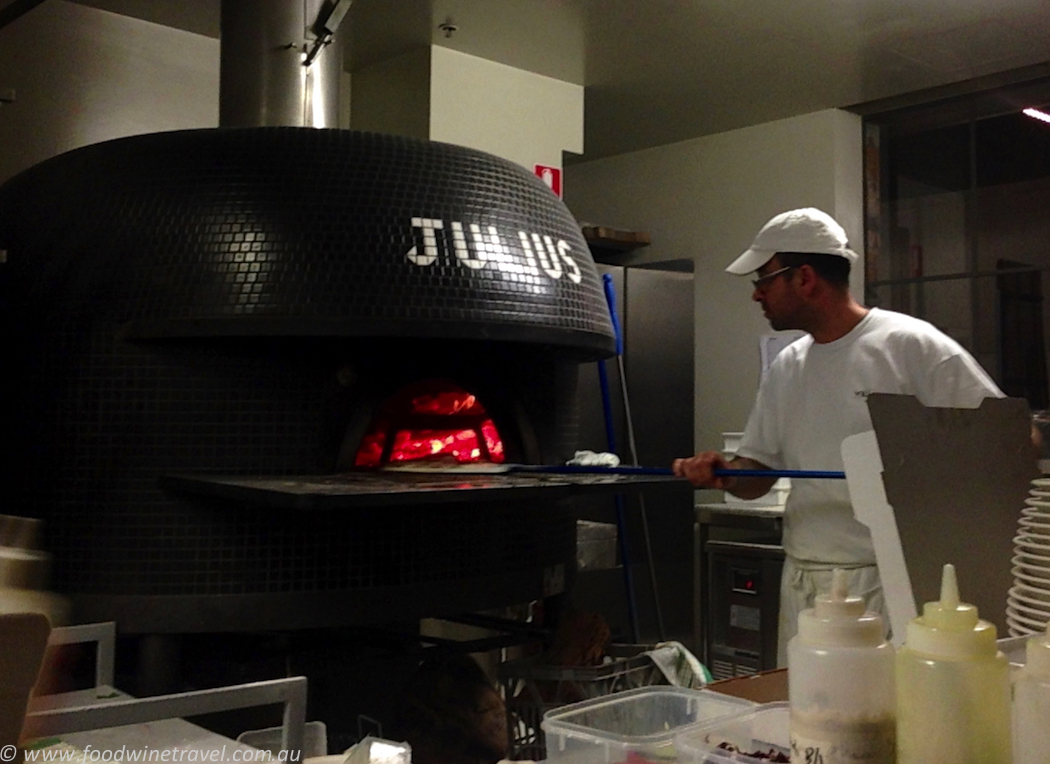 Could this be Brisbane's best pizza restaurant? I haven't dined at enough pizza restaurants in Brisbane to answer that, but there's definitely a finesse to the pizzas at Julius that makes this bustling South Brisbane eatery worth crossing town for. We love the thin crisp bases, the high quality of ingredients used and the menu selection with great flavour combinations that make it incredibly difficult to narrow down the choice.
We arrived without a booking on a Saturday evening which possibly explains the less than enthusiastic reception – although I suspect the waiter on the door is just a particularly earnest bloke who might be better suited to a job where first impressions don't count.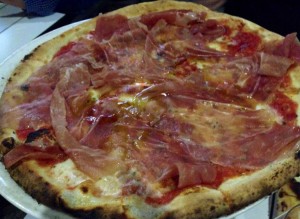 Told to expect a 30-minute wait, we were directed to the bar, but before we had even decided on drinks, a table was ready outside.
It was a cool, windy evening and we would have preferred a table indoors, but given that we had arrived without a booking we weren't going to quibble (and in any case, we weren't about to challenge the earnest looking waiter).
The early table was a blessing but we still had a long wait ahead of us, and it was more than 45 minutes before we got our pizzas. Thankfully they were worth the wait, and each hit the spot very nicely indeed. We ordered one red and one white (without tomato sauce).
We especially enjoyed the white San Riccardo pizza ($23), topped with mozzarella, potatoes, rosemary, asiago, red onion and pancetta, but the Prosciutto ($23.50), topped with tomato, mozzarella, oregano and a generous layer of thinly sliced Prosciutto di Parma, was also delicious. Looking at the photos now, I see they could have done with a little less time in the woodfired oven, but never mind, we tucked in with gusto.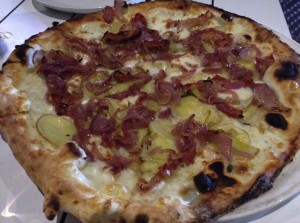 Each pizza was sliced into six generous portions and two pizzas were more than enough for the two of us. There are nine red pizzas and five white, and oh how I wish we'd had room to try the Gorgonzola (with gorgonzola, pancetta and radicchio) or the Tartufo (portobello mushrooms and truffle paste).
The pastas and main dishes coming out of the kitchen looked very enticing, so we're looking forward to returning at some stage to work our way through the rest of the menu.
The wait staff were great at topping up our water glasses, and I really enjoyed my glass of La Linea Rosé from the Adelaide Hills ($10). We were less impressed with the coffee service as Maurie ordered a soy cappuccino and it arrived with an apology that they didn't have soy. No checking if it was okay to substitute.
Small criticisms aside, the restaurant has a great vibe with lots of happy chatter and the bustle of the staff working the wood-fired oven in full view of diners. Numerous sites have listed Julius as one of Brisbane's best pizza restaurants and although we haven't had a chance to try many yet, they're the best pizzas we've had in Brisbane to date.
Fact File:
Julius Pizzeria
77 Grey Street
South Brisbane Qld
Australia
+61 7 3844 2655
www.juliuspizzeria.com.au