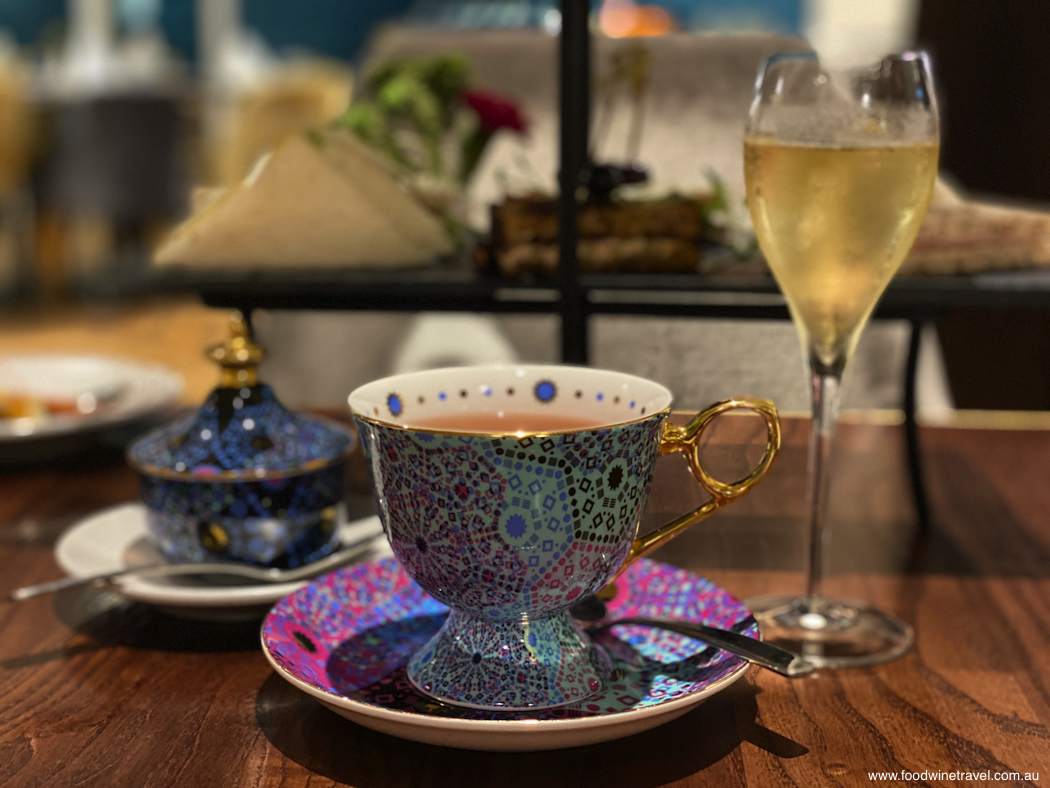 I'm a little – no, I'm a lot – in love with anything Art Deco so the Hotel Grand Windsor Auckland suits me to a tee. A gorgeous 1920s building, it's been fitted out in a chic contemporary style and is now part of the MGallery by Sofitel collection of hotels. We've written about the hotel in a separate post, but we enjoyed dinner, breakfast and a lovely high tea here, and the high tea in particular deserves special mention.
The restaurant is named Cooke's because the building was built for W. R. Cooke & Son Ltd and the restaurant it originally housed was also known as Cooke's. Its modern incarnation recreates the glamour and elegance of that era, with timber parquetry flooring, Art Deco features, banquette seating at long tables, smaller tables with individual velvet-covered chairs, and alcoves for privacy.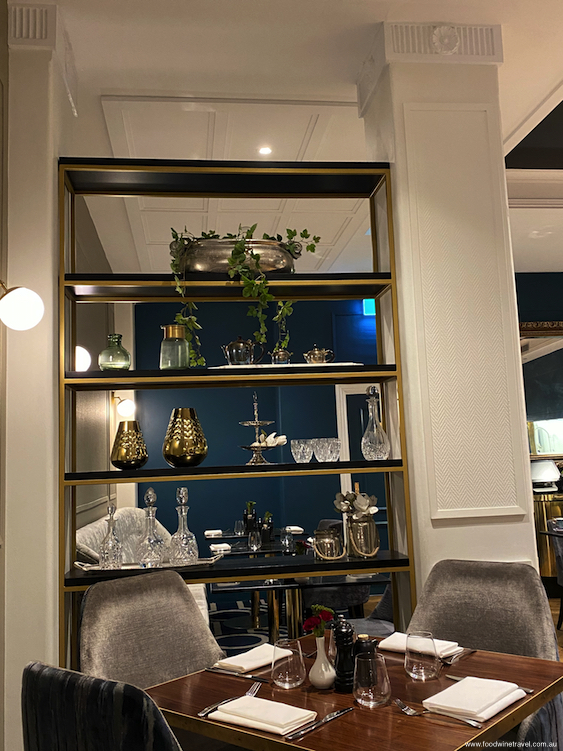 The alcoves have shelves holding crystal, silverware, coloured glassware and trailing ivy, all of which provides the perfect ambience for high tea. The polished timber tables don't have tablecloths but they do have white linen napkins. The tea comes in brightly coloured T2 pots and cups, and the sandwiches, sweet treats and other dainty morsels are served on a tiered stand.
Everything is made in-house and we thought the quantity and variety of treats for $49 represented good value ($68 with a glass of Champagne). We particularly loved the savoury morsels: silky smooth scallop panna cotta topped with tobiko (flying fish roe), and alongside it, a cornet of beetroot salmon with dill fraiche.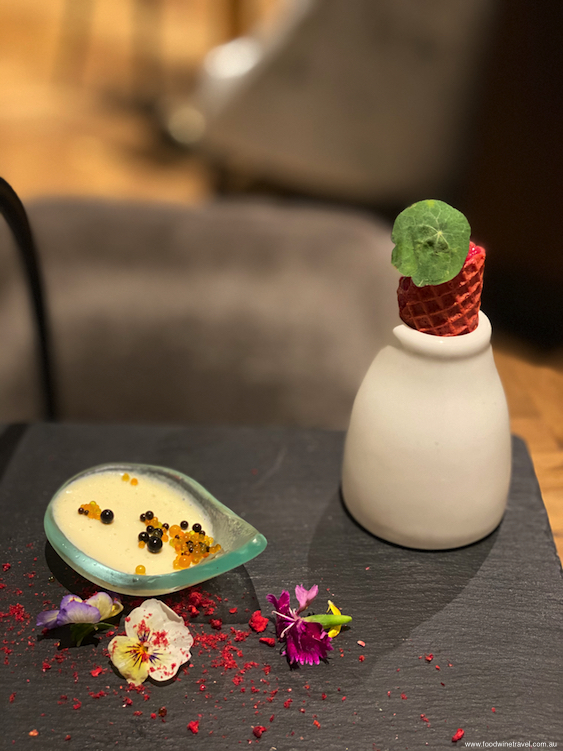 Sandwiches included turkey and walnut; Champagne ham and mustard; and egg mayo, always a favourite. There were scones, of course, made from buttermilk and cranberry, served with clotted cream and a strawberry/rose preserve. In addition, there were about half a dozen sweet treats, all utterly delicious, with flavours of raspberry, chocolate, gingerbread, pistachio, lemon curd and more.
I counted 15 different teas on the menu and there was so much choice I was torn between Royal Earl Grey, Chamomile and Cinnamon, White Tea with Pomegranate and Manuka, and Vanilla Rooibos. So many flavours that I love! In the end, it had to be Strawberries & Cream, a beautiful red brew with sweet aroma that was perfect as is, without milk.
High tea is served every Saturday and Sunday from 2pm to 4pm. During the week, it's available for groups of 10 or more.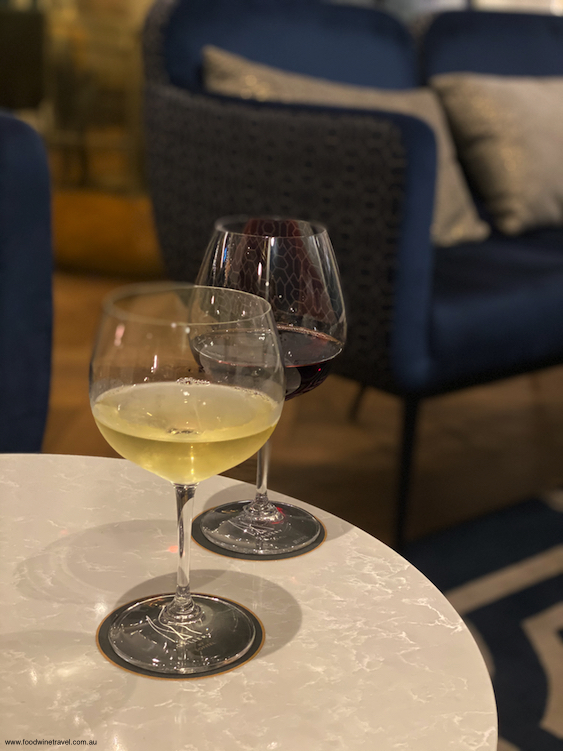 The dinner menu in Cooke's could loosely be described as international, and there's an emphasis on local and artisan produce, including sustainable meat and organic chicken, sustainably caught fish, free-range eggs and organic milk. We enjoyed an entrée of Duck liver parfait with cranberry chutney, and we loved the Butter chicken with paratha (flatbread), poppadums, steamed rice and pickles.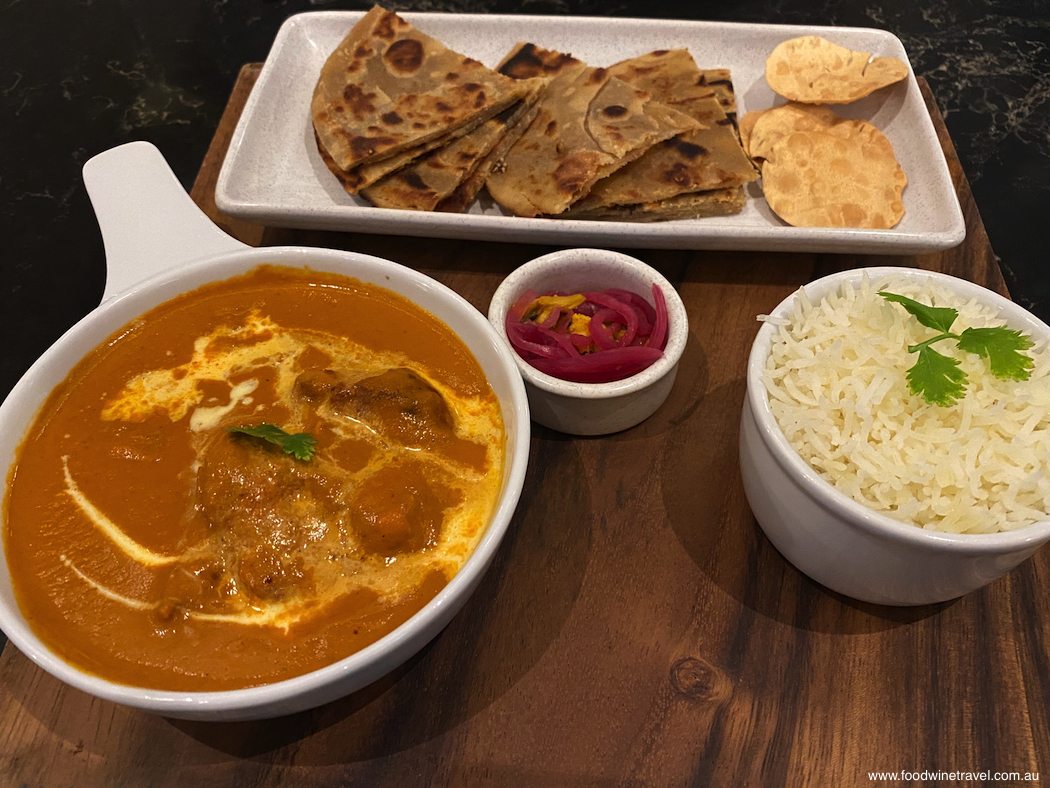 We were told that the Prawn and scallop green pea risotto with brown butter crumbs on the lunch menu is very popular, as is the Lamb shank with Paris mash, pistachio mint persillade and Niçoise jus. The lamb shank dish was inspired by the grill restaurant that was located on the first floor back in the early days.
Breakfast was a lovely spread with a buffet of continental items, and à la carte bacon, eggs and other dishes. There was much to love about the breakfast but the two absolute highlights were the fresh fruit on the buffet (including some of the plumpest, most flavoursome cherries I've ever tasted) and the à la carte French toast, which was topped with grilled banana and served with lemon curd. Yum!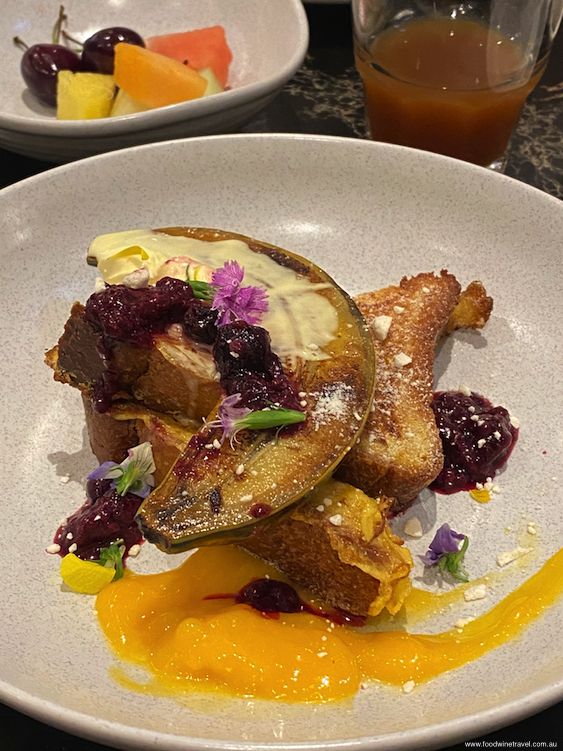 The bar serves organic and biodynamic wine, craft beer, cider, non-alcoholic drinks, and an impressive selection of tea and coffee. We didn't try the signature drink, Luscious Dainty, but it sounds like a winner. Made from gin, fresh cream and a quenelle of elderflower and strawberry sorbet, it's an ode to the building's past (there was a soda fountain and icecream parlour on the ground floor). Cooke's sounds like it was a lot of fun then; it's certainly a cool place to hang out now.
If you go:
Cooke's Restaurant and Bar
Hotel Grand Windsor Auckland
58-60 Queen Street
Auckland 1010
New Zealand
Tel: +64 9 309 9979
www.hotelgrandwindsor.com