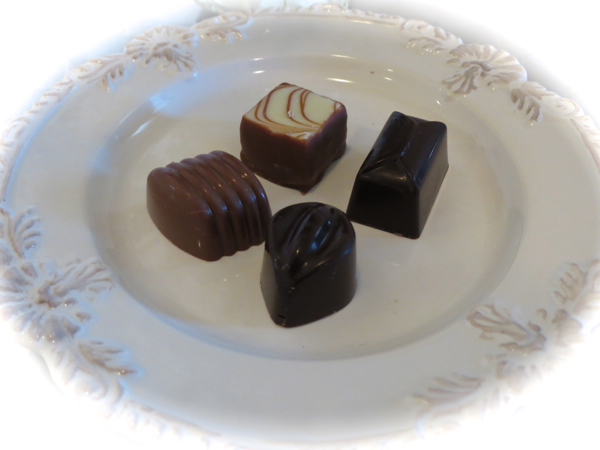 Salted caramel, cherry port, hazelnut praline, Irish cream … it's a hard choice deciding on my favourite Robyn Rowe chocolate.
Exquisite Robyn Rowe Chocolates are found at various outlets in Canberra and Sydney, but I'm thrilled that Robyn and her husband Denis have now opened their own shop, Chocolate d'Or, on their property at Murrumbateman.
I love the concept of buying at the farm gate, and this is one more stop on the Canberra region's ever-growing food and wine trail.
The shop is in a tranquil rural setting where you can sit and enjoy a cup of tea, coffee or hot chocolate, served in a lovely big cup and made with quality Belgian Callebaut, the same couverture that Robyn uses to make her chocolates.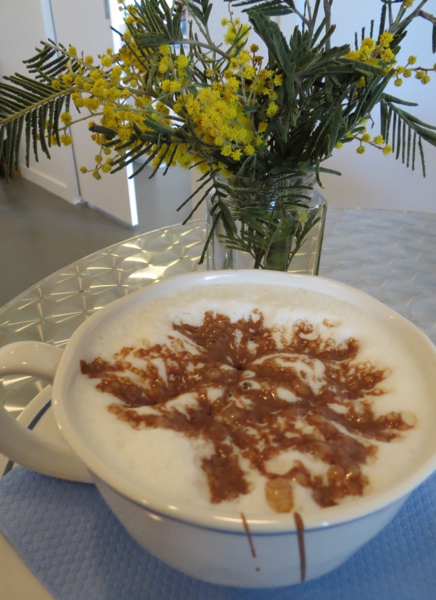 It produces deliciously smooth, glossy, creamy chocolates that Robyn fills with fresh ingredients, often inspired by the produce around her. She uses local honey, walnuts from their own trees, muscat from nearby wineries, and cherry port from the nearby Hilltops region.
A glass window in the shop allows visitors to see into the production kitchen where Robyn makes up to 20 varieties of milk and dark chocolate in flavours such as ginger, peppermint, vanilla, espresso, jasmine green tea and Frangellico.
There's a wonderful banana flambé chocolate, made with banana that has been caramelized with sugar and vanilla bean then flambéed with rum.
Star anise is a new flavour, sold only at the shop, while salted caramel is, not surprisingly, the flavour of the moment. It's one of Robyn's biggest sellers at the Capital Region Farmers Market.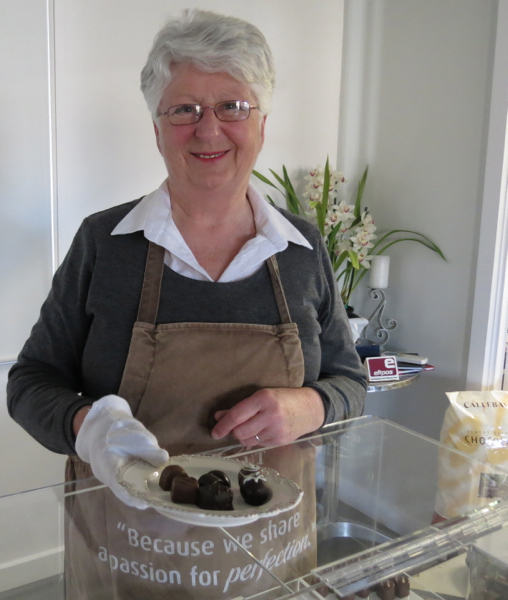 Robyn has always loved to bake – petite pastries and tarts in particular – but it was a magazine story about the Margaret River Chocolate Company that inspired her to make chocolates.
She studied in Sydney and Melbourne (where she undertook courses with Kirsten Tibballs' Savour Chocolate and Patisserie School) and travelled to Europe to research her methods.
After the success of her first contract, making chocolates for a local wedding, she knew she had found her calling.
The business has continued to grow and her chocolates have since won gold medals and awards for champion chocolate at the Sydney Royal Cheese and Dairy Show in 2009 and 2010.
At the same show in 2011, Robyn was named the most successful chocolate exhibitor, receiving one gold and five silver medals for her entries.
Robyn and Denis are regularly seen at the Capital Region Farmers Market on Saturday mornings.
Their chocolates are also sold at wineries around Canberra and served at Poachers Pantry, Crowne Plaza and Flint in the Vines.
Sydney folk can find them at Bottega del Vino in Potts Point and Arenas Deli Café e Cucina in Mosman. Robyn will have a stand at MasterChef LIVE (site H1) in Sydney from October 5 to 7.
During the Murrumbateman Moving Feast on the weekend of September 29-30, Robyn will be doing chocolate-making demonstrations at Chocolat d'Or at 11am and 3pm.
Fact file:
Chocolate d'Or
1153 Nanima Road
Murrumbateman 2528 NSW
Australia
+61 2 6227 5064
www.robynrowechocolates.com.au
Open: Fri, Sat, Mon 10-5, Sun 12-5
Other Capital Region producers: Terra Petra Truffle Farm; Dream Cuisine; Li-Sun Exotic Mushrooms; Loriendale Orchard; Honey Delight; Frugii Icecream.