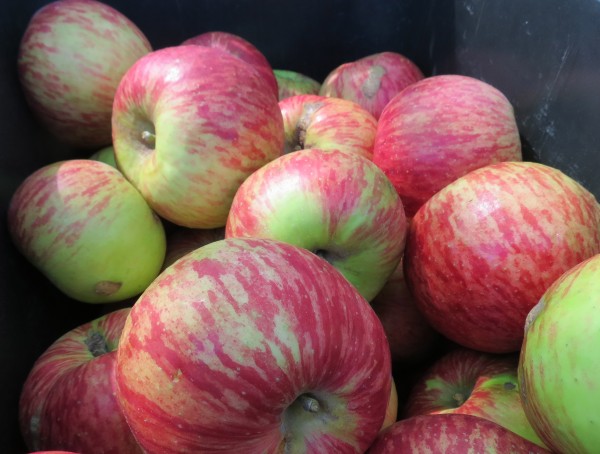 Loriendale Orchard is nestled in the hills along Springrange Road, just north of Hall on the outskirts of Canberra.
In this picturesque setting, owners Owen and Noreen Pidgeon are dedicated to producing apples that taste like apples should.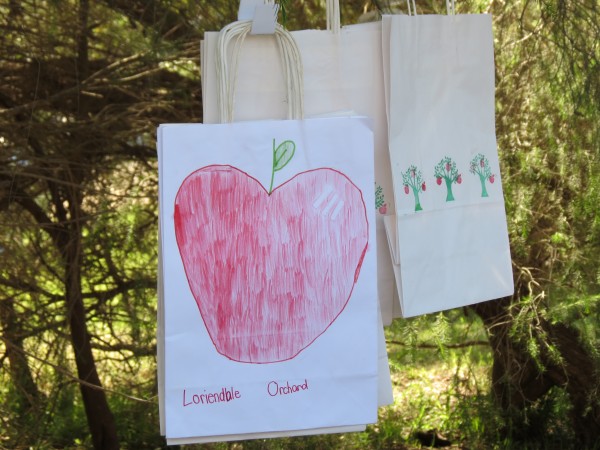 They first planted fruit for their own consumption. But, impressed with the fine flavour of the fruit and inspired by the discovery that an orchard in the area had supplied a large share of the Canberra market in the post-war years, they decided to set up a "boutique" orchard that would be farmed organically.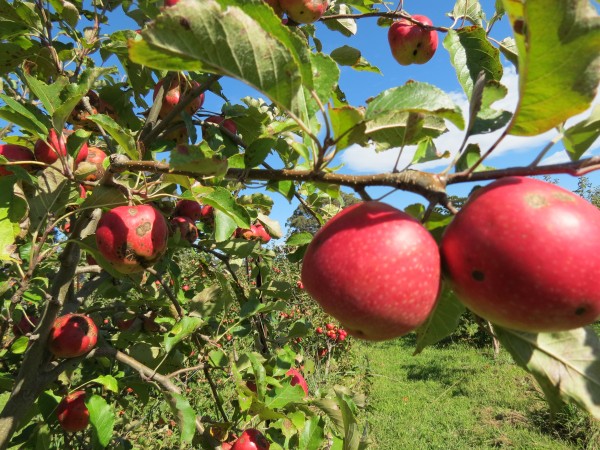 About two-thirds of their 1500 trees are apples; the rest are pears (mainly nashi), nuts, cherries, nectarines and other stone fruit.
The apples represent an incredible selection of old and new varieties from around the world, from Cox's Orange Pippin and Belle de Booscoop, to Snowy, Topaz and Golden Reinette. Their present count is around 110 varieties from 20 countries.
The Pidgeons can often be seen at the Capital Region Farmers Market in Canberra when their fruit is in season.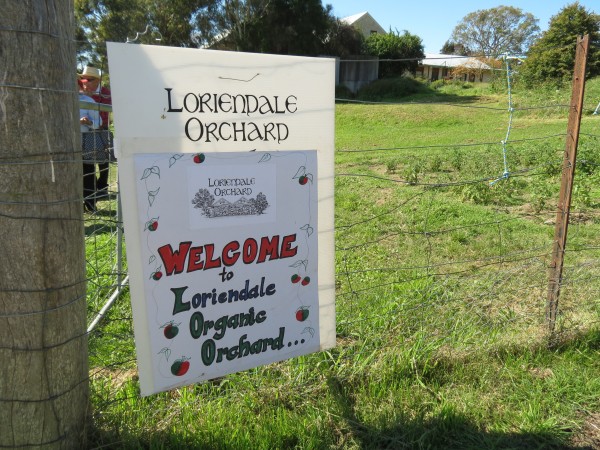 For more than 20 years, they have also held an annual Apple Day, an event that has become a Canberra institution.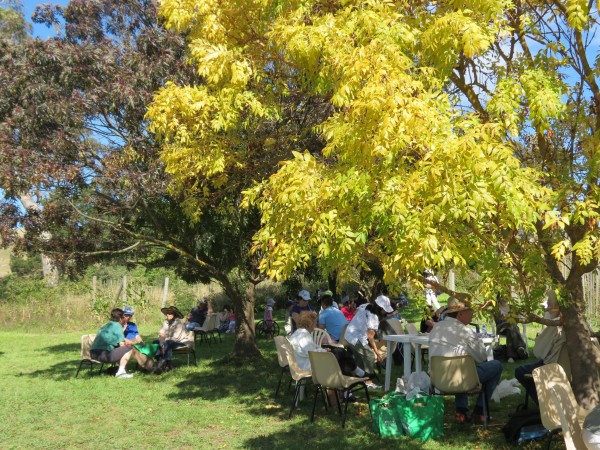 Held on what is invariably a glorious autumn day (as it was once again this year), it's a great opportunity to stock up on heirloom apple varieties, freshly baked apple products and other organic produce and homegrown goods.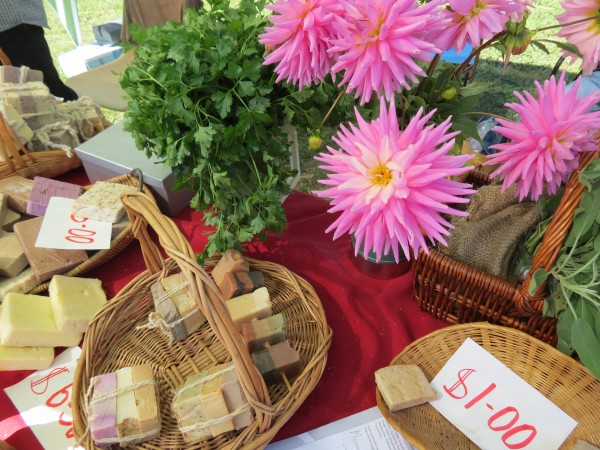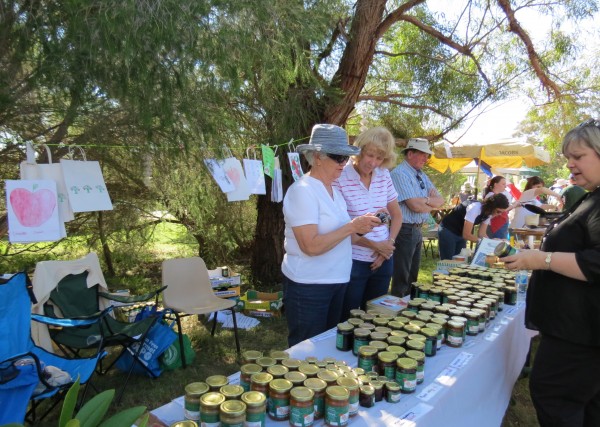 There are usually long queues and the products sell out fast, but there's a fun and happy spirit in the air as people picnic on the lawns and local choirs provide entertainment.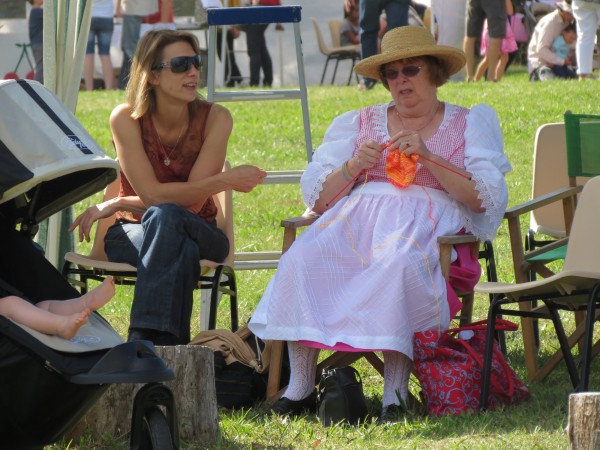 Many of the apple varieties are available for tasting and it's wonderful being able to taste them side by side so that you can decide on your favourites.
We fell in love with the Svatava apples, a Czech variety that has a really nice balance of sweetness and tartness.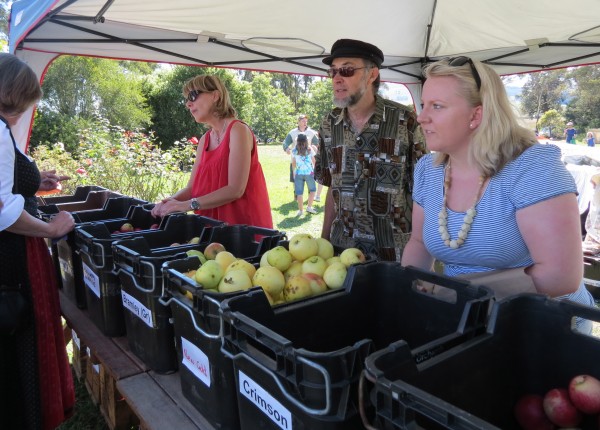 We feasted on apple pancakes and came away loaded with apple pies, apple tea cake, dried apple, fresh apples, freshly crushed apple juice, and the Loriendale Orchard Fruits of the Orchard Recipe Book, from which the following recipes come.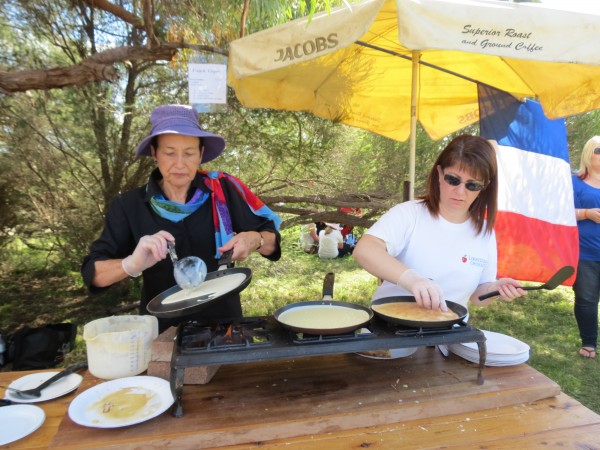 The Pidgeons have an old-fashioned apple press and we joined the long queue to take home a two-litre container of their exquisite juice. If you've ever experienced the joy of tasting freshly crushed apple juice, you'll appreciate that it was worth the wait.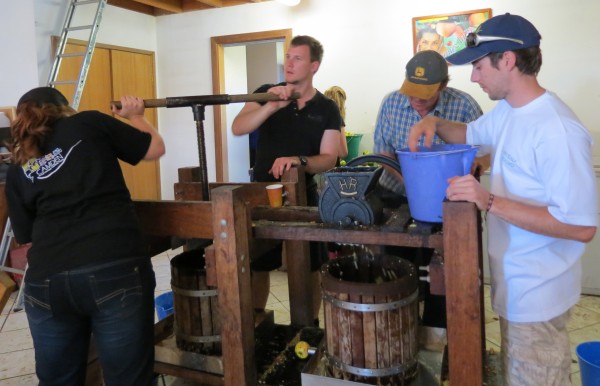 More on Loriendale: see my story in PS News.
CHICKEN WITH CIDER, SPICES AND CARAMELISED APPLES*
Serves 4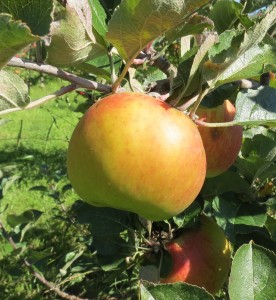 3 medium apples
500 grams chicken drumsticks
1 tablespoon Chinese five spice
salt and pepper
1 tablespoon butter
1 onion, sliced
2 tablespoons plain flour
2 tablespoons butter
1 tablespoon apple cider vinegar
1 cup chicken stock
1 tablespoon honey
1/4 cup raisins
Peel and cores apples. Reserve skins and cut apples into eighths. Coat chicken drumsticks in five spice powder and season with salt and pepper.
Heat butter in frypan and fry apple peels, add chicken drumsticks and brown on both sides then remove from pan and place in large ovenproof dish.
Heat additional butter in the frypan. Dust the apple pieces and onion slices with flour and cook on low heat for 3 minutes.
Then add the vinegar, stock, honey and raisins and continue to cook gently until the mixture is reduced by half, and a rich brown colour, before pouring it over the chicken drumsticks.
Cover the dish and cook in moderate oven 45 minutes until drumsticks are fully cooked. Serve with mashed potato and seasonal vegetables.
*Suggested apple varieties: Royal Gala, Jonathan, Jonagold.
AUSTRALIAN APPLE TEACAKE
2 cooking apples
60 grams butter
1/2 cup caster sugar
1 egg
1½ cups self-raising flour
pinch of salt
½ cup milk
1 tablespoon caster sugar, extra
1 teaspoon cinnamon
Peel, core and thinly slice the apples. Preheat oven to 180 degrees C.
Cream butter, add sugar and beat until light and fluffy; then beat in the egg. Sift flour and salt together. Then fold the flour into mixture alternating with adding portions of the milk. Mix well.
Grease and flour a 20cm sandwich tin. Then spread the mixture into the tin. Place a layer of apple slices on top, arranged in a swirl.
Combine the cinnamon with the extra sugar and sprinkle onto the cake mixture then bake for 45 minutes.
Recipes from: Loriendale Orchard Fruits of the Orchard Recipe Book. 3rd edition.