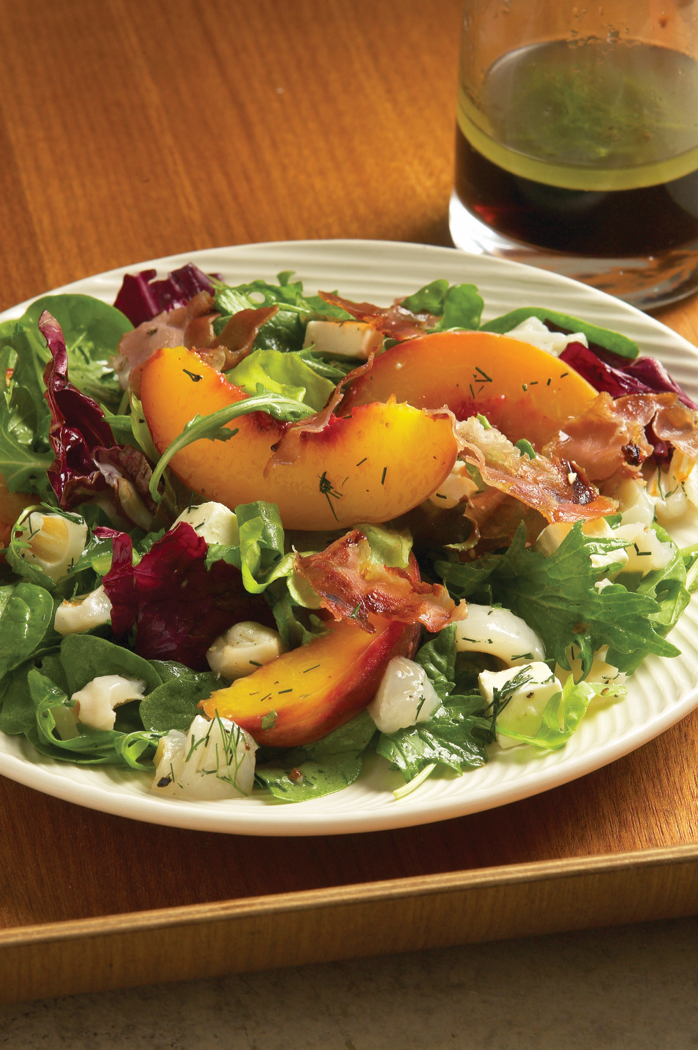 When you do a book that is "The Best Of…" you know you've been around a while, says Peter Howard, whose book celebrates a 33-year career as a chef, food and wine writer, and television presenter.
The Best Of Peter Howard, published by New Holland, is an eclectic collection of recipes that includes old favourites as well as modern interpretations, many of them with an Asian twist.
So while there are classics such as rissoles, chicken with an old-fashioned bread stuffing, and boneless leg of lamb with rosemary rub, you'll also find dukkah-crusted Atlantic salmon with tabbouleh salad, Semillon Sauvignon Blanc oysters and Thai chicken cakes.
There's an especially delicious collection of seafood, a good number of vegetarian recipes, and some nice fruity desserts, cakes and crumbles. The book starts with the basics, with recipes for everything you might need from a mayonnaise, blue cheese dressing or homemade barbecue sauce to tomato relish, green curry paste and chilli jam.
Champion of primary producers
The common thread running through the book is how accessible the recipes are. I've known this fine gentleman for many years and have great admiration for his no-nonsense style and his ability to turn out delicious food without pretension.
Peter Howard is in his 60s now and pretty much retired from public life. He's at a stage in his life where he is reflecting on his career, and has to pinch himself at times when he thinks about how far he has come. Raised in a small country town in southern Queensland, he never imagined he would one day feature on a TV show with an audience of around 23 million.
A champion of primary producers and fresh food, he has a passionate belief in rural Australia and thinks Australian producers are the best in the world. Australian farmers underpin everything he has ever done.
**Buy The Best of Peter Howard from Book Depository.
**Buy The Best of Peter Howard from Amazon
.
Food Wine Travel gets a small commission on purchases through these links but it doesn't cost you any extra.
PEACH, FETA & PROSCIUTTO SALAD WITH LIME & LYCHEE DRESSING
Serves 4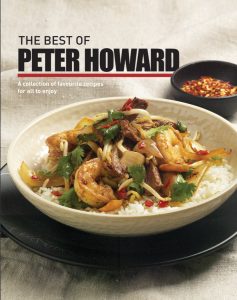 24 peach slices, fresh and cut from the stone or canned and drained
Spray oil
100 g (4 oz) mixed lettuce leaves
200 g (7 oz) feta cheese, diced
1 tablespoon extra virgin olive oil
3 tablespoons fresh lime juice
60 g (2 oz) lychee flesh, in 1 cm (½ in) dices (canned and drained)
1 teaspoon dill, chopped
1 teaspoon green peppercorns, crushed
4 large slices prosciutto, grilled on the
barbecue to crisp, cooled and crumbled
Lightly spray the peach slices with oil and lightly brown them on a hot grill; the canned slices cook very quickly while the fresh ones take a little longer. Do 6 slices at a time to have better control. Leave to cool before adding to the leaves and cheese.
Make the dressing by whisking the oil for a few seconds. Whisk in lime juice slowly and stir in the lychee dices, dill and pepper.
Pour the dressing onto the peach and salad ingredients and toss gently. Sprinkle crumbled prosciutto over and serve.
Recipe and images from The Best of Peter Howard, published by New Holland and reproduced with permission of New Holland.
This post was originally published in PS News online.