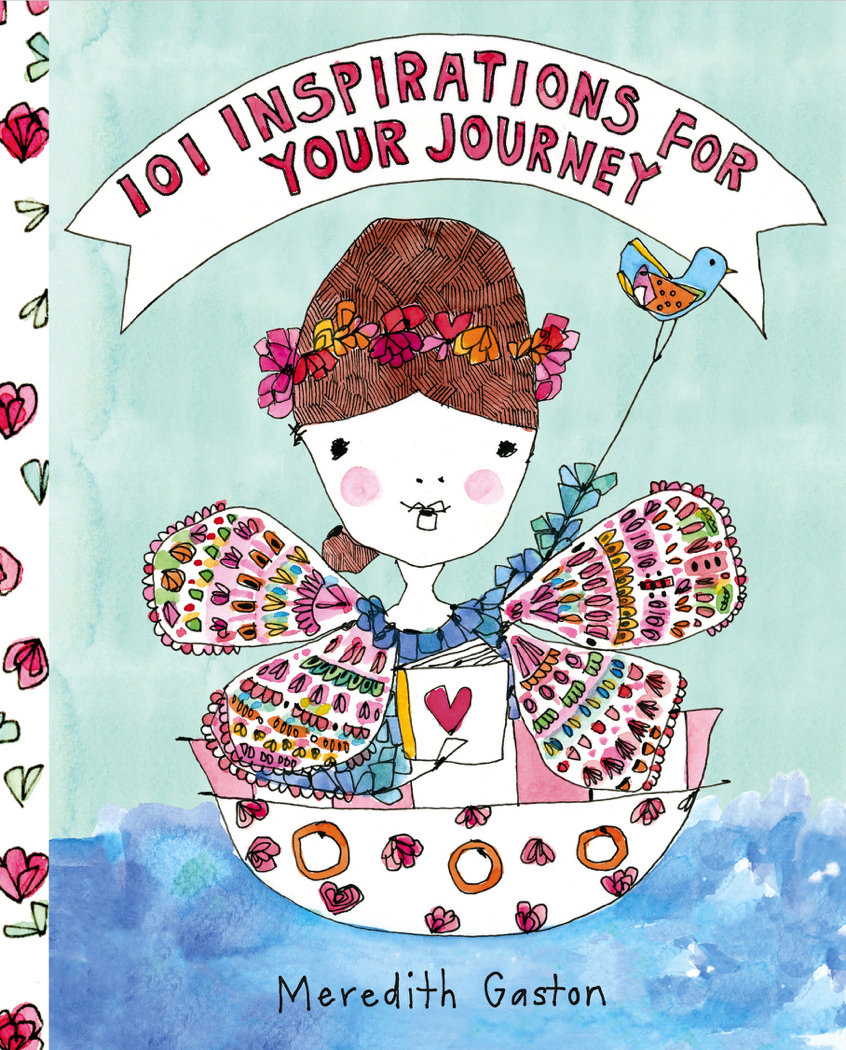 I have a romantic notion of travelling the world with a sketchbook in hand, drawing pretty pictures of the places I see. Sadly, it's never going to happen, because I've never shown an ounce of talent in drawing. How I envy Meredith Gaston who has produced the cutest little book in 101 Inspirations For Your Journey, published by Lantern. Her whimsical watercolour-filled drawings accompany words of inspiration that are worth bearing in mind as we travel on life's journey.
Gaston was living in a little old cottage on a hill in the Blue Mountains of NSW when she produced this book, working from a beautiful tree house studio. She has since relocated to Melbourne.
Food Wine Travel  had the opportunity to ask her some questions about her own travel inspirations, and we're delighted to share her responses here, along with some of our favourite illustrations from the book.
Who or what inspires you, both in your art and in travel?
My late Grandmother Nora is one of my greatest inspirations and my latest book 101 Inspirations for your Journey is dedicated with love to her. She was a curious, passionate, joyful and giving person who lived her life to the fullest and explored the world with such pleasure and gratitude!
My art is inspired by the beauty of nature and the tenderness of human relationships. Amongst many inspirations in the natural world, I love mountains, coastlines, trees, birds and sunlight. Travelling widely has inspired so much of many of my now favourite colours and shapes.
What do you love about travelling?
I love the sense of freedom. I love seeing how flexible life is, how we can step out of our routine and experience a whole new way of being. I love the way travel opens us up to new worlds and new ideas. I love that travel transforms us personally by seeing and experiencing new things, then returns us to familiar things anew. Life really is what we make it!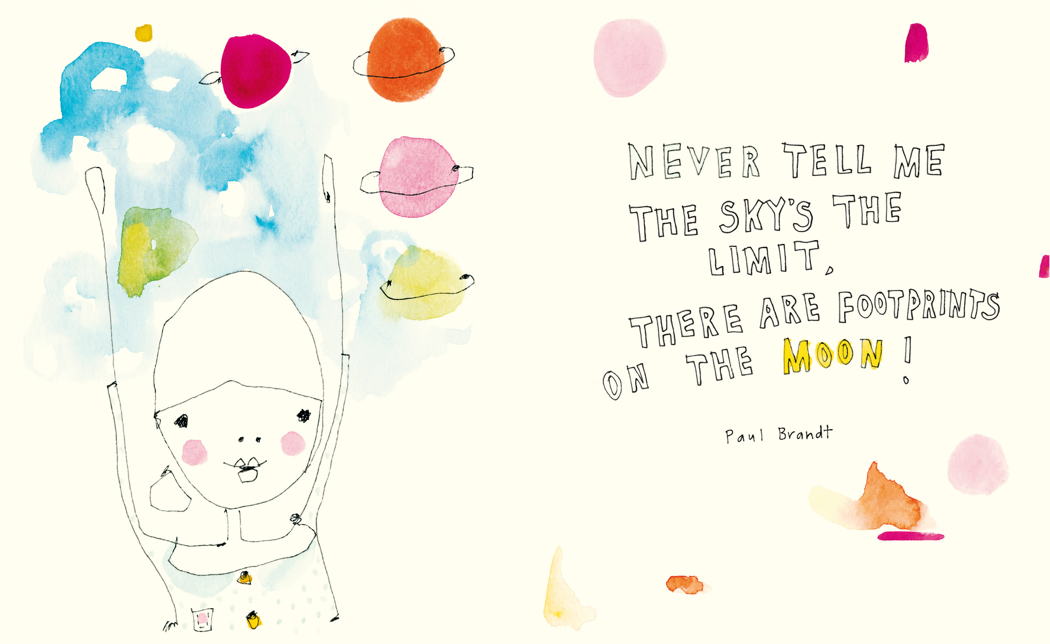 Where is your favourite place to travel to and why?
I will always love Italy as I have spent much time there and feel so much warmth and richness. Another spot I love to visit is Kas in Turkey, a beautiful fishing village where the mountains meet the sea. I love the water, the sounds, the scents and the pace of the village life. I love seeing the olive trees on hillsides and the fireworks of magenta bougainvillaea against old stone walls. I love the rest and relaxation I always find there.
How old were you when you first travelled abroad and how did it change your life?
I was only two years old, and my father had taken a job in New Zealand. Apparently I LOVED the experience of flying and have enjoyed it ever since. Living between Auckland and Sydney through my preschool years and then travelling through Europe at a young age showed me such a big, wide world. I felt limitless and free and inspired. I kept scrapbooks and travel journals and documented all the unforgettable bits. I pledged as early as six that I would be a world traveller forever and ever!
What travel experience has most inspired you?
I went to Berlin on a work mission in 2007 and at the arrivals gate of Tegel Airport, met the love of my life. It was serendipitous, life affirming and completely inspiring to experience the reality of love at first sight! I was not looking for love and was dedicated to the task at hand, but seven years later we are engaged to be married, having spent equal time between Berlin and the Blue Mountains of New South Wales. This year we relocated to Melbourne as it felt like a wonderful compromise. We are loving a bright new chapter together here.
Do you sketch/paint as you travel?
Always! I have special little sketchbooks for travelling and pack my brushes, inks and colours into my travel bag at all times. I write travel poetry and have lots of pages to treasure filled with poems about places I have been, alongside watercolours I have painted of them!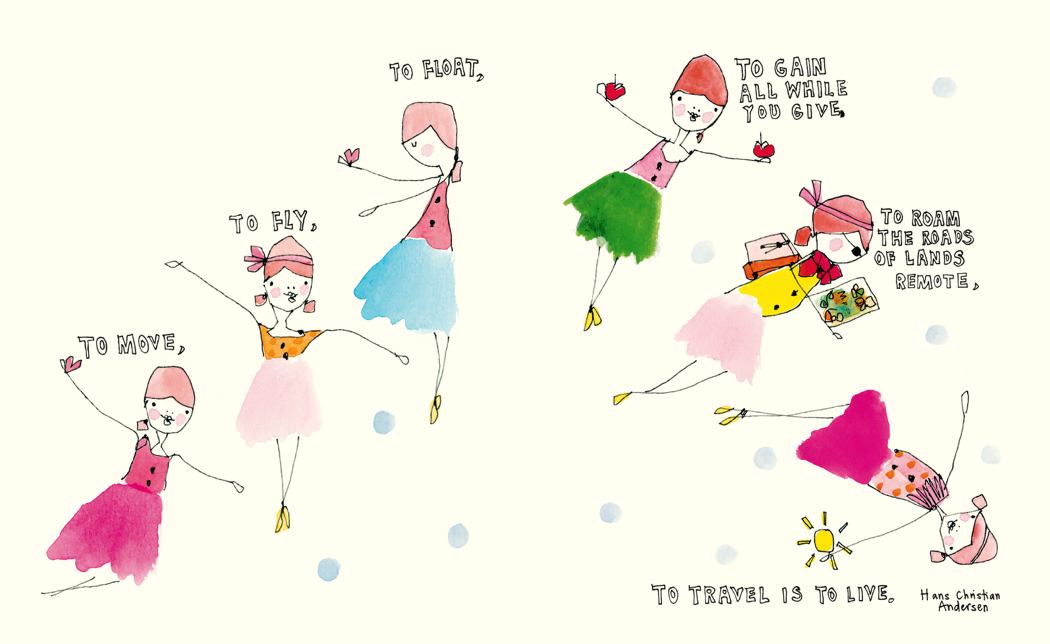 What's essential to pack when you go away?
Comfortable shoes, something pretty to wear, art materials, a good book, a good drink bottle for fresh water, and healthy little snacks for when peckishness hits!
What destination is number one on your wish list?
Spain.
Who's your favourite person to travel with?
My husband to be. He is funny and reliable.
Do you like to travel slowly or in a hurry?
I love pottering, so I would say slowly. I'm not a list ticker-off-erer, I like to meander and explore and see what I might discover…
What do you hope for your book?
I hope that people will be inspired to travel wholeheartedly, seeing the world anew every day with grateful and curious eyes!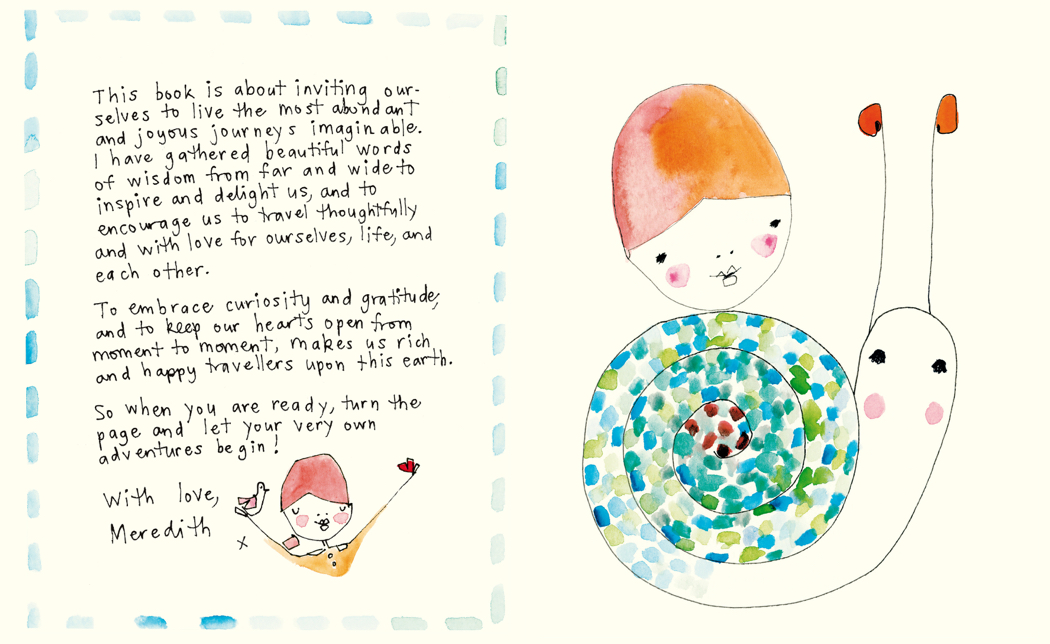 Images from 101 Inspirations For Your Journey by Meredith Gaston, published by Lantern, rrp $24.99. Extracts reproduced with permission of Penguin Group (Australia).